Story by Art Department / March 1, 2016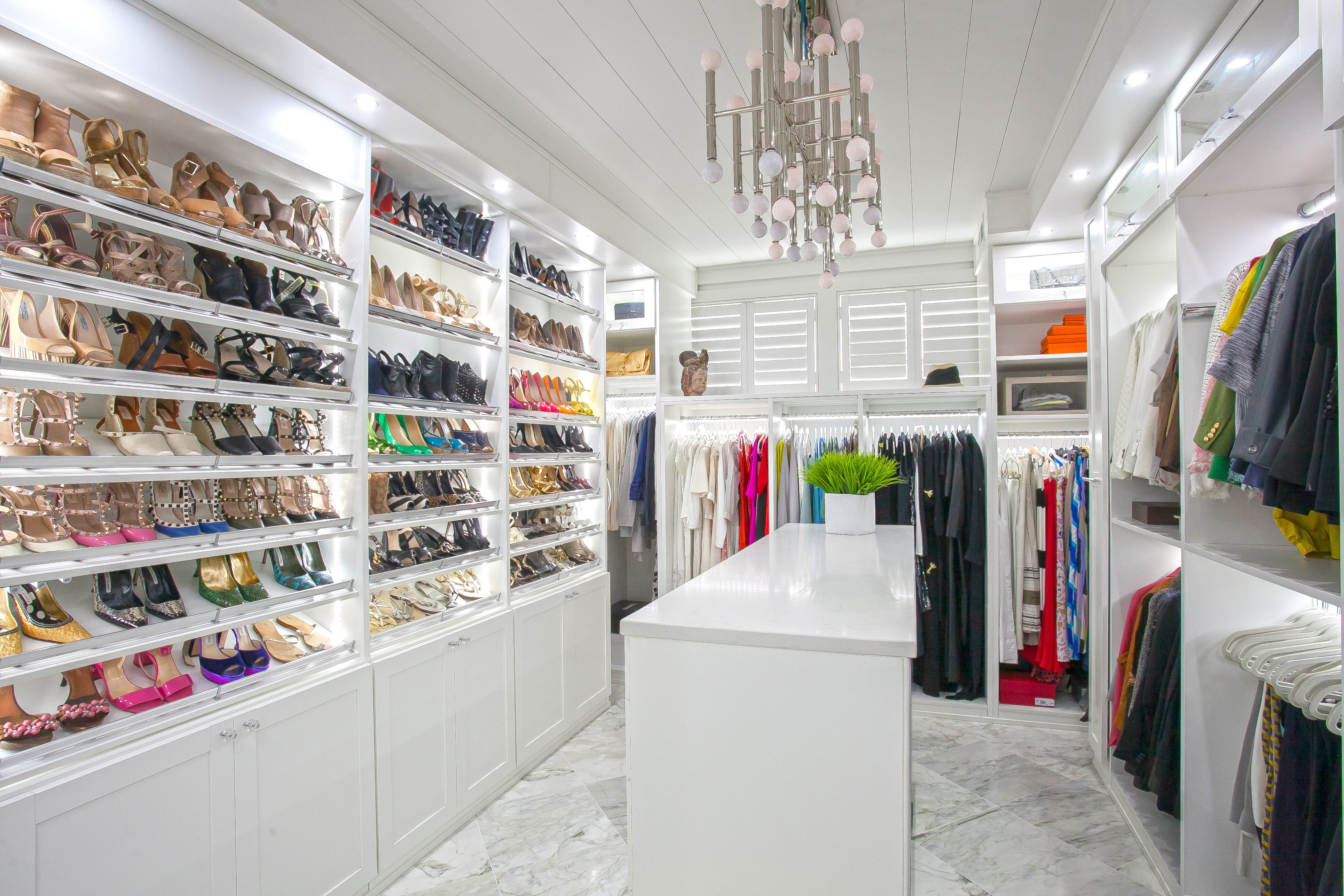 One Sullivan's Island closet packs a serious wow factor.
There is a glorious scene in the film Sex and the City in which a ten-year on-and-off fling between socialite Carrie Bradshaw and the enigmatic Mr. Big peaks during a marriage proposal in a massive all-white closet fit for Carrie's menagerie of Manolo Blahniks. This movie set springs to life on Sullivan's Island in the walk-in closet of Vickie Baker, wife of Tommy Baker of Baker Motor Company and owner of a quite enviable Valentino shoe collection.
Realizing that she and Tommy had too many guest bedrooms, Vickie set out to transform one room into a home for her clothes. Elizabeth Gumb, a personal stylist of The Well Coiffed Closet and the mastermind behind this guest-room transformation, explains, "Vickie's previous closet was not able to contain all of the beautiful pieces that she has, so she was really interested in enlarging. Then, the idea of creating the dressing room out of a guest room developed, and the project took off from there. Whenever Mrs. Baker and I started brainstorming about her closet, what was most important to her was for it to be breathtaking and stunning like the rest of her home. She wanted to have a sanctuary to relax and get ready." To make this vision a reality, Elizabeth partnered with Steve Rogers of California Closets, a company that specializes in customizable closet systems. The trio—Vickie, Steve, and Elizabeth—set out to design a functional storage system and organize the Baker matriarch's clothes and accessories.
They were literally transforming a room into a closet, so many big decisions had to be made. Most notably, the team had to decide what to do with the guest room's windows. Solid walls provide valuable storage space, but large windows offer ample natural light in a room. For this portion, Vickie and Elizabeth were happy to be working with Steve, whose 3-D technology allowed the girls to see exactly what the room would look like with the windows covered, uncovered, and then finally recovered again during the decision-making period. Elizabeth notes, "The beauty of this entire project was that trial-and-error process, which allowed us to make it perfect."
Steve installed the structural details, complete with shelves and drawers, as well as a few extras that heighten the room's organizational capabilities. "The hanging portion of the closet is 24-inches deep, which allows all the clothing to hang completely within the cabinetry. The vertical panels are one-inch thick to add a more solid look to the closet; they're topped with lift-up display-style cabinets and crown moulding. We included ample lighting, all controlled by a motion sensor, to make up for the light lost from the windows." For the accessories—jewelry, sunglasses, belts, and scarves—Steve incorporated felt-lined drawers with layered inserts and pullout scarf and belt racks. With the hardware in place, it was Elizabeth's job to help Vickie transition, purge unworn pieces, and organize her clothing inside her new dressing room. Now, the rarely used guest room stands as a relaxing space for Vickie to prepare for each glamorous day.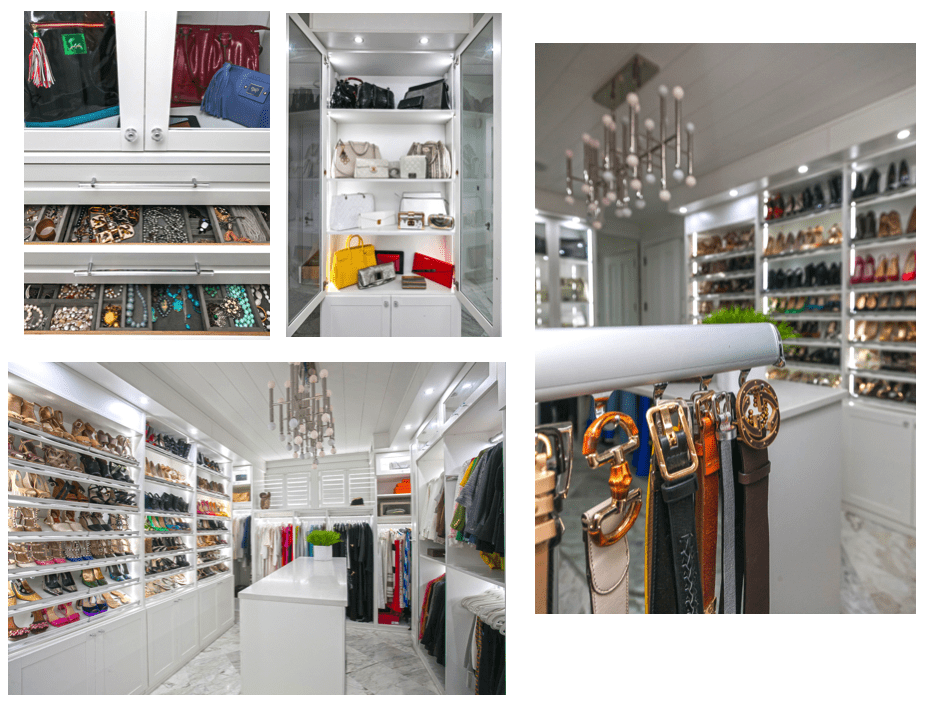 For more information about the closet system, call California Closets at (843) 762-7980 or visit californiaclosets.com.
For more information about the design and organization, call The Well Coiffed Closet at (843) 860-5410 or visit wellcoiffedcloset.com.