Story by Alli Steinke / April 26, 2016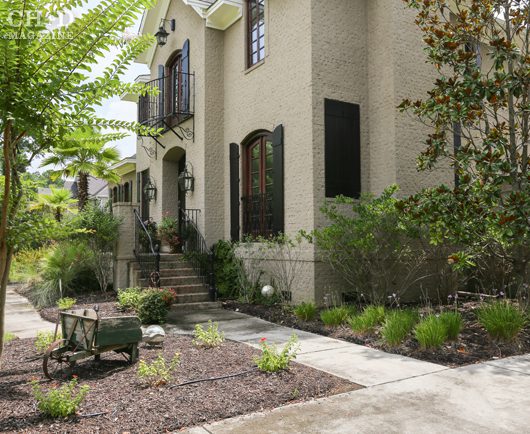 Landscaping is the first thing anyone sees when visiting your home. Whether it's to promote your home's curb appeal when selling, or merely to welcome your next houseguests; landscaping is immensely important to making your house look like a home. The common phrase, "beauty is pain" can so easily describe the process of creating a beautiful garden, but this spring, you can save both your wallet and your back, by calling a company like HLG or by following just a few key tips for a low-maintenance yard.

Landscaping can be time-consuming. Pick plants that originate from right here in South Carolina, to keep your yard both beautiful and affordable. Native plants, because they are already acclimated to the climate, require little maintenance or fertilizer, making them easy to maintain, and risk-free. The Palmetto Palm is one of Charleston's most iconic staples, so including these in your yard makes unaffordable and dramatic statement. Since they are so hardy, they will last through practically any drought. Another large tree to include in you design, that is native to the area, is the Live Oak. You can find them everywhere in downtown Charleston, draped with Spanish Moss. The Live Oak withstands the sun and salt air, and will bring undeniable elegance to your yard.
You can also save some extra cash by picking perennials, rather than annuals, to bring some color to your yard. Perennials can come back every year and provide continual beauty, while you will only get one season out of your annual plants. Crape Myrtles, are known for their hardiness, and long lasting blooms, which come in an array of shades. The trees only need seasonal pruning and can withstand vigorous trimming, which encourages more blooms to return in the following years. For shorter plants, Hydrangeas or Knockout Roses can bring beautiful blooms with minimal care. Planting some of these just once can have your yard set for years to come, making these low maintenance options both smart and attractive choices.
Another alternative for your garden, which requires practically no upkeep at all, is to incorporate creative hardscaping. HLG is able to help install a beautiful hardscape design that you desire as well as helping with the flowers you wish to grow. By installing innovative stone pathways, or planting beds, you can be on your way to a beautiful herb or wildflower garden in a more manageable area. Planting beds, perfect for a smaller yard, are easy to maintain and allow you room to try out some smaller plants, like Wild Indigo, or Wizard's Tail. Both of these plants require little care, but will easily bring more life to your yard. Ribbon Grass or Sedge, are low-maintenance grasses, which act as perfect options to bring a touch of green to your space, without the stress of maintaining an entire lawn.
These iconic South Carolina staples and durable plants are often the most resilient solutions to most landscaping dilemmas. Clearly there are endless ways to keep the water bill down and turn your yard into the elegant retreat it is meant to be. Making some of these replacements to your already existing garden, or turning to some of these methods for a design in the making can be the key to having a yard sure to withstand the South Carolina heat while also creating a space destined to impress. For more help, HLG is able to take care of full landscaping services, maintenance, as well as DIY Services like all the tips mentioned.
For an on-site consultation call HLG at: (843) 901-4862 or visit HLGgrowers.com.
Written by Kate Hawkins