Story by Art Department / July 22, 2021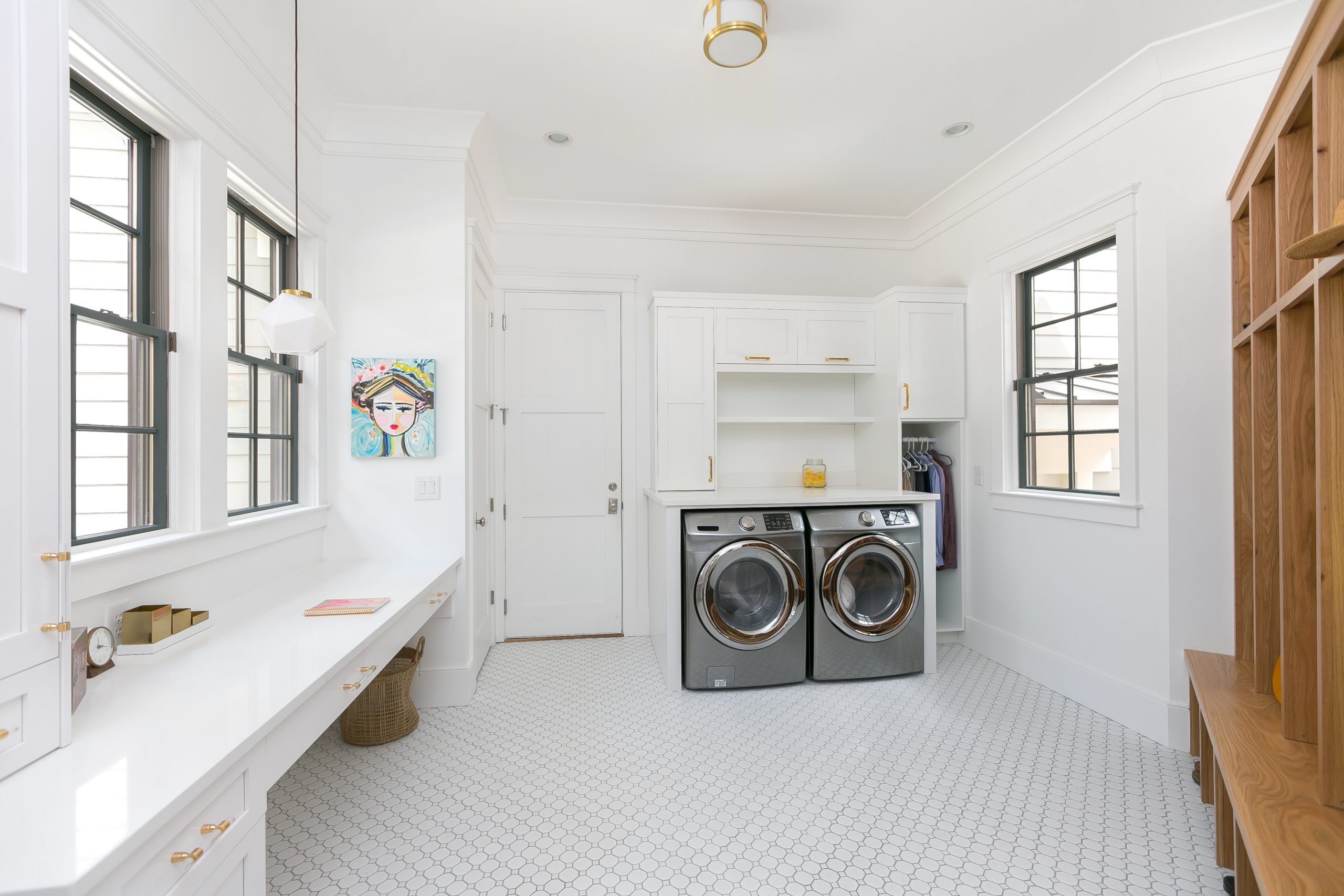 A mudroom is probably one of the most used spaces in your home, serving as a drop zone of sorts for kids, animals, and guests alike. You hang backpacks, jackets, kick off muddy shoes, etc. in your mudroom. Mudrooms not only serves a purpose for you everyday, but also adds value to your home if or when you decide to sell. Here are four coastal-inspired mudrooms to get inspiration for your Lowcountry home.
Calming Palette
A calming palette of blues, whites, and green is prevalent in this Lowcountry mudroom. Built-in shelves and hooks offer the perfect spot to drop bags, hat, shoes, and anything else you want to keep tucked away when you enter the house. Baskets on the upper built-in are a great place to store dog leashes, poop bags, and treats for easy access on your way out to walk the puppy.
Beachy Wallpaper
With lots of kids, it was important for this mudroom to have plenty of space for each kids to put their shoes on as they walk out the door and take them off when they come in. Storage in the bench houses the family's shoes and some of their beach necessities. A leafy wallpaper and natural elements add to the beachy ambiance this homeowner was going for.
An Ode to Navy
Navy is a very popular throughout many homes with a coastal design scheme. In this home, navy is used on the cabinetry throughout the mudroom/laundry room. There is more than enough cabinet space in this room for the homeowners to keep things neat and tidy. The brick flooring gives the room a historic feel.
Multifunctional Mudroom
Step into a multipurpose space in this Lowcountry dwelling. This catch all space houses the washer and dryer with hanging room, built-in storage for coats, shoes, backpacks, etc., and counter space for folding laundry or doing homework/arts and crafts. This room brings color in the artwork and gold fixtures give the coastal space a modern, elegant feel.