Story by Art Department / May 31, 2016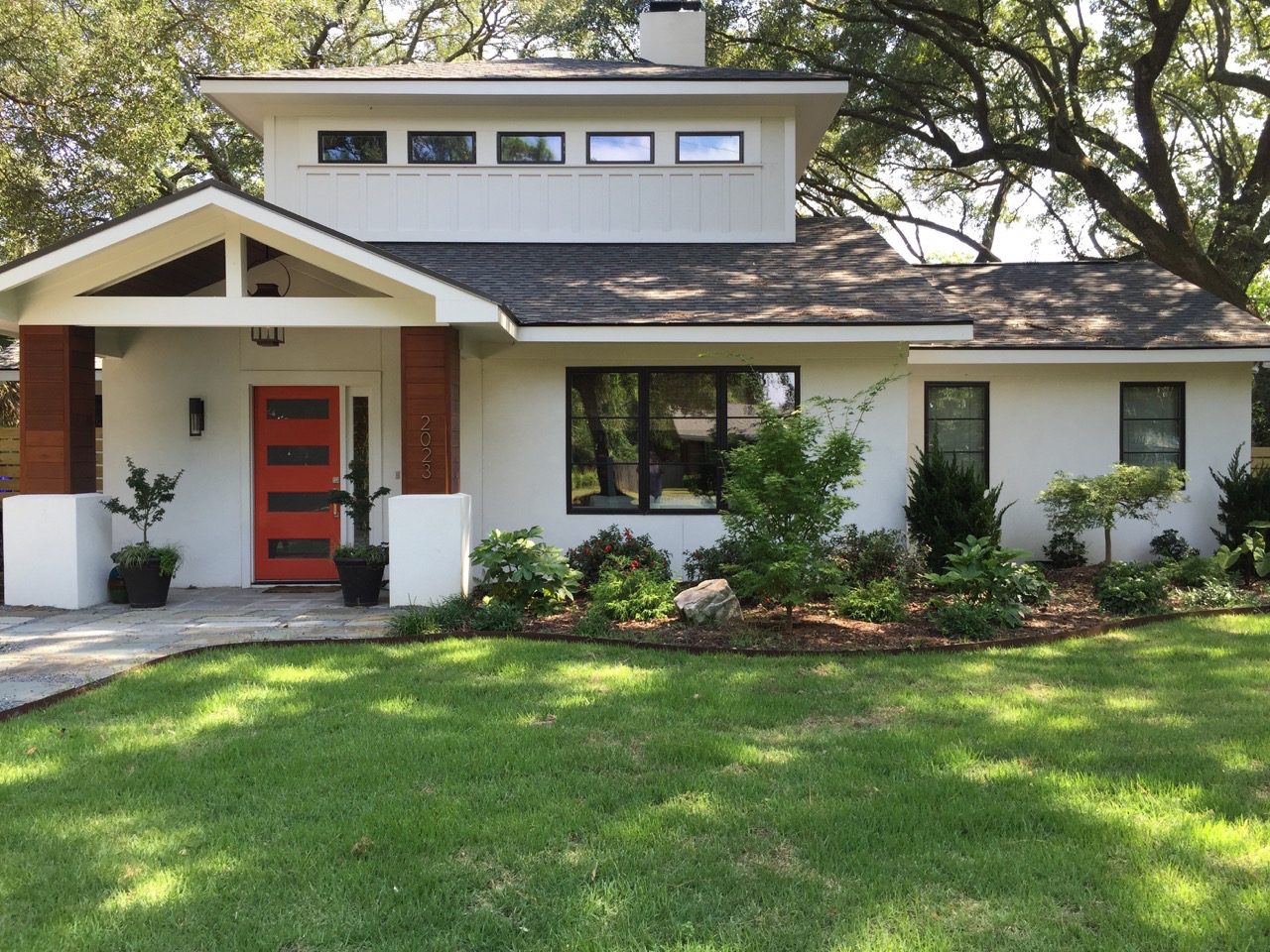 Once a practicing lawyer, Jon Goldfarb kissed his desk job goodbye 14 years ago and entered the world of commercial construction. In 2005, he transitioned to residential projects and began his own company, Riverland Builders. Recently, he had the opportunity to remodel a home for himself, his wife, Amanda, and his daughter, Ava. He met with the Charleston Home + Design team to offer an inside peek and some expert advice for those just beginning their own projects.
The Riverland Terrace home on James Island was originally built in the 1950s. "It was a small 1,400 square-foot concrete-block bungalow," Jon describes. The house had very little character, small windows, a closed floor plan, and retro finishes. Jon chose to remove every non-load-bearing wall to open the space, incorporate larger windows, and give the abode a contemporary feel. Walking through the front door, visitors are greeted with stark white walls, mid-century modern furniture, local art, a simple fireplace, and an eclectic kitchen. To the left sits a den created out of the old home's carport. To the right lies a hallway leading to Ava's room. Upstairs is the master suite with an attention-grabbing bathroom featuring a freestanding tub set against a bold teal tile backdrop.
It takes a creative eye to walk into a dated home and envision an altogether new space. These types of recreations are a passion of Jon's. He remarks, "Renovations are just fun. When you have an older house, you can really use your imagination and come up with something totally unexpected." His expertise helps to fuel that imagination. Upon looking at the house for the first time, he already knew what walls could be removed and which elements of the original home needed to remain intact. "Amanda and I have a pretty good sense of visualizing and realizing that a space can be more than it is," Jon adds. This vision from the beginning and their experience allowed them to enjoy the project—something Jon and Amanda see as a struggle with many who are in the building stage. "Because we've worked on so many houses together," Amanda reveals, "we didn't quite have the amount of stress that others who are renovating or building tend to experience. We could just have fun and be creative with it." To combat this prevalent home-building stress, Jon recommends keeping the project in perspective and understanding that everyone working on the house has the same goal of completion in mind. Amanda advises, "It's also good to know what's important to you and what's not. Then, you can let certain things slide and focus on what matters most." This wisdom, gleaned from years in the industry, guided the two through the building process smoothly, allowing them to find joy in the project and transform the old home into a modern creation tailored to their style. What's in the future for Jon? Not only working on several new projects around town, but also wrapping up another family endeavor—the renovation of a circa-1900 cabin in North Carolina.
For more information, call Riverland Builders at (843) 693-2117 or visit riverlandbuilders.net.