Story by Art Department / May 24, 2016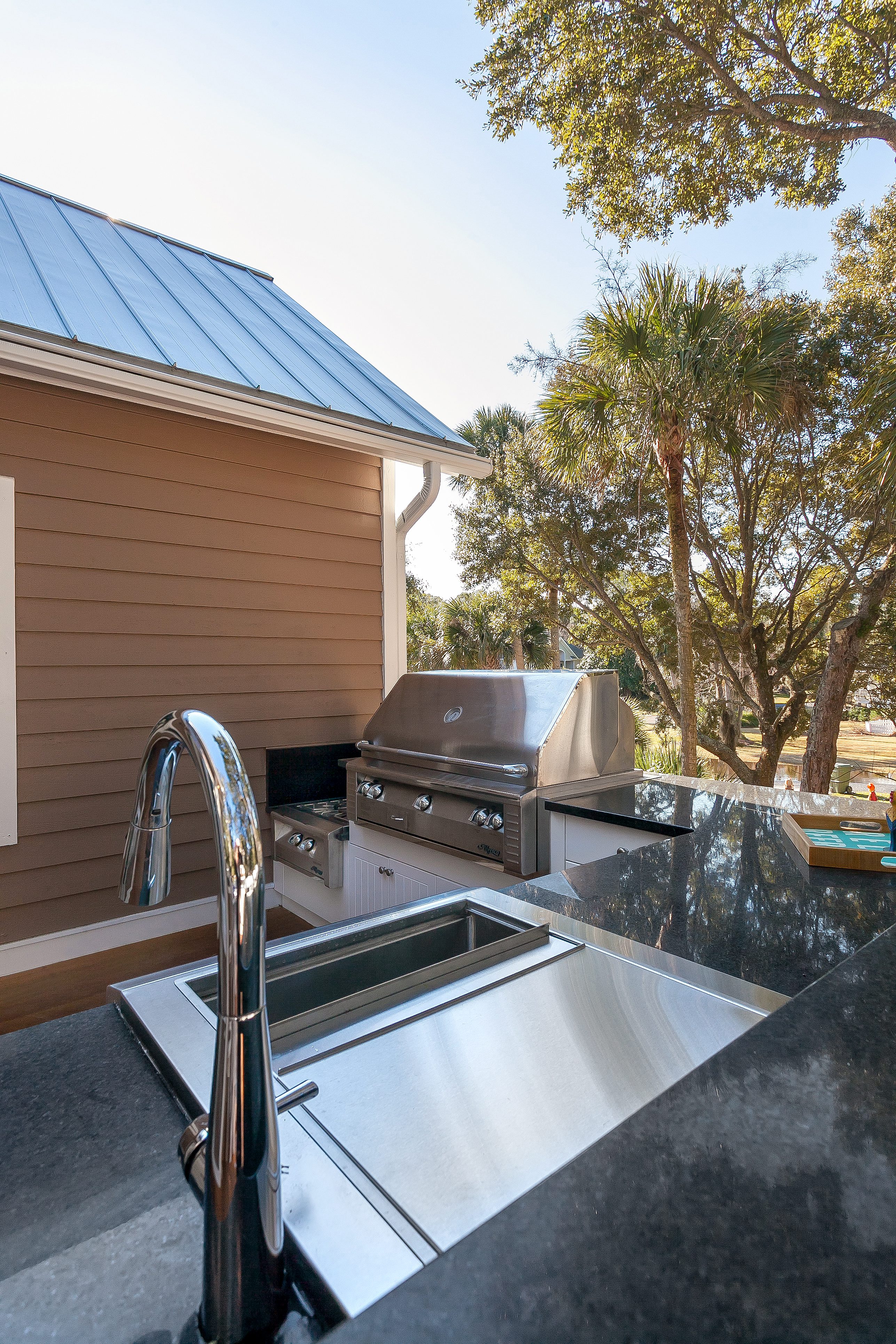 To some, outdoor living means lounging on the beach, kayaking through the marsh, or sipping tea on the back porch. To one homeowner, the term outdoor living means being able to enjoy every moment of Charleston's famous weather. After building his home on Isle of Palms, this particular homeowner approached Ken Good and his team at Palmetto Outdoor Kitchens to accomplish this goal.
He wanted long-lasting cabinetry and the ability to cook in a myriad of ways with minimal appliances. Furthermore, he desired to enjoy the cooler nights by an outdoor fire. When he and the design team met to draw up plans and determine which features he wanted, the choices were easy. The first step was to select cabinetry. This homeowner picked a high-density polyethylene material by Wherever Cabinetry. Then, it was time to ask the big question—which grill is the best fit? "He chose a dual-fuel Alfresco grill, which is one of the few on the market that can cook with gas, charcoal, and wood," describes Ken. The grill doesn't clog up the kitchen's design with too many pieces of equipment and is efficient on all forms of fuel.
The other aspects of the outdoor kitchen, including the sink, refrigerator, and a giant burner to the left of the grill are also made by Alfresco. The extra-large burner, known as the Vespa Power Burner, is "great for those big pots full of delicious Lowcountry Boil," Ken explains. "In fact," he adds, "it's useful for big pans too. Just last week, the homeowner sent me a picture of him cooking breakfast on it."
With a gas-lit, linear Napoleon fireplace just feet away and plenty of space for entertaining or relaxing, this homeowner has just the right balance for the best kind of outdoor living—the kind that lasts all year long.
For more information, call Palmetto Outdoor Kitchens at (843) 216-0006 or visit palmettooutdoorkitchens.com.