Story by Art Department / January 19, 2016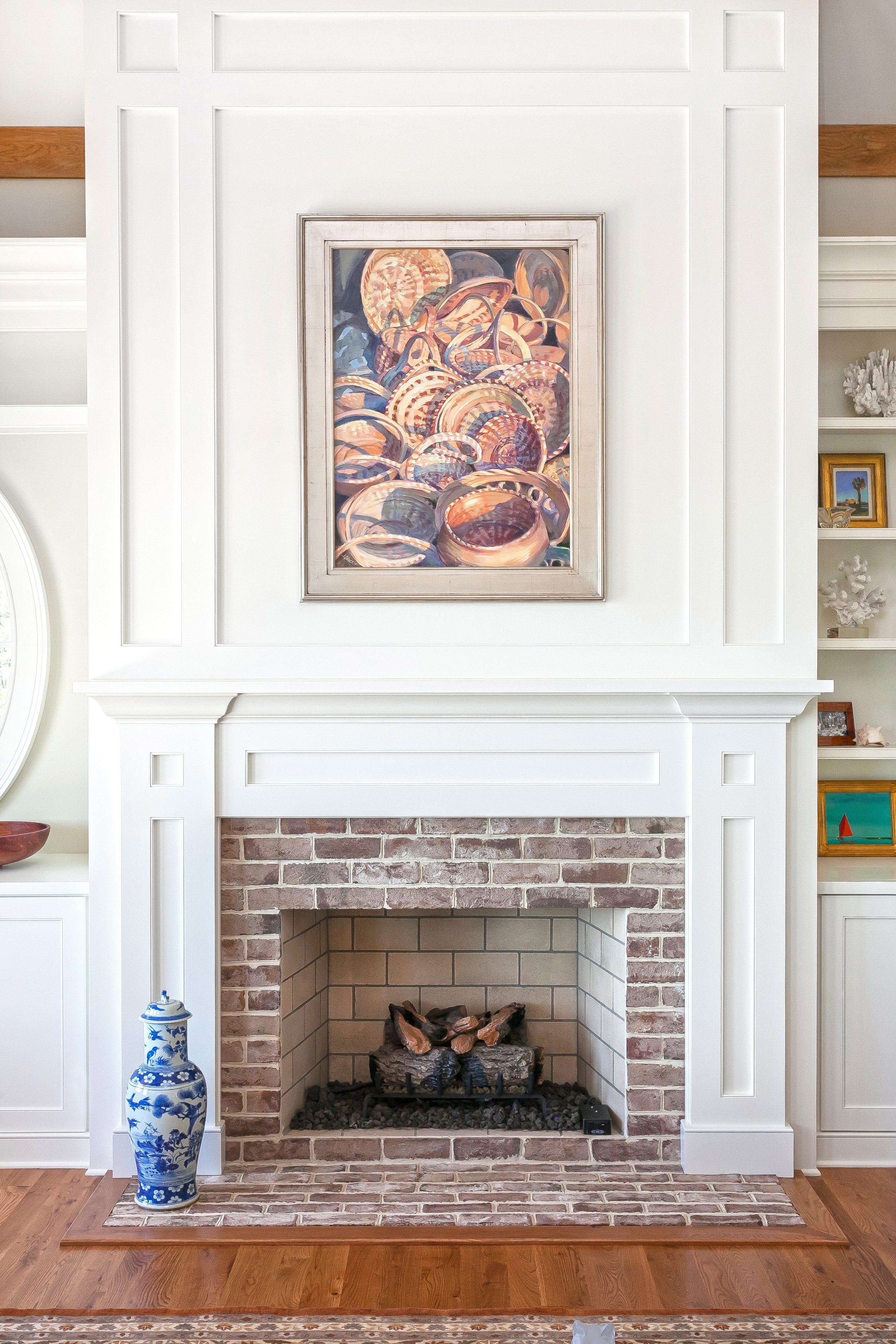 David and Mary Allen's Seabrook Island Homebuilding Experience.
For decades, David and Mary Allen toted their three girls to the Carolina shore, specifically to the chicly rugged beach of Seabrook Island. The place always magnetically drew them back, and over time, it became more akin to a second home than a vacation destination. As the Allen parents reached retirement, the island was the only logical location for them to settle. David remarks, "Our three daughters grew up knowing Seabrook Island. Now, they've moved to various locales around the country, but Seabrook is a place that they love to come to; it attracts them back. From a parent's perspective, that's a great thing." With the setting established, the Allens started to envision their home as both a permanent residence for themselves and a welcomed retreat for their oft-visiting daughters.
They located a lot overlooking the Kiawah River. The Allens' architect, Bill Huey of Bill Huey + Associates explains that it may, indeed, be his favorite lot on the island. Bill recalls, "The Allens and I toured the property together in its natural state before any construction began. When I got out here, I realized how special this spot is." What makes the land unique is a combination of the vast wildlife on that part of the island and the views, which not only include the Kiawah River, but also the Atlantic Ocean and the southernmost tip of Kiawah Island. Like most island homes, the Allen residence was designed to enhance the breathtaking vistas. However, David and Mary—in partnership with Bill—took this idea a step further and developed a reverse plan, meaning that all the living spaces are located on the second floor. The Allens also chose to place their master bedroom on the upper story. "The views are incrementally better as you get higher," Bill explains. "You can get glimpses of the ocean from the second floor. The unique challenge with a reverse plan like this one is in the math. The square footage of all the public spaces, plus the master bedroom, is stacked on top of just a few bedrooms. We decided to create large porches on the first floor under heated space above to allow for the top-heavy square footage." These porches—such as the screen room with large fireplace and cozy couch—serve as ideal spots for relaxing or entertaining.
The Allens next interviewed several builders, finally finding their match in Rick Aldrich of Aldrich Incorporated. Mary has nothing but praises to sing of his work. She laughs as she remembers, "I have to give Rick a lot of credit. I come up with things sometimes, and I want things changed sometimes. I'll suddenly want a new window here or there. Rick definitely had a can-do attitude about it. He came through on everything we asked for." Rick ensured that each aspect of Bill's plan was carried out exactly as it should be and worked with him to incorporate Mary's new ideas along the way.
One of the most important conversations that Mary and David had with Rick was about the building materials. The Allens wanted the house to require minimal maintenance and to be safe during hurricane season. For this, Rick turned to two of his suppliers—Buck Lumber and Carolina Machine Finishing. Buck Lumber provided a variety of materials designed for longevity, including BossWood treated exterior trim, Andersen impact-resistant windows and doors, coated pine porch ceilings, fiberglass columns, and stainless-steel cable railing. The siding also touts endurance alongside its beauty. Each fiber-cement shingle has been sealed via the Carolina Machine Finishing encapsulation process. Rick Jackson, proprietor of Carolina Machine Finishing explains, "We take interior and exterior building materials and run them through a machine in a horizontal plane. Each piece is coated on all six sides by a waterfall coating process to fully encapsulate it." The coated pieces repel moisture and protect the underlying material.
For the interior, Mary sought a different kind of longevity—timeless style. A designer by trade, she had a specific vision for each room. "I wanted to stay true to classic finishes that would stand the test of time," she reveals. "In thirty years, the countertops and flooring should still be appealing. I was also incorporating items from our previous home, so we didn't venture too far beyond our classic look." To bring the interior design together, Mary employed muted colors and subtle details, like the simple, yet elegant poplar crown moulding.
The Allens are convinced that they could not have had such a great outcome if it were not for the partnership formed between each person and company who worked on the house. "I've heard stories of people going through this building process, saying, 'Oh my goodness! The best thing you could do is hire a lawyer,"' David notes. "Nothing is further from the truth. We're very fortunate that we had a team that worked well together to ensure that we got what we really wanted." The assembly of knowledgeable minds coming together enabled the Allens to transform their nostalgic vacation spot into their full-time residence. And their daughters? They can't stay away from the peaceful slice of paradise, making Mary and David two very contented parents.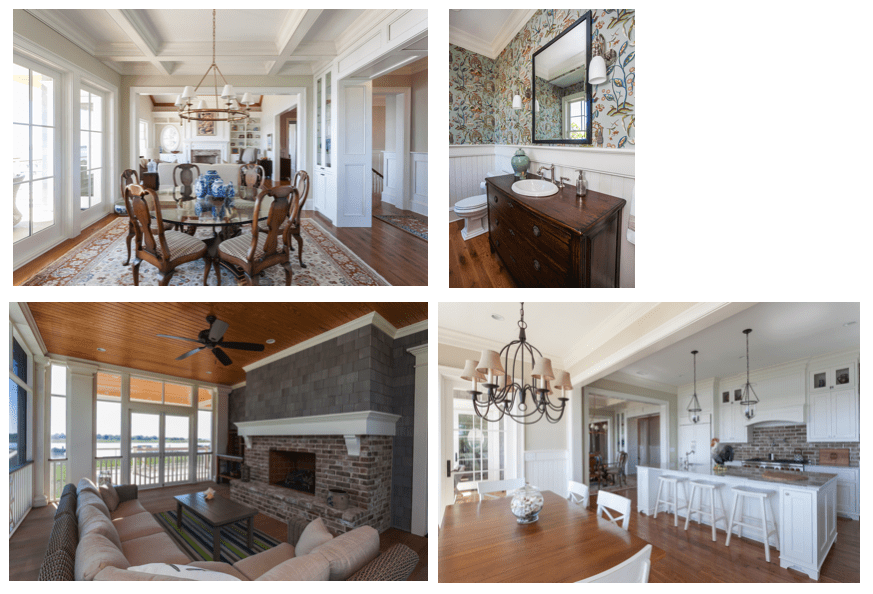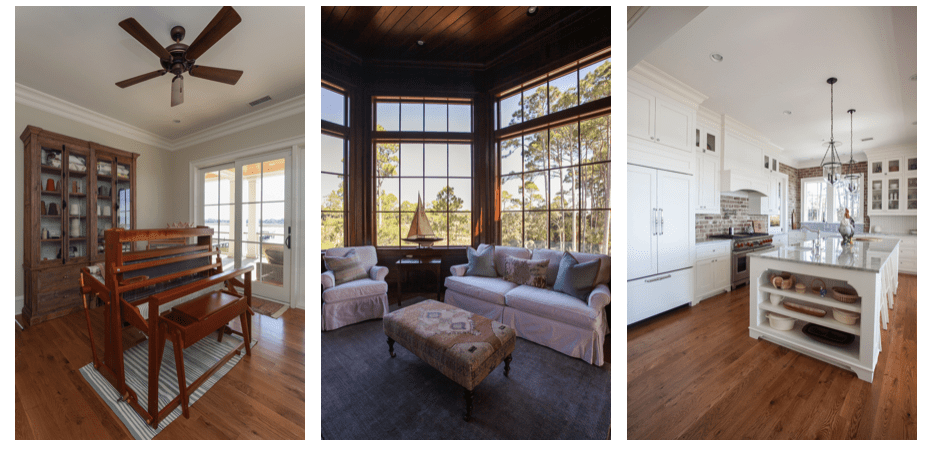 Architect: Bill Huey + Associates
(843) 805-6700 | hueyarchitect.com
Builder: Aldrich Incorporated
(843) 478-9290 | aldrichincorporated.com
Building Materials: Buck Lumber and Building Supply
(843) 795-0150 | bucklumber.com
Material Coating: Carolina Machine Finishing
(843) 760 0029 | cmfprefinish.com
CABINETRY: William C. Pritchard Co.
(843) 889-1313 | wcpritchard.com
ROOFING: Jackson Sheet Metal & Roofing
(843) 709-3793