Story by Art Department / June 6, 2017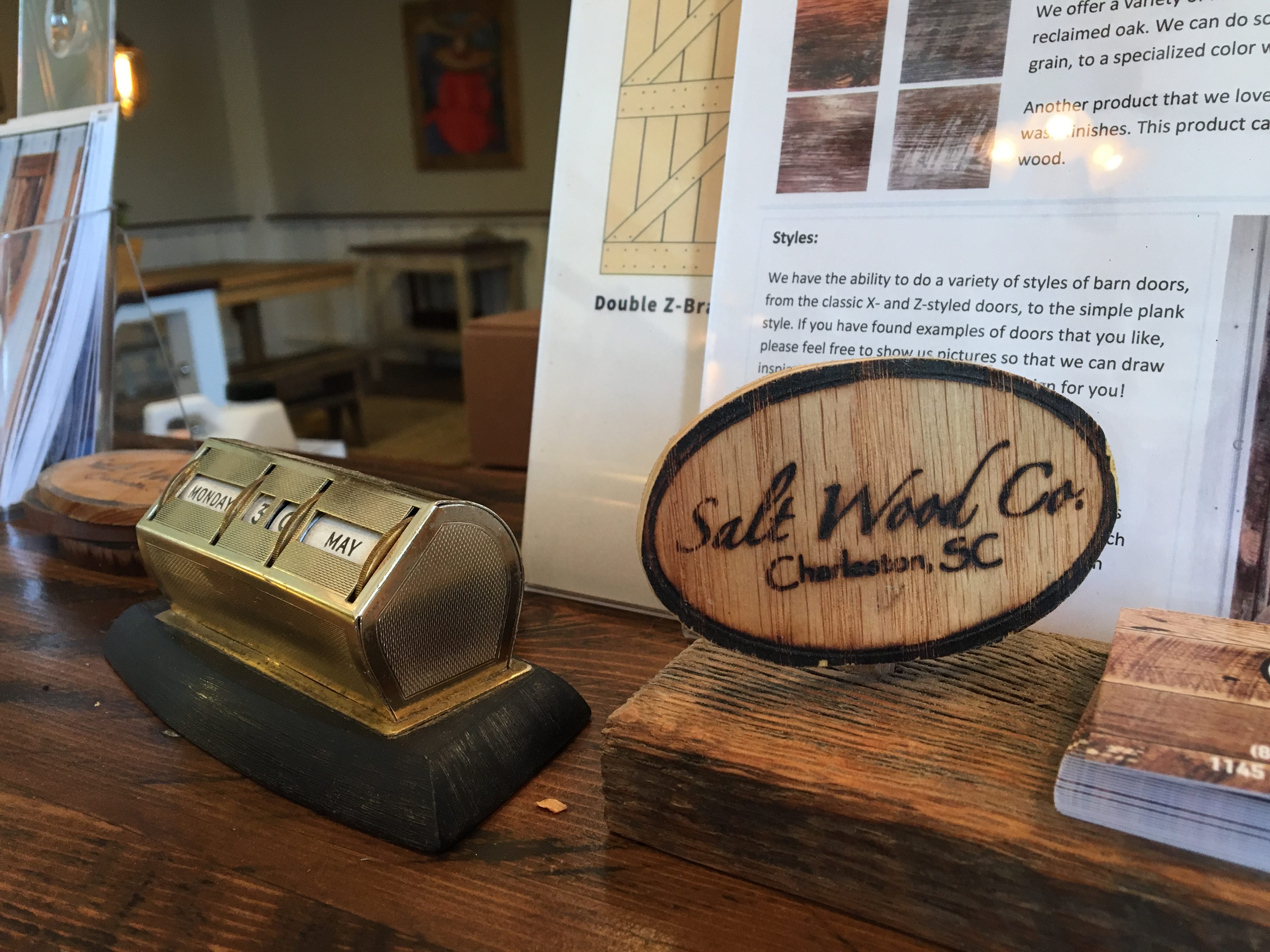 There is something to be said about hand-crafted furniture, not only are these pieces higher quality and longer lasting, they often create a feeling of warmth and authenticity throughout your home. Tucked away in Mt. Pleasant, minutes from downtown, you will find a company that takes reclaimed wood and creates furniture that is, simply put, magnificent. Salt Wood Co. is a custom furniture shop, that creates one of a kind pieces for their clients. They take the time to meet with clients in order to sketch ideas out as well as collaborate with them in creating a piece that is perfectly unique. Once the piece is drawn, Salt Wood Co.'s experienced team of woodworkers and artisans go to work in making this drawing a 3 dimensional masterpiece.
With his small team, currently consisting of 4 people including a few interns, owner Vann Cochran is able to take the ordinary and make it quite extraordinary. While touring his shop, I saw everything from a Cypress Wood table, to a gorgeous bench made from a tree that fell on a farm, thanks to a recent storm. Customers are offered the opportunity to bring in their own wood, like the farm tree, or the various pieces made from a woman's grandfather's hardwood floors. And it truly is a noteworthy experience, walking through the shop, and seeing the pieces and individual stories that go with each. But, if you do not have your own wood with its own story, you are able to choose from the various reclaimed wood that they already have in stock as well. No matter which direction you choose, you are deciding to create a piece out of material that already has a history, whether you are familiar with it or not. This creates furniture that has a kind of genuineness that you are unable to duplicate in big furniture stores.
Though, they can and will create just about anything for their clients, Vann and his team do believe their most popular pieces are farm tables, sliding barn doors, and benches. Though, it could be argued, that the lovely bed swings they can create should be added to that list as well. Bed swings seem to becoming a more prevalent fad today in Charleston, and for good reason. These swings are the perfect spot to lounge, relax, and read a book (or take a nap). Recently, Salt Wood Co. created one of these perfect spots to unwind for the 2017 Charleston Home + Outdoor Living Festival Backyard Makeover Giveaway. The Giveaway offered a great deal of amazing prizes, but the Salt Wood Co. bed swing drew the attention of almost every festival goer. This handcrafted bed is beautiful as it is comfortable. But, it is the small details, such as the custom wine holder, that make this piece, as well as all hand – crafted furniture, so special.
If you are in the market for exceptional, well-built, and unique furniture, Salt Wood Co. is the place for you. With the ability to build whatever it is you desire, the options are limitless and you are given the ability to express yourself fully through your home decor. For more information on this company and how to make an appointment, visit https://www.saltwoodco.com/, email: info@saltwoodco.com, or call: 843.714.1850.