Story by Art Department / July 16, 2021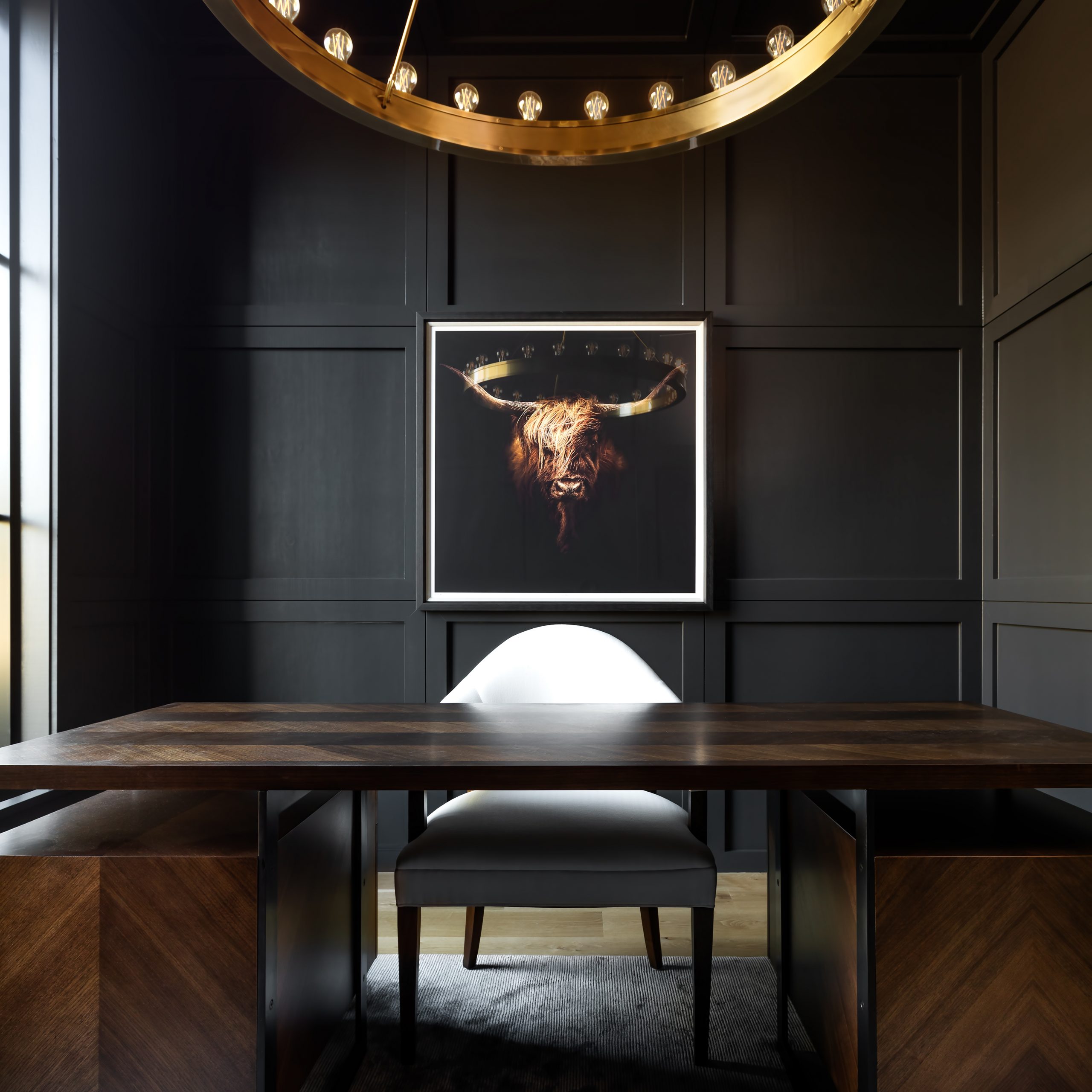 Over the past year and a half people have been working from home more than ever. Whether you're doing that full-time or part-time, your home office should be a place that inspires your creativity and provides you with a space to bring your ideas to fruition. We've gathered a list of 11 home offices that will give you the inspiration you need to check off those to do lists and get your work done.
Focused Environment
Working from home can be a challenge if you don't have the right setup. Maybe you have a space off the kitchen but it's open so your kids can come and interrupt your work flow. In order to avoid that, make an office it's own room with a door that closes to keep noise and people out when you're in important meetings or need to tackle a big project. Having a variety of seating options like in this top floor home office can help improve work flow; move around so you aren't in the same position all day, it's good for your muscles.
Work Space for the Kids
We know, this isn't technically a home office, but it was too good not to share. Incorporating functional spaces for your kids in your home is so important. They need to flex their creative muscles too so having a designated workspace for them is great. This space can be multifunctional, serving as a study room, arts and craft area, etc.
Artistic Vibes
For this homeowner, an eclectic space filled with art, color, and things that inspire her was the way to go. Her home office speaks to her design style, as it should. Whether or not you are a fan of neutrals, bold colors, modern, or boho you need to create a space that fits your personality and feels like you so you are working in the most productive environment.
Moody Atmosphere
Lighting is so important in home offices. Whether you want to focus on letting the natural light in or need a bright overhead light, you need to know what lighting will work best in a conducive environment for you. In this case, a combination of natural light and a large chandelier were the way to go to create a good work space for this homeowner.
Modern Meets Boho
This simple office setup combines elements of both modern and boho design. A desk with clean lines and exposed shelves offers plenty of space to keep everyday office essentials organized and room to spread out the items this homeowners uses during the work day. Plants, a rattan lamp, and basket wall hanging add those boho touches. This office is setup in a space separate from the living areas as to limit the noise interruptions throughout the day.
Color Play
Home offices don't need to be stuffy and boring. Play with color and be bold; color has such an impact on our emotions so choose colors that make you feel happy and motivated. Green is often a color associated with tranquility and for some, can be very motivating, both good things to feel when you're working. Pink is said to have a calming effect which is good because you don't want to be stressed when you're trying to get work done; that can hinder your productivity. Sometimes it's inevitable but decorating with colors that inspire a soothing, motivating atmosphere can help keep you level headed. The yellow/gold chair in this home office brings an extra vibrant pop of happiness into the space.
Cozy Feel
Your home office should be a pleasant place to be. You'll spend a lot of time in the space so fill it with things that make you happy and help you improve your focus. Create a cozy space with limited distractions and only the technology that you need to get your work done.
Built-In Heaven
When designing your home office, it's important to make sure you create an ambiance that will be function and practical for you to work in every day. In many home offices, like this one, you'll have built-ins to not only showcase sentimental pieces and books, but also to store things you might need as you go through your work day. It is also so important when choosing the items for your office that your chair will support good posture and your desk is the correct height.
Nature Views
Biophilia, the idea of bringing the outdoors in, is apparent in this Lowcountry home office. A window wall allows the beauty of the maritime forest outside to shine. Natural woods and plants were also used in this space to bring the serenity of nature indoors. This creates a calming environment to work in.
Historic & Coastal
If you live in a historic home, or even a home with some of the original elements, keep those in tact. In this home office, you'll find exposed brick complemented with cozy Southern-inspired chairs perfect for a quick break during your work day. Wood beams, built-ins, and a glass enclosure add more character to the office and offer a charming atmosphere to tackle those to do lists.
Small But Mighty
Elevate your office nook with built-ins and wallpaper. Tiny spaces can still be full of function and get those creative juices flowing. A little nook office can be great because there's not going to be all the bells and whistles of a full room with distractions. You can sit down and focus on what you need to get done. Wallpaper elongates the space and gives it a special elegance. Built-ins are a must in any office, but especially a nook with no other storage. Be sure there is enough storage built-in to house your supplies, paperwork, etc. so you can keep the desk clutter free. The less clutter around to distract you, the better.