Story by Art Department / October 27, 2016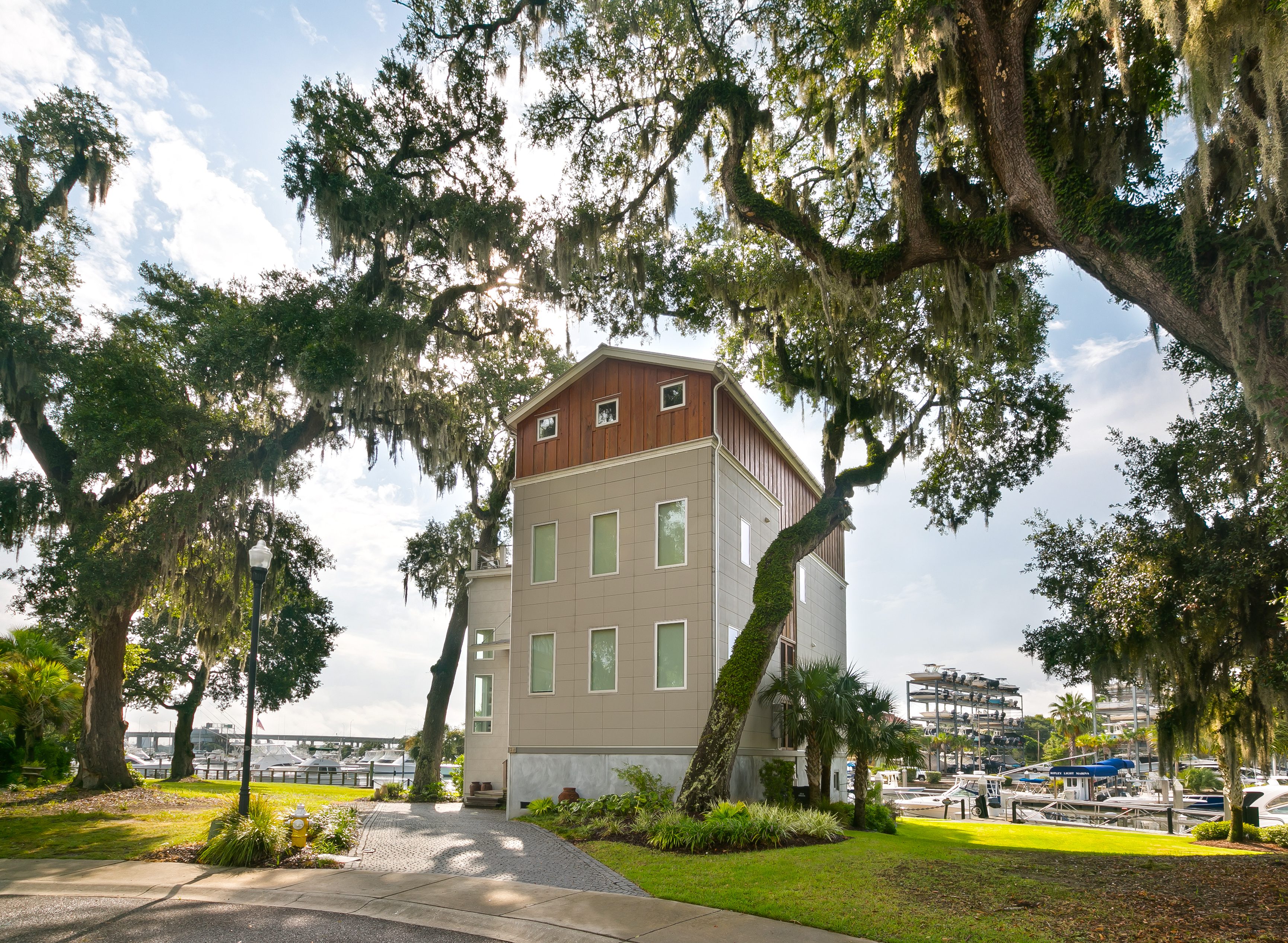 When Laura Schonholz began designing her home with her daughter Johanna, they both wanted to find a way to use products and design elements that would blend in their aesthetics with the traditions of Charleston.
Bringing in the "new" can be tricky—especially when the "old" is as cherished as it is in a place like Charleston. Architect and homeowner Laura Schonholz, with the help of her daughter Johanna Sztokman and companies like Nichiha, brought in new looks to a stunning Lowcountry setting in a way that still honors and highlights the style traditions of this area.
"We fell in love with Charleston as soon as we saw it," gushes Laura as she explains how her husband's position at MUSC brought her family to the Lowcountry from Argentina 12 years ago. "When settling in here, we wanted to have a contemporary house that took advantage of our location and maximized our view of downtown Charleston." Laura set out to design a home that met all of the Charleston Board of Architectural Review guidelines and still stayed true to her personal design style that she describes as a mixture of contemporary, minimalistic, and eclectic. To achieve this aesthetic, she worked diligently with her daughter to find all of the right contractors, vendors, and materials.
Nichiha fiber cement paneling was one such product that worked well for Laura and Johanna's design style, both inside and outside of the home. Buck Lumber supplied Nichiha's Empire Block product on the exterior of the house as well as on the floor-to-ceiling custom fireplace. "We make both residential and commercial products," explains Brandon Tart, Territory Manager of Nichiha. "You can choose one of our products to have the look of lap siding or board and batten, or you can select our commercial panels that also can be used in modern single-family homes or commercial buildings."
"I was trying to think of a non-conventional material, and after investigating Nichiha, I thought it was perfect," Laura adds. "Also, we really wanted to interconnect the exterior and interior of the home and the look of this gray material was ideal."
"Nichiha's product was a way of incorporating the modern material into a more traditional form. It's a very modern product, so we tried to create a house shape that would resemble a Charleston single,"
Johanna includes.
Throughout the home, the mixture of contemporary and traditional can be seen. Laura used hardwood flooring, but instead of ending the flooring at the baseboard, she continued the flooring all the way up the wall in some of the rooms of the home. AGM Imports helped to blend the contemporary with the traditional in the bathroom tiling also by adding unique flair to traditional bathroom shapes and silhouettes.
This Lowcountry residence has been designed and built to stand the test of time. With a mixture of durable materials and design choices, Laura and her family will be able to enjoy the Charleston views in style from their home for years to come.
For more information, call Nichiha at (866) 434-4421 or visit online at nichiha.com. For more information about Holz Design Group call (843) 478-4906. For more information about Buck Lumber call (843) 795-0150.