Story by Alli Steinke / August 16, 2017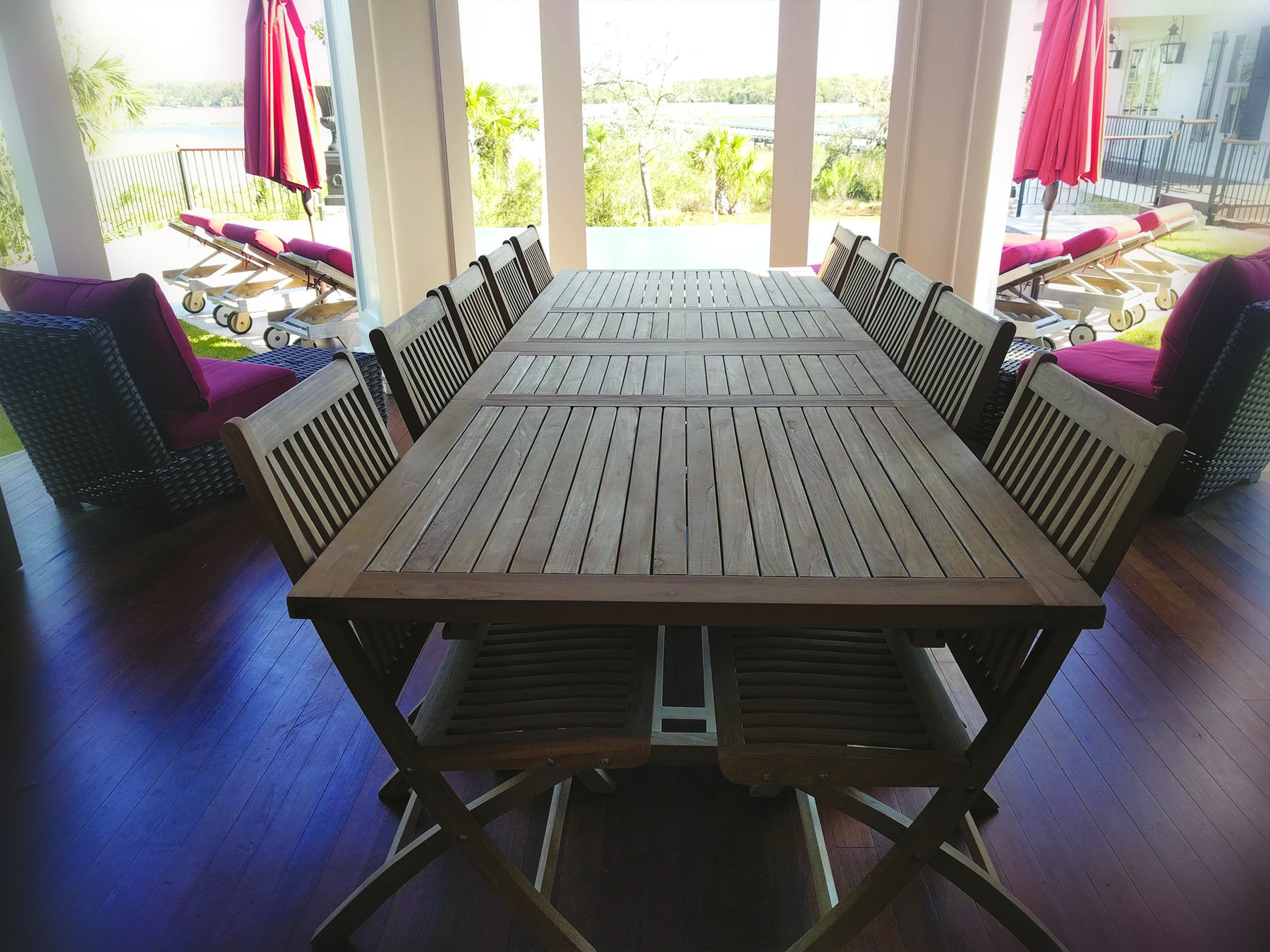 With summer well under way and fall fast on its heels, now is the time to take advantage of the outdoors before the weather turns cold. The best way to do that is to fill your outdoor space with durable, attractive furniture for outdoor entertaining and relaxation. Teak is a great wood choice for outdoor furniture because it's long-lasting and it also assumes a beautiful silvery gray color the more it weathers.
OutSide Is In is a great place to start looking for teak pieces because they specialize in quality teak furniture. The OutSide Is In Design Center is on Highway 17 North in Mount Pleasant and is full of beautifully crafted teak furniture, including roomy rocking chairs, round coffee tables, shower benches, oval dining tables, and bar chairs. Each piece at OutSide is In is considered for its outdoor function and usability. The teak Double Leaf Table, for example, has leaves stored beneath the table surface that can be pulled out from the middle of the table in order to extend it, easily transforming it from a small breakfast table into a dining table for six. Teak tables like this one can be crafted at bar height, counter height, or dining height for all kinds of outdoor entertaining.

As a Prize Giveaway Sponsor of the 2017 Charleston Fall Home Show, OutSide Is In will be available for homeowners to learn more about teak furniture as well as the customization options offered at the OutSide Is In Design Center. Since the experts at OutSide Is In are committed to supplying some of the highest quality teak furniture in the Lowcountry, they also want to make sure each customer finds the perfect teak piece for their unique outdoor living space.
As apart of the 2017 Charleston Fall Home Show, there will be a Grand Prize Giveaway. The Fall Fix-Up Prize Package consists of five separate $2,000 giveaways, which will be awarded to five different lucky locals! OutSide Is In has graciously donated a $2,000 Teak Furniture Package to one lucky winner, perfect for Lowcountry outdoor living. Stop by the Prize Giveaway booth at the 2017 Charleston Fall Home Show and enter to win OutSide Is In's prize, or 4 other amazing packages.
And, to learn more about OutSide is In, come out to the Charleston Fall Home Show at the Gaillard Center on August 25th-27th and visit their website at https://www.outdoor-furniture-fabric.com/ or call (843) 718-7181.