Story by Art Department / March 5, 2021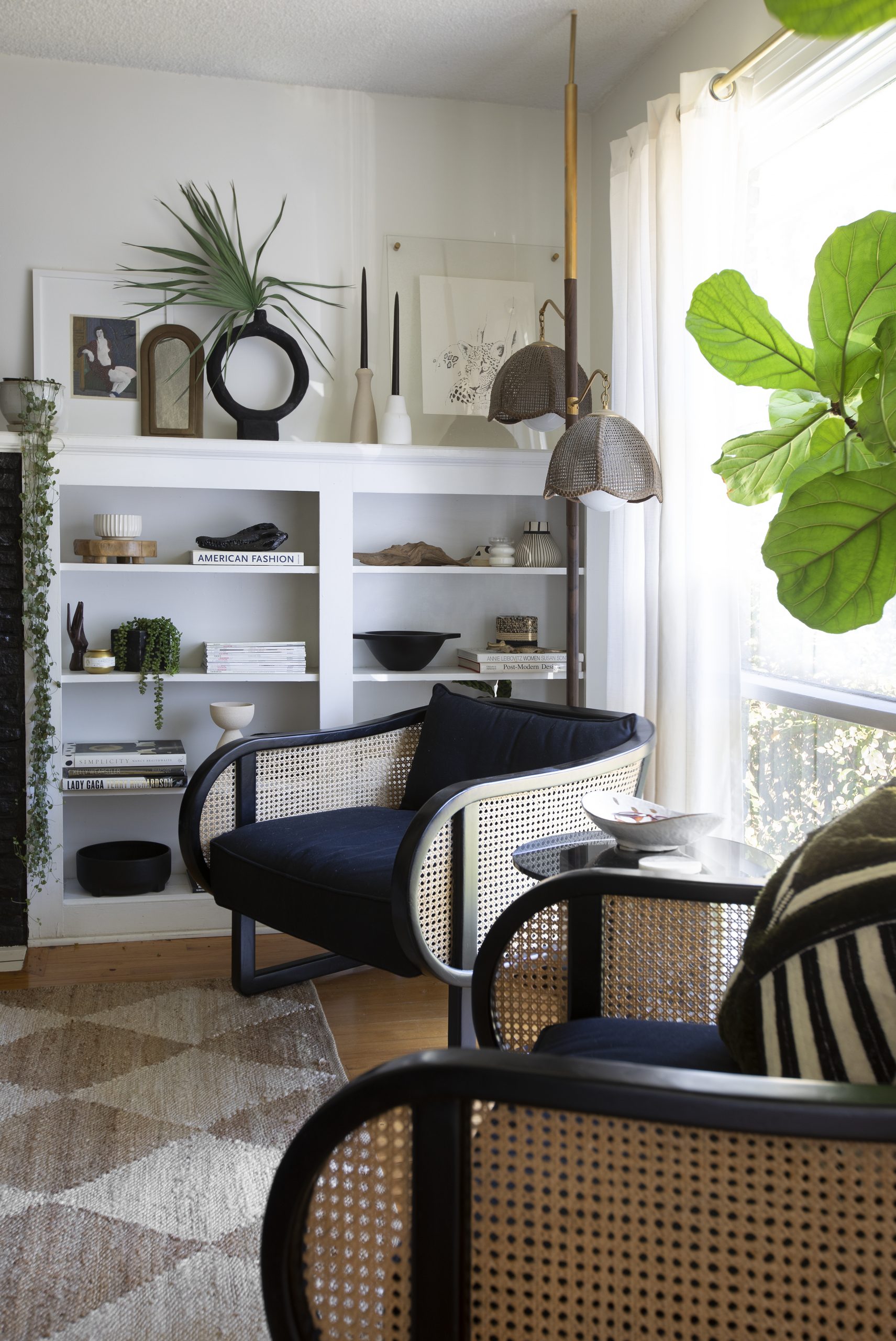 Margaret Wright is an interior and architectural photographer based here in Charleston. As a Charleston native, Margaret recalls spending her childhood exploring the city and finding the beauty in things. This past time led Margaret to pursue a career in photography and she's be capturing beautiful images ever since – some of which you've seen in the pages of Charleston Home + Design. Margaret and her husband live in a midcentury modern ranch in Park Circle with their pup. The now home renovation experts have made a space they can call their own. Margaret gives us a home tour and talks about how she approached designing her own home and some of the special pieces.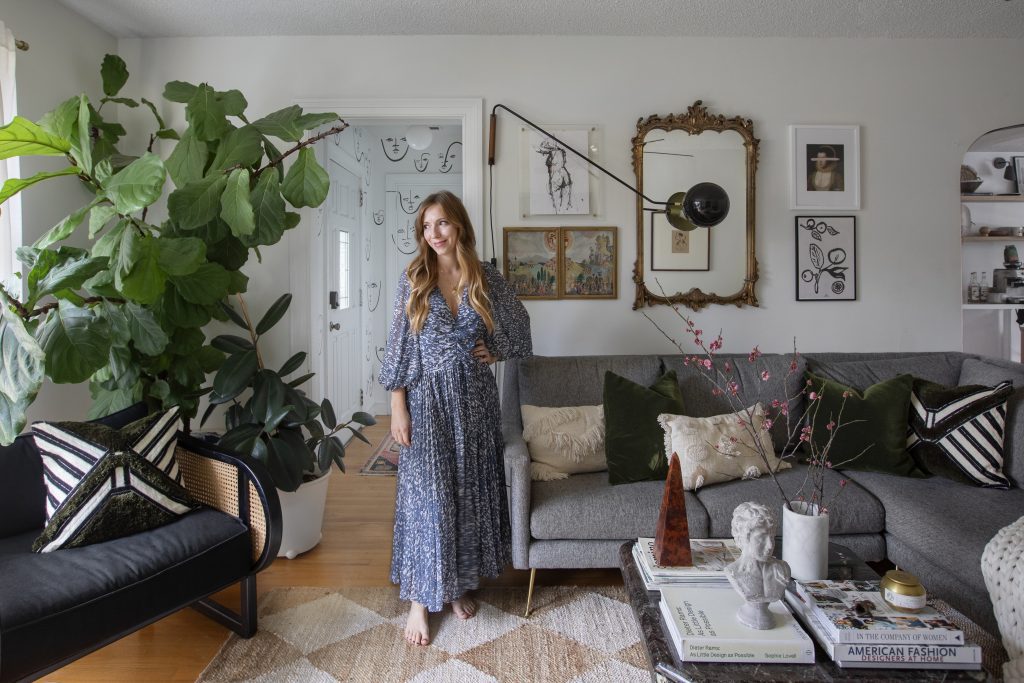 What drew you to Park Circle? Was a home renovation something you'd wanted to do?
Park Circle was at the top of our list for purchasing our first home. My grandparents grew up in the neighborhood and I loved the central location, age of the homes, and all the parks and great spots in our little "downtown" of East Montague. We even got married at Riverfront Park and both my dad and grandad worked on the Navy Yard; so I feel very connected to the neighborhood.

I was looking for one of the 1940s cottage style homes when we were house hunting. Our midcentury ranch won me over with its big picture window, good bones, builtins, and most importantly, potential.
What were your first impressions of the house? Did the home renovation process overwhelm you at all?
The house was completely move in ready, clean, and minimally updated when we bought it so the amount of work it needed wasn't overwhelming. However, it was 1.5 baths with the half bath actually being the master. We immediately got to work adding a shower into the bathroom by converting a closet into addition square footage. It's still teeny tiny, but I'm so glad we did it.

My other priorities were painting the exterior and renovating a bad addition that had been done maybe 20-30 years ago. It was an awkward space that didn't add any functional value to the home. We turned it into a space we can use as a guest suite, or transition into a primary bedroom if we decide to when our family grows.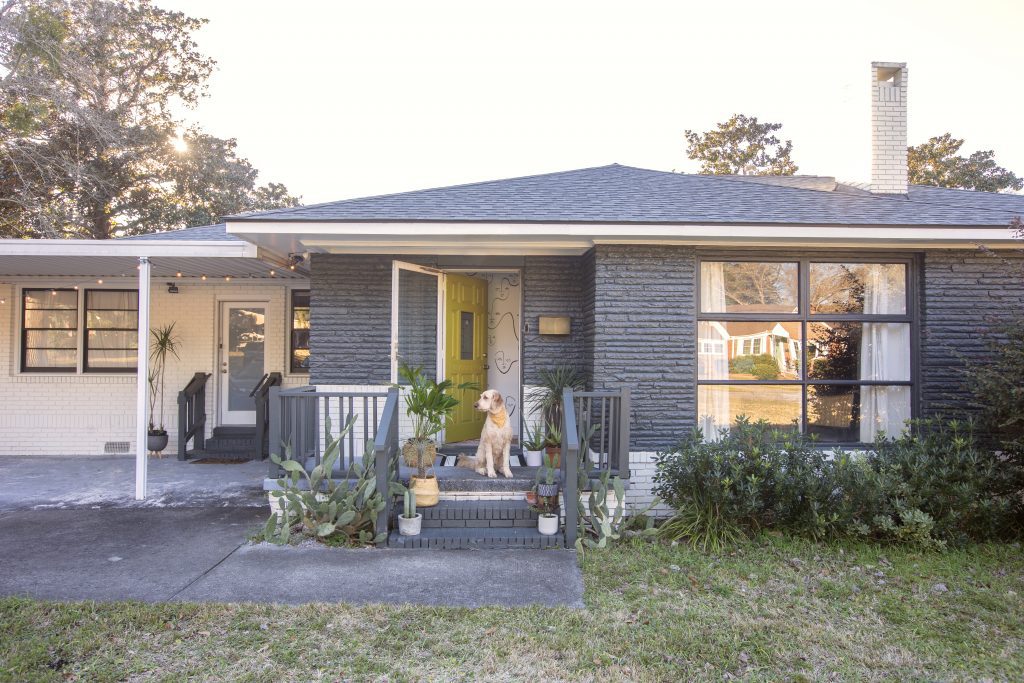 How does your career as an interior photographer affect how you design your own home?
I feel so lucky to be working in the world of design! I'm inspired every day by the beautiful homes I get to spend time in and shoot. I work with the most talented designers who are constantly influencing my aesthetic.
How would you describe your design aesthetic?
My style doesn't fit into one conventional box, but I resonate with words like modern, European, and collected. I gravitate towards soft lines, neutral colors, and luxe materials like velvet, brass, and marble. I prefer to source vintage over buying new, or at least shop small at one of our amazing local retailers like Celadon, House of Nomad, and Zuma Imports. Some of my favorite vintage scores have come from Homesick Housewares, The Station in Park Circle, and Oyster White Interiors. I tossed in a few odes to midcentury design with this house because it is a 1950s ranch after all, and I try to decorate in a way that makes sense for the home I'm in.
Take us through the home room by room. Describe some of your favorite pieces and the inspiration behind the room.
Entryway
When you first walk into the house you'll have your socks knocked off by our entryway mural. The one and only Carrie Beth Waghorn painted this for us. I really wanted to greet people with something big and bold!
Living Room
I kept our living space modern and bright with a monochromatic color palette. I soon realized all the black and white was a little cold. I've since been warming it up with layers of cream and natural tones like driftwood and a jute and white diamond pattern rug. It was important to me that we have ample seating for gathering friends, which is funny to think about now but I know we'll be filling these seats again soon.

The marble tables were project pieces I sourced secondhand as one one table, but the top and bottom weren't attached and I didn't like the shape and height. I separated them and created two tables by adding a round piece of smoked glass to the existing base out of dowels for the top, which is now our coffee table. The fireplace was also a DIY. It was originally the same brown stone that used to be on the facade, and I painted it black not long after we moved in. During the lockdown in 2020, I decided to try my hand at painting the tiles at the base of the fireplace and I love the way they turned out.
Dining Room
Our dining room is one of our more colorful rooms. I think dining rooms should always feel fun and laid back, perfect for dinner parties with friends. My Willa Heart snake prints and Chambers Austelle pieces always make me smile. I scored the table off of Facebook Marketplace. I have no idea the age or the maker but it definitely gets the most love and questions. If you're reading this and have any ideas of the origins, let me know!
Kitchen
I'm dying to update our kitchen, but for right now I'm grateful for white cabinets and ample storage. We installed the floating shelves along the left hand wall, which was completely blank when we moved in. I love having a place to display some of my favorite things, including my dishes which were handmade by a friend and talented ceramicist, Kelsey Nagy. Our espresso machine is probably our most prized possession! And I love displaying our diner mugs which we collect whenever we travel and find great new coffee spots. They contain so many memories of trips we've taken and they're the perfect size and shape for your morning cup of joe.
Master Suite
I kept our bedroom neutral and minimal, so that it would be a peaceful and relaxing retreat. I also tried to make our bathroom feel as spa-like as I could to make up for it's tiny foot print. The tumbling block tile in the shower is one of my favorite elements of the space.
Home Office
I always kept a home office but since COVID, I've been sharing the space with my husband, who now works at home full time. I love getting to do lunch together every day and spend more time together, but no one is as happy about it as our dog, who will probably have a mental breakdown when the world goes back to normal.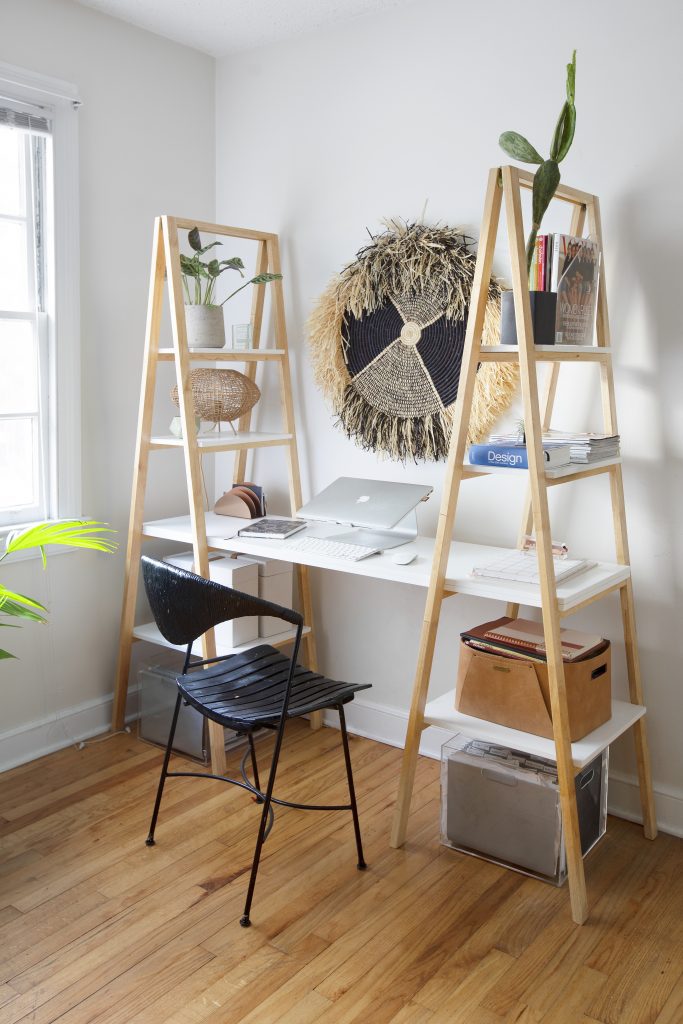 Guest Space 
I recently completed one guest room with my DIY pool noodle headboard, which was another fun quarantine project. I wanted something wall-to-wall, velvet and arched, that would feel like staying in a boutique hotel. As we all know, living in Charleston you get a lot of out of town visitors. I wanted a beautiful and fun place to host them and make them feel welcome and loved.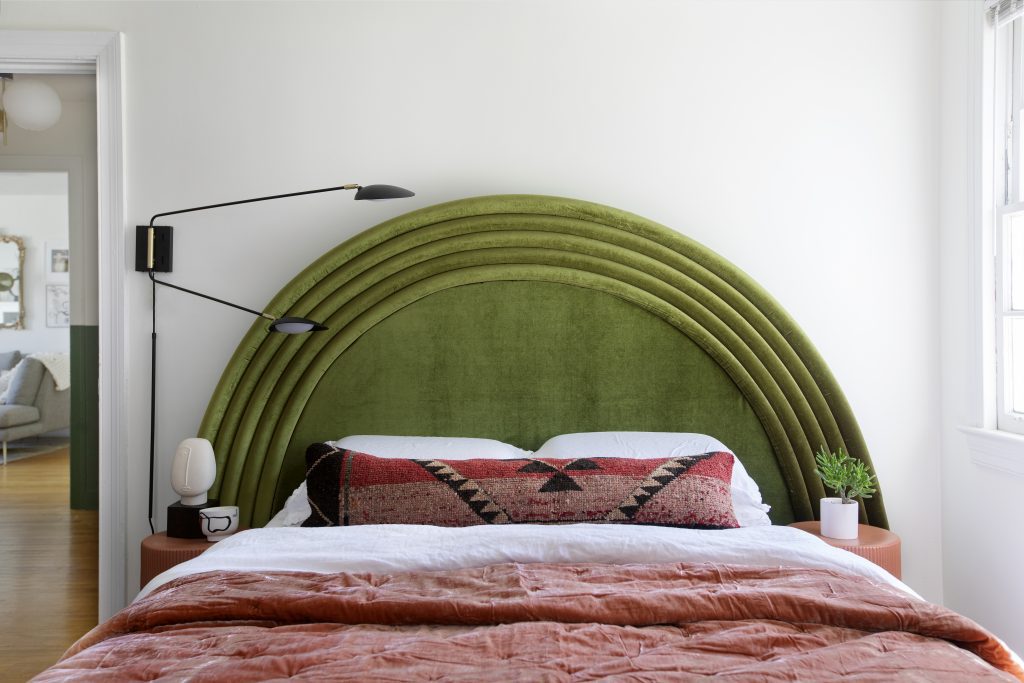 Art is something that is prevalent as you tour the home. Talk about why some of these pieces spoke to you and where you got them.
In the living room, two of my favorite pieces were scored at the Paris Flea Market, so they of course evoke the best memories. Our friend and neighbor was the artist behind the cheetahs, which makes them that much more special. Another friend, Sonny Sisan, drew the figure above the mohair bench, so she also brings me so much joy. I already mentioned the prints in the dining room; they came from two of my favorite artists Willa Heart and Chambers Austelle. I love them for their color and whimsy.

In the color block hallway, I have a portrait of my great great grandfather, given to me by my grandfather for graduation. I love the history of the photograph and the ornate frame. We discovered South African photographer Nonzuzo Gxekwa a few years back and we bought this print for our anniversary last year. I love her use of color and the unique gift she has for capturing people. I also spent the summer of 2011 living in South Africa so it reminds me of a special time and place. In the guest suite I have a piece by local weaver Erin Barrett, whose home I've shot a number of times. It's so special to me to have art made by friends and folks I admire!
You completed much of the home renovation yourselves correct? What was that process like? Are you finished with the home?
We did! We renovated the master bath ourselves and with the help of family. Contractors worked with us to complete the guest suite bedroom and bathroom renovation. I prefer to do smaller projects myself, like painting and furniture making, but I hope to learn more as we go. The sense of accomplishment when you dream up, design, demo, and renovate a room yourself is so rewarding! I would love to update our third and final bathroom as well as rework the kitchen. Of course when it's your house, you're never done!