Story by Alli Steinke / April 21, 2021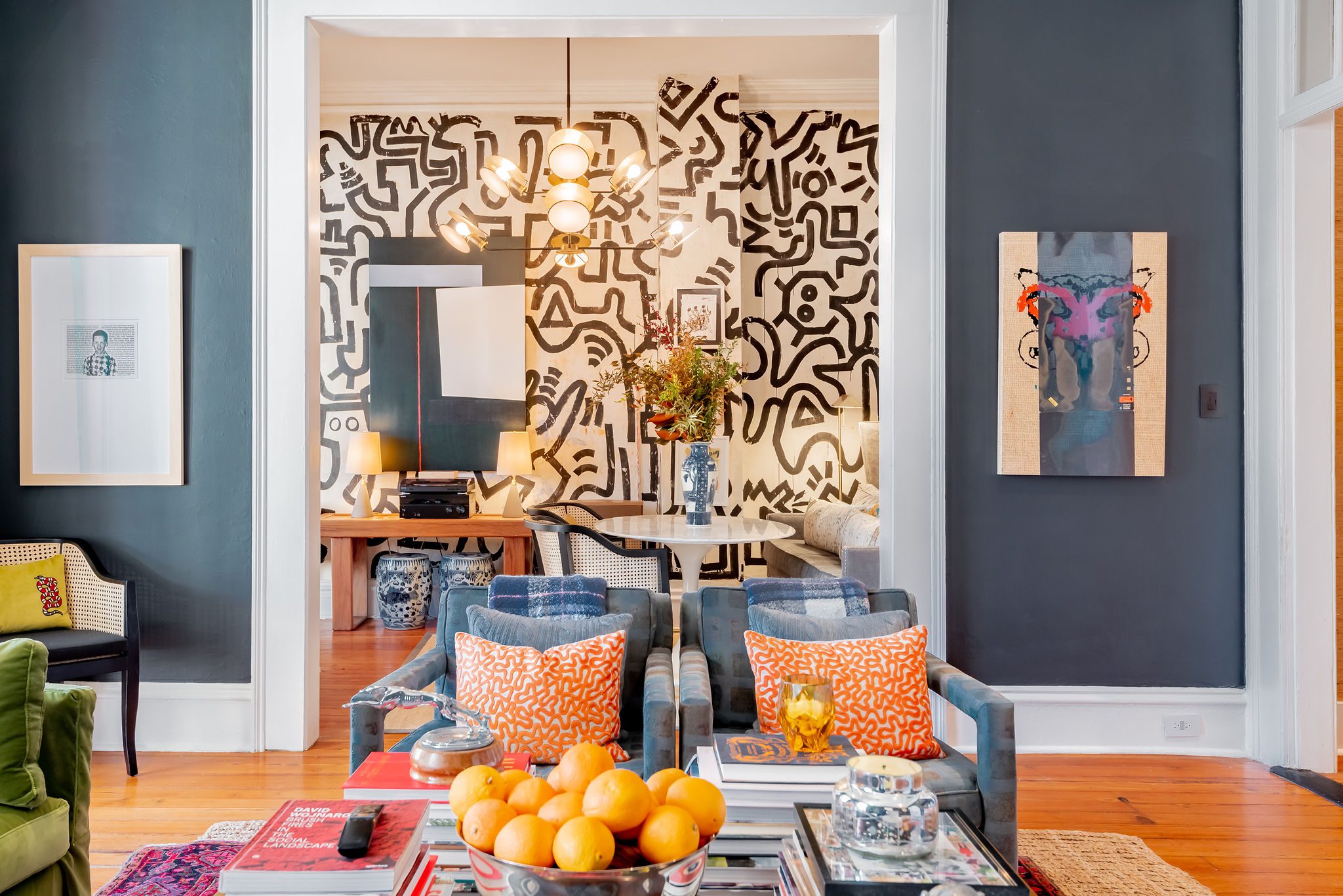 Today we're taking you inside the former home of Taylor DeBartola of local interior design firm T/D Interiors. You can find Taylor's work in Conde Nast Traveler, Apartment Therapy, House Beautiful, and more. The Atlanta native gives us an inside look at his downtown Charleston townhouse he renovated with bold and elegant touches.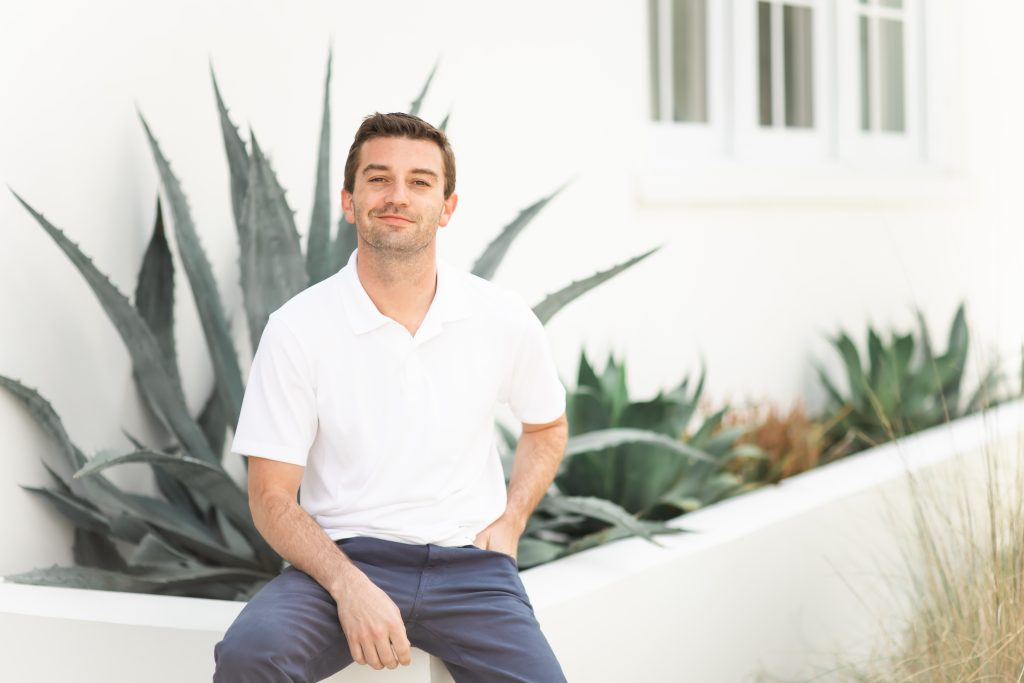 Tell us a bit about your journey as an interior designer and how you approached designing this home?
Over the last five years, my journey in interior design has been rooted in travel and exploring. I'm always after what the eye can see next. I grew tired of seeing the same things over and over again and started T/D Interiors with the unapologetic goal of creating lasting, timeless homes that still shook up the rules, and aimed to shake the gates of the most traditional, old-guard gatekeepers in Charleston and beyond.

In that five year time, I've seen the business grow, including taking on full-time Lead Designer, Hailey Boylston in 2019. In that time, I think we've really developed a voice that feels very much authentic to "us".
I believe a great deal of our strength lies in our collaboration and the working chemistry between us. I'm certain that our projects wouldn't be as successful without our constant challenging and interrogation of each element, color, or piece of furniture we welcome into the room.

The approach to designing my own home has evolved over the years, but it was essential to get help. Just like anyone else, I need a professional eye from time to time, and Hailey was that eye. I find it helpful to envision who the next owner of the home will be. In this case, I imagined an eccentric, well-traveled doctor to inhabit the space next. Then I put myself in those shoes – something that, for whatever reason, allows me greater freedom to make decisions that are a bit more wild.
Take us through the home. Talk about some of your favorite elements of each space, what feelings did you want the home to evoke, etc.
My favorite thing about this home is the way the outside is brought in. Double French doors in the living room and a wall of windows in the kitchen let a tremendous amount of light through and allow guests to move easily between indoor and outdoor spaces.
I love the feeling the kitchen gives you with its mix of textures, materials, art, and lighting. An "Elma" chandelier from Trueing Co. is one of my favorite elements in the entire home and sits perfectly asymmetrical, anchoring the kitchen. The light is number one, second only to the plumbed Miele coffee machine that is now a must-have!
The frenetic energy of the mural in the dining room and matte black paint in the living room set the scene for layers of interesting patterns and allowed the walls to showcase the art. The fireplace features a piece by Louise Bourgeois and the work between the sofa is by Catherine Booker Jones via The George Gallery in Charleston. A print by David Worjnarowicz along with work by Trever Webster, via Mitchell Hill, flank the dining room opening.
The dining space utilizes a semi-custom banquette. with art by Dontré Major hanging above it. Three original works by Purvis Young are hung vertically atop the dining room mural, along with a large format piece by Catherine Booker Jones which calms things down a bit. The chandelier is Thomas O'Brien for Visual Comfort.

For the hallway, we wanted to maintain a level of privacy and create a space to showcase artwork. We closed in some interior windows and covered the entire thing in grasscloth. This created a skinny gallery of sorts that hosted a rotating roster of art. We designed this home with three major modern renovations in mind. We added a half bathroom and completely renovated the kitchen and master bathroom.
The idea for the bedroom was to create a separate small oasis that showcased the tall ceilings and larger windows; a space that also provided privacy within the apartment itself. We designed linen drapes that relax the space against the "Charlotte's Locks" orange wall and a mix of colorful upholstery. Other favorite pieces include the danish teak cabinet and pair of chinoiserie bedside lamps.
The bathroom was a complete gut along with the master closet. I love the Italianate style vanity with a soapstone top to mimic the shape of fireplaces throughout the home. We selected Newport Brass fixtures for the faucets and shower plumbing from Moluf's; a distinctly heavy handed polished nickel that makes these daily touch, tactile things stand out as important, thoughtful details.
What new interior design trends did you try in your home that you hadn't before?
In our work, Hailey and I are careful to tread lightly when it comes to trends – almost trying to remain unaware of them, allowing us to focus on our own creative platform of ideas and sensibilities. But of course, we are tearing through the pages of our favorite magazines and trends can often show up.

There are indeed plenty of things we do that borrow from one trend or another, whether current or not. Our job as designers is to edit which trends we let into our sphere of influence.

That said, we tried many things for the first time in this space. We had an extraordinary opportunity to work on a smaller space with brave use of color, bold patterns, and ballsy art choices. Being your own client sometimes has advantages! We wallpapered ceilings, did a deep green on the kitchen ceiling, and had custom stainless steel hardware made that echoed the grain of the kitchen's marble countertops. These all top the list of fun details that stand out to me.
How would you describe your personal style when it comes to interior design?
Layered, livable, and with a healthy sense of humor. The world can be quite cruel and sometimes bleak. I truly believe that our homes can inspire us to springboard from glass half empty to half full. That said, I find that my personal interior style comes from a very art driven place. As much as I love drapery, upholstery, and pattern play, there is something incredibly timeliness and grounding about a fine piece of art. Art is a major reason I work in this space to being with!

I am led by things that I first love, and then, inevitably fall in love with some element of it's story. The provenance, the artist's biography, or the way I acquire a piece or even the mood of something can color a space before I've had the chance to fully design it.

In a perfect world, I'd want my interior design to fall somewhere between the sensibilities of Ralph Lauren and Tom Ford. I have found that, like these two, there are many modalities that I can operate in and I end up falling in love over and over again, which forces a sort of broadening of my thought process.

My personal style is just that, personal and unique to me. That is something I carry into my interior design business. It is not my job to stamp my style on a room and move on. It is my task to decipher my client's style and help them arrive at a destination that they will be thrilled with.
I absolutely love your dining room! Can you tell me a bit more about the details of the space? The wallpaper is incredible.
Thank you! The walls were actually painted by Annie Gallagher, a dear friend and designer in her own right. I commissioned this shortly after purchasing the home. She didn't fully know who Keith Haring was at the time, so there was a bit of art direction involved on my end. I was screening YouTube footage of Haring doing his graffiti work, and citing source materials from Haring catalogs and coffee table books on the fly.

This project required scaffolding, we tracked down the same paint that Haring would have used, and curated a series of newer, repeating visual symbols and themes. The goal was to both honor Haring and differentiate this mural from his respected body of work.

It's one of my favorite decisions I made in the interior design process, and people thought I was nuts. Once I committed to that mural, the art direction for the rest of that space began to take shape. I ended up getting so much positive feedback on that mural with time.
Pattern and texture mixing seems prevalent throughout the home. Can you describe how you did that in a very glamorous, tasteful way that doesn't feel too busy?
Glamorous – what a word to have attached to our work! Thank you.

The key to mixing anything probably comes from one of our few foundational guiding principals that we return to in our work: "If you like it, it goes." I find if I really like something on its own merit, there will be a world where it can exist alongside other things I equally like. Over time you train your eye, you challenge it. You make that eye travel and force it to look at new ideas; they pop up when you least expect them. No vacation is free of work – the eye, they say, must travel.

The only way to explain the thought process behind this is to imagine throwing a fashion show, a music video, the very best hotel, and stacks of fabric memos and art books into a blender. As long as you throw in ingredients you like, you're bound to like the results. To do this, you have to surrender to the process and trust that the final product will be spot on.
What's the story behind the Coke sign outside?
Ha – Well, certainly I hold the Coca-Cola Corporation in high esteem! Growing up near Atlanta, Coke, as they say, was it. This era of advertising and branding for Diet Coke is laden with nostalgia for me as a kid. It's a visual that can take you back to a place and time. It puts you in touch with almost all of the senses. Simply put, it is one of the most recognizable images ever, known all over the world.

Most of us have seen similar signage in a commercial setting. But, something changes when you bring it down to human level, frame it, and remove the rest of the commercial advertising noise. It fits in there and much as an American flag would and makes as much sense while doing it.

I found this sign on its way to the dumpster and hid it in a parking garage before I could wrangle a truck to come pick it up. I can't imagine this home without the Diet Coke sign, and never lived there without it.
You've designed spaces both up North and in the South. How does that change the way you approach interior design?
We have been lucky to work with clients all along the East coast. This has afforded us the opportunity to work with clients, craftsmen, and vendors from many backgrounds and areas of expertise. We've had the chance to see countless art openings, galleries, museums, and exhibitions throughout the world. Our clients continuously push us to do better, source the unique, and design spaces that transcend what they see day in and day out on their Instagram feeds.

We've found that people are generally the same no matter where you go. Their needs, wants, expectations, and stories are all individually their own and often, the needs of home are unique to their geography.

Nothing is more exciting for us than getting to know an area we have not designed in. It challenges us to learn more, design smarter, and deliver a home that feels like it belongs. You won't find us putting barn doors in anything that's not a barn.
As designers, creating the beautiful space may actually be the easy part. The real challenge of our work is helping each client both arrive at solutions they are excited about and simultaneously give them the permission they often need to get what they want. Not everyone is as assertive as they need to be to accomplish this on their own when working with a team of contractors, carpenters, architects, and what have you. That's where we as designers have learned how to properly get everyone on the same team early and to advocate, speak up for, and explain things on behalf of our client from the get go.

Every designer should have to do a commercial job in New York City early on their career; as that experience really was a training course on how to be professionally assertive in interior design. If you don't speak up or do something with conviction, it's likely going to fall by the wayside.
What was the biggest challenge you faced designing your own home?
One of the biggest challenges of renovating this home was to maintain the home's historic bones while updating it for modern everyday use. It sat largely unused and untouched for some time. It was not just dated, with a kitchen from the 90s and a single bathroom from the 50s, but it was just a cluster of wires, cords, and dust from very old plaster. The home needed lots of love, lots of attention, and over time it got it.

The initial challenge was to just see the place for its bones and to imagine what renovating the space could do for it. I walk through each home I visit with an eye towards exactly what I would do with it; if I can't sell myself on that future vision, it's probably not a good fit. This was an instant smash hit in my mind, despite what was there.

In order to make the space feel more private, we moved several doors and took out interior windows. We also employed a tremendous amount of wallpaper in the hallway, bathrooms, and kitchen. We turned the second bedroom into an office; a unique set up but ideal for the right folks and perfect for my business.

To maintain this sense of tradition alongside elements like tubular orange lighting, graffiti murals, and 20+ pieces of contemporary art, we stuck to a very restrained paint color palette – black, gray, green, orange, and one consistent tone of natural grasscloth. For the ceiling of the half bathroom, we used a Gucci "Bee" wallpaper as a nod to the former name of this row of townhouses, "Bees Row."

Ultimately the final product was worth the effort, came together organically and authentically and I think is the best representation of my personality if it were projected on to an interior. I gave myself the permission to do exactly what I wanted, with help from Hailey, just as we would do for our own clients and the results created a space that was full of joy!
Is your home completely finished? Often when I speak with designers about their own homes they tell me they'll never be truly complete.
This home is actually complete! Now, are there things I would've done had I stayed longer? Absolutely. But I've since moved on to other projects. The challenge of constantly reevaluating what home is and what it look like, by moving quite frequently, is central to growing as a designer for me. I do not understand how one would challenge their assumptions and grow in their craft if they were to stay in one place too long. It's simply never been the reality of my life, and that has given me many opportunities to flex my creative muscles.

No home is forever and we are capable of loving many places we will call home in our lifetime. Each one will bring their unique challenges and for me, that's part of the fun. Listening to what the home wants and then setting into motion plans to make it the best it can be. It should be the most YOU it can be.

This home sold fully furnished, down to the pillows and rugs and even some pieces of art. Knowing when to bow out, hug the corner of the house, and cry after closing is key. I like the quote from Warsan Shire, "maybe home is somewhere I'm going and never have been before."

Home photos by Keen Eye Marketing. Portrait by Brenna Kneiss.