Story by Art Department / September 1, 2021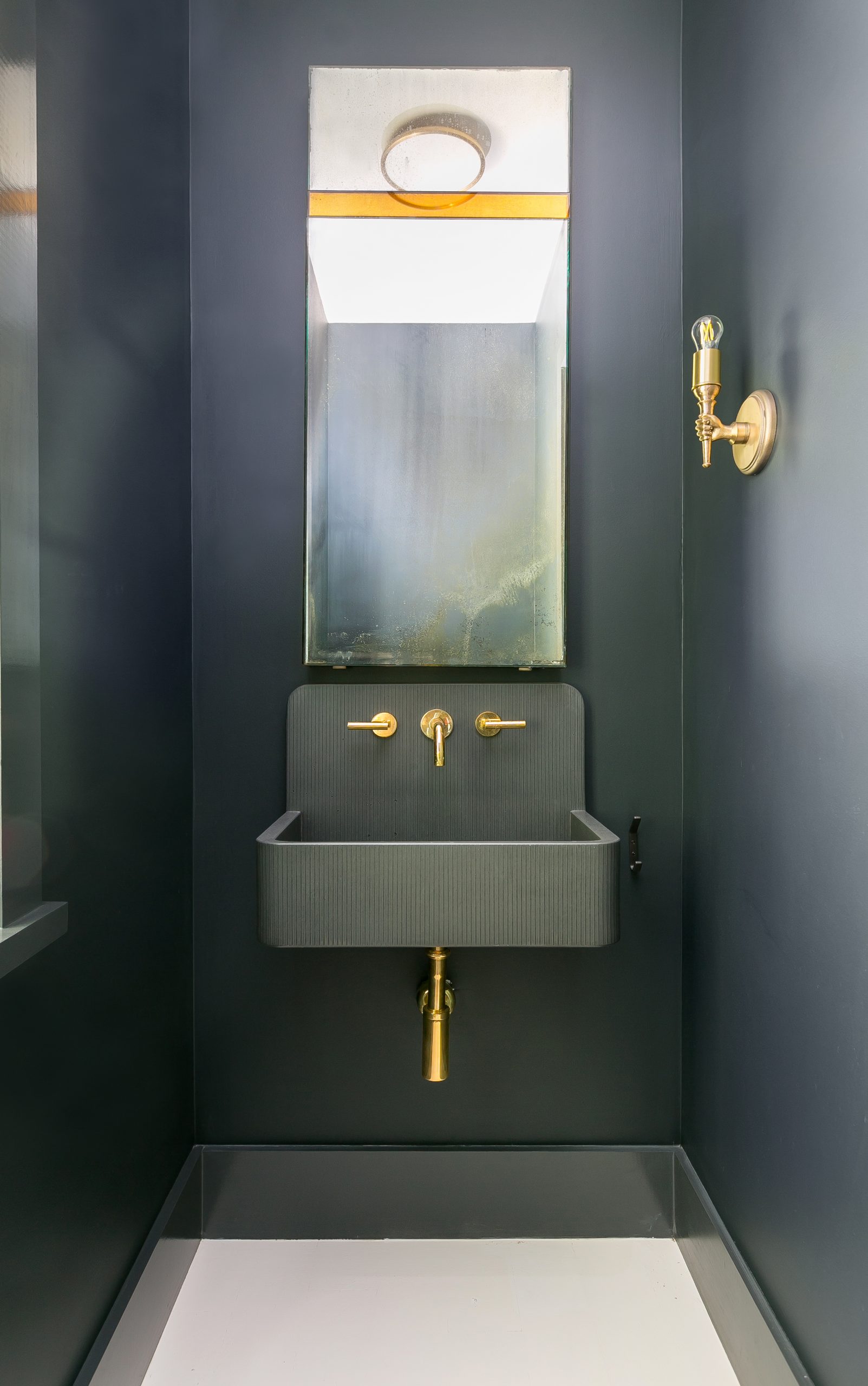 Bold design trends are becoming more and more popular. People are finding they like breaking from the norm and trying something different. Over the past few issues, we've featured some really unique designs that homeowners incorporated into their Lowcountry homes. Here are 13 bold design ideas you can find within the pages of Charleston Home + Design magazine to bring a unique touch to your own home.
Rock n' Roll
When you put an interior designer and a musician in the same house, you're bound to end up with a funky design. That was the case for our spring 2021 cover story about Mary Welch Fox Stasik and her husband Ryan, the bassist of Umphrey's McGee. Bold touches and dark elements are seen throughout the couple's Isle of Palms home. Neither one of them were afraid to take risks. Their dining room features art by Mary Welch and her daughters and custom painted chairs of celebrities throughout history. In the laundry room, dark cabinetry pairs with a bright red light fixtures, chevron tile flooring, and a hand-cut custom wallpaper.
Serene Drama
Dramatic design doesn't have to be bold and completely out of the box. A bold design can be accomplished in a more neutral palette by adding a unique element with natural wood and stone like seen in this sitting room. Wood paneling covers the surface of the fireplace and continues up across the ceiling, which also features beams. This adds and extra layer and more texture to the space which always helps make it feel cozier and gives it a more elevated ambiance.
Colorful Statement
Color is an easy way to make a space pop. It's incredible what a simple coat of paint can do to completely transform a space. Darker colors add another element of surprise; especially in the Lowcountry where many people expect an all white palette. Blues and greens are very calming to add to your interior and give that pop without being overwhelming.
Stunning Staircase Design
Sometimes the first thing you see when you walk into a home is the staircase so this is a great place to make a statement. In this case, an architect worked with the homeowners to design a custom staircase that would be a bold design statement in the home. Floating stairs and acrylic boards for the railing add architectural interest and are certainly a conversation starter as people walk into the house.
Ceiling Wallpaper
It might sound crazy, and it might scare you, but wallpapering the ceiling is perhaps one of the boldest statements you can make in your home and it's one that I'm sure, many designers will tell you pays off. Wallpaper on the ceilings can help make the room feel larger and draws the eye up; and again, it's a conversation starter.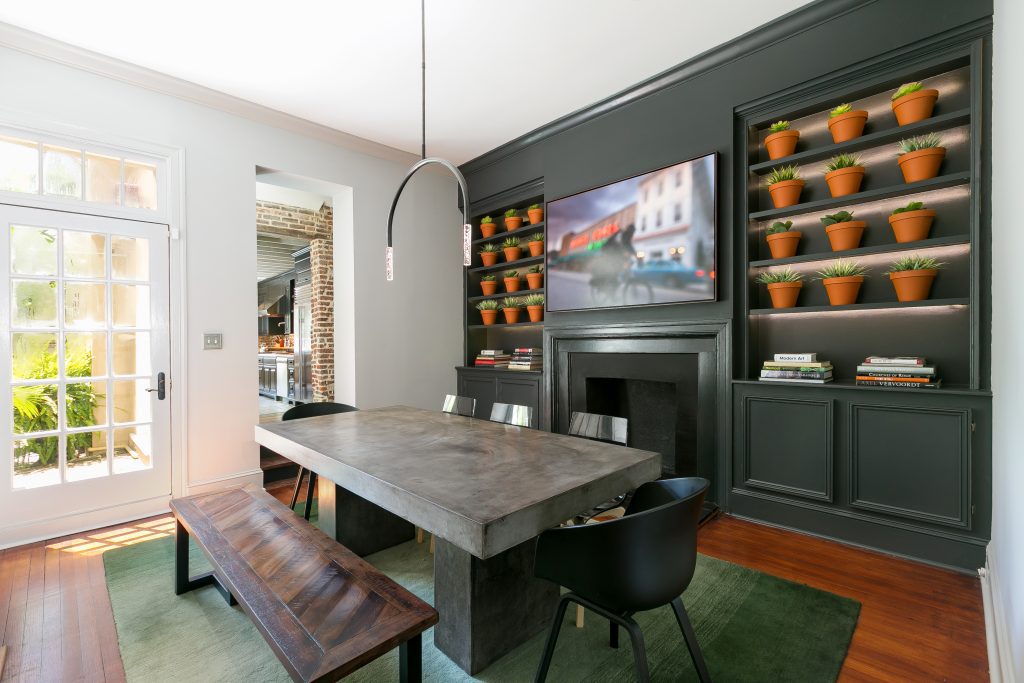 Bold Built-Ins
In a bright and area space, an easy way to add some dramatic flair is in the decor and accents. A large concrete table with various seating options gives this dining room a masculine feel. The built ins also add a special touch and bring some greenery inside. Though this dining room is full of natural light, it's accents give it a darker and moodier ambiance.
Playful Touches
If you can't tell, we love color. Whether that be in tile, paint, or other accents that is often the easiest way to elevate your space. Tile is particularly fun to play with. You can keep it more neutral in the kitchen, as seen in this home, but amp it up in the bathrooms and other areas. Bright colors and bold patterns exude happiness and who doesn't want a happy space?
Historic Highlights
If you live in a historic home, it's nice to play up those special accents. In this case, a custom paint color on the cabinetry. Paired with brick accents, the original flooring, and wall beams, this kitchen honors the history of the original home while also making it more stylish for its current occupants.
Contemporary Warmth
When these homeowners began designing the plans for their dream home, they knew they wanted more of a mid-century modern feel. Wood elements make a space feel warmer as seen in the dark cabinets in the kitchen and custom wood paneling on the fireplace. Incorporating varying shades of wood throughout the home not only makes the space feel warmer, but also helps create a more natural vibe throughout the home.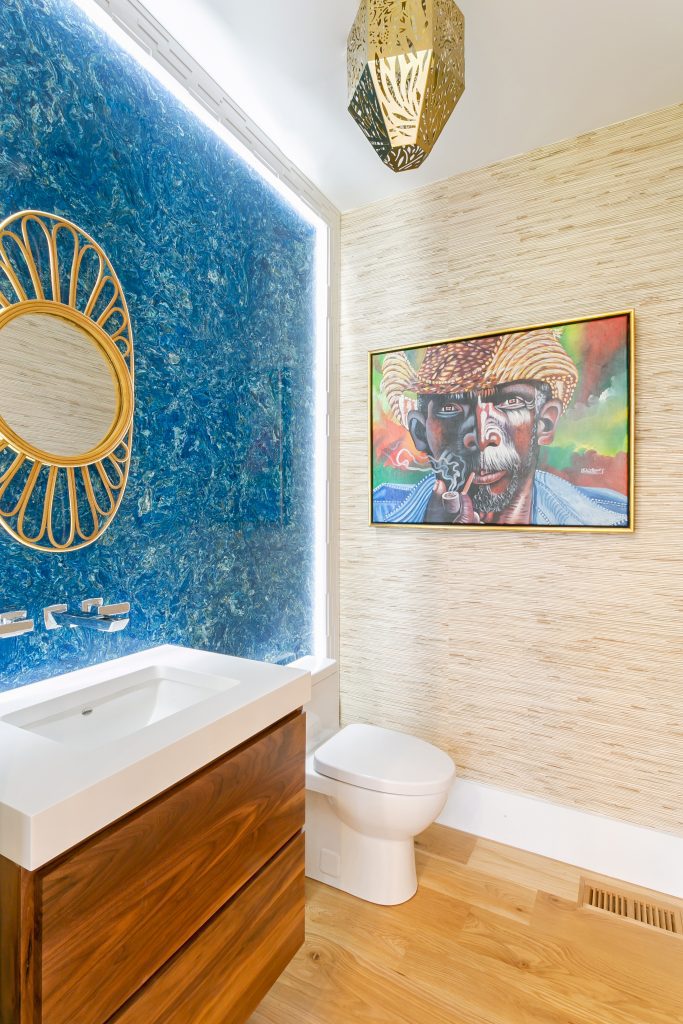 Alternate Use
You might not think of this on your own, but you can apply countertop material vertically. I know, it sounds crazy, but given the photo above, it looks beautiful and is a sure fire way to turn some heads. The vertical application of this surface paired with natural elements and stunning artwork makes this bathroom truly one of a kind.
Boho Glam
This space is a dream. Every element in this Lowcountry bathroom adds more drama than the last. Black shiplap walls and ceiling, checkerboard flooring, stunning green shower tile, waterfall countertops, and more; what else could you ask for in creating a dramatic space?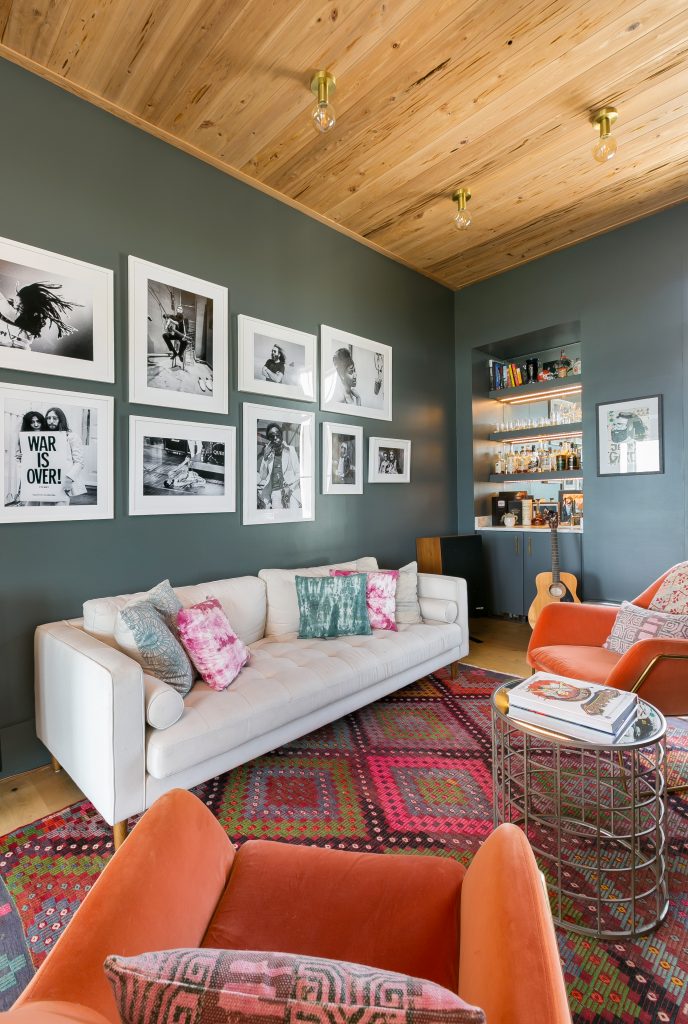 Eclectic/Boho Man Cave
Don't be afraid to add in some more "feminine" touches in a more "masculine" room. This dad's man cave certainly has a masculine feel but brighter colors and fun textures put a feminine twist on the space so it is welcoming for anyone who uses the space.
Bold Blues
Again with the color, you're probably tired of it but there are so many great ways to incorporate color that add more interest to your interior. Arches are another great architectural element to add that bring in more depth to the design.