Story by Art Department / November 5, 2021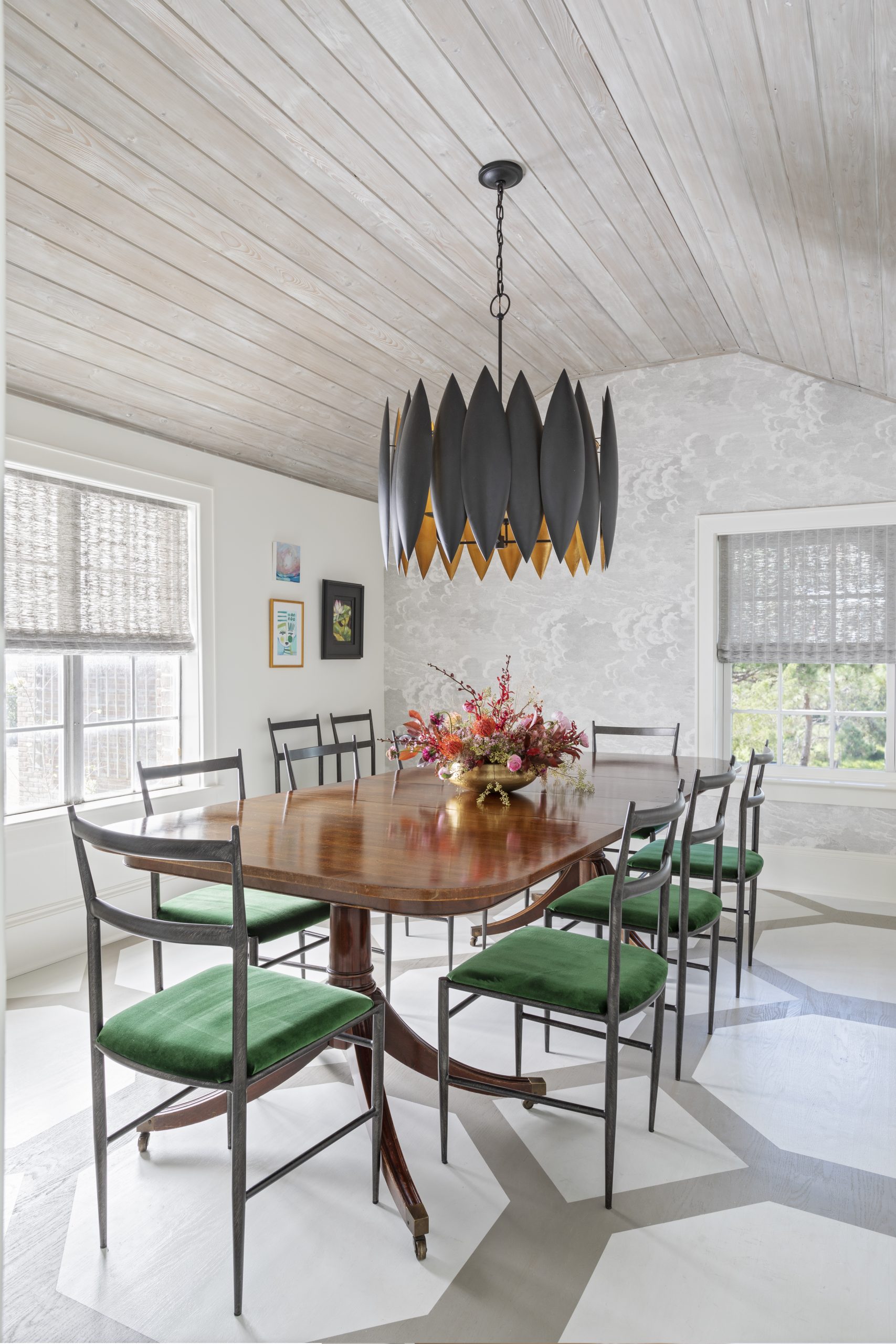 Similar to kitchens, dining rooms are often the heart of the home. Family gatherings take place in these spaces, new memories are made, and meals are shared. Dining rooms are spaces where you often find people being a little bolder in the design to make the room pop. Here are 9 stunning dining rooms to inspire you to create beautiful spaces in your own home.
In creating her tribal meets boho home, our Fall 2021 cover star Helen Hall purchased pieces with lots of texture and warmth for her dining room. This space is one of the first rooms you see when you walk through the home so it was important for it to feel warm and cozy. The basic philosophy of feng shui is to arrange pieces in your home to create balance with the natural world. Helen took many feng shui practices into consideration when designing her home; one of which being the placement of the large floor mirror directly in front of the front door. This practice welcomes energy in and uses that energy to expand the space; positive vibes as you walk into the dining room. As mentioned, texture was also important for Helen to incorporate. Fur, wood, and jute were all used in the space. Texture is something that makes the space feel cozier and offers that warmth you want people to feel during gatherings.
Local interior photographer Margaret Wright invited us into her home earlier this year and it is so stunning. Her dining room is one of my personal favorite spaces. Margaret wanted the space to have some color, as the rest of the home was a bit more neutral. Art and other accessories are a great and easy way to incorporate color. A bold red rug pairs with snake artwork by Willa Heart liven up Margaret's space. The room marries a midcentury feel with some boho touches. Cane dining chairs pair with a unique oval table, both with a natural finish. The lighter wood along with the various greenery brightens up the space and bring some outdoor elements in.
Interior designer Taylor DeBartola shared one of his past projects with us over the summer. Taylor's Lowcountry home received a full overhaul to make the historic home functional for him and his dining room was the icing on the cake. This dining room showcases a semi-custom banquette with unique artwork throughout; artists such as Dontré Major, Purvis Young, Catherine Booker Jones are seen in the space. The mural is hand-painted by artist Annie Gallagher and was inspired by a piece by Keith Haring. Taylor's dining room is the perfect example of how being bold can pay off. Sometimes people might think you're a little crazy, but don't be afraid to take a chance and do something that will make you happy. Art is a big focus in this space, but so is texture. Marble, caning, wood, brass, and more are all textural elements Taylor brought in to add some more depth to the room.
This dining room feels like it belongs in a European cottage. Charming details from the angled wood ceiling, custom pull-down shades, patterned floors, and more tie together this gorgeous space. For a pop of color, evergreen velvet chairs surround the dining table. Drama is added to the space with a dark and bold chandelier. By marrying contrasting dark and light shades, this dining room achieves a dramatic cottage atmosphere perfect for family gatherings around the holidays.
We love a good historic home transformation. For this historic charmer, which was one of the CSOL designer showhouses a couple of years ago, Bobbi Jo Engelby of Domain Interiors designed a glamorous space that encouraged everyone to gather. The space was inspired by neutral, feminine elegance. Shades of blush, black, and soft gray are seen throughout the space giving a more modern feel to the historic space. Custom laser cut gold peacock cabinet panels add interest and pair beautifully with the smoked glass cabinets. Velvet chairs and a unique chandelier top off the design of this glamorous, modern space.
Drama is the name of the game in this Lowcountry dining/kitchen space. After selling the home she lived in when featured on our spring 2020 cover, Paula Dhier flipped another Mount Pleasant home for she and her daughter Sterling and puppy Regina. Paula's home featured many special touches that paid homage to her French heritage. In the dining space, a chic black and white color palette is seen, similar to a chic French bistro. Other personal touches were added in the artwork to the left of the window; many either being things she found during her travels or again, some family heirlooms. Paula owns a home store in Greenville so many pieces in her home were carried in the store as well. Paula is the perfect example of being bold in design and not being afraid to do something different. Many people are fearful of too many dark colors because they don't want the space to feel depressing, but by pairing black with white and natural elements, it brightens up the space and provides the perfect complement.
Another favorite historic transformation we love is the rental property we featured in the Fall 2021 issue, the Boho Rosa. This space is so aesthetically pleasing, designed by Alyssa Demilio, and incredibly functional for large parties who might be staying there. In the space, you can see that the history of the home was honored while still bringing in a modern, boho touch. This dining nook sits a big group of people so it's a great spot for upcoming holiday gatherings; the comfy seating and a long table are just begging to be used. The built-in bench, inviting blue wall color, and natural elements all pair together beautifully to make this space feel warm and welcoming.