Story by Art Department / April 27, 2021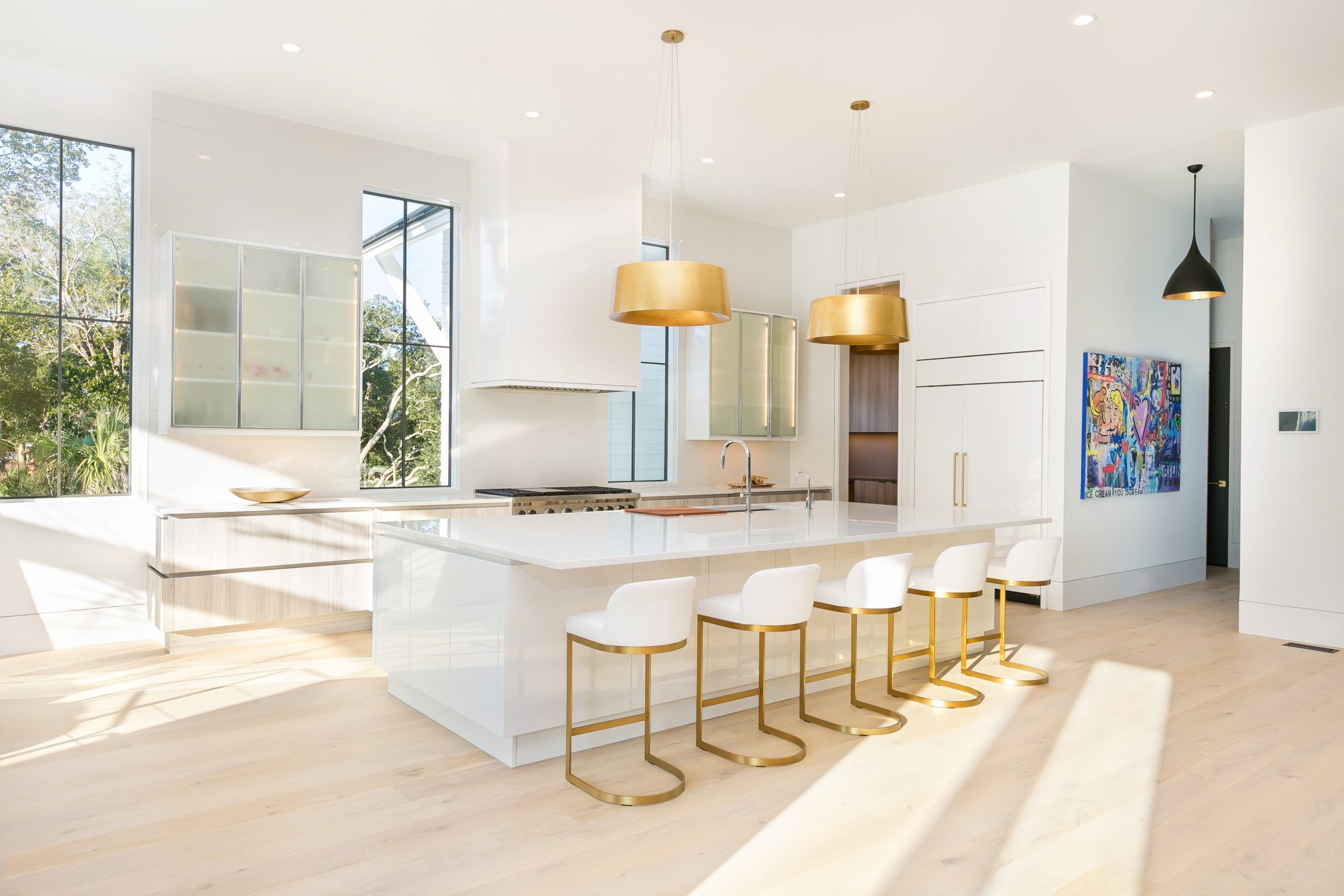 This week on Brilliant Builders and Renovations Sensations, Charleston Home + Design magazine publisher Tim Barkley speaks with award-winning builder Ryan Butler of SHELTER Custom-Built Living. Ryan and Tim talk about Ryan's philosophy, his ongoing relationships with clients, his award-winning homes, and more.
Tell our listeners about SHELTER Custom-Built Living.
We're a custom home builder. We've been in business about eight years. I grew up in the construction industry; my father was a home builder in New Jersey and I grew up cleaning job sites after school, framing houses in the summer, and I ended up going to school out in Ohio for construction management, knowing I wanted to go into residential construction. Once I graduated I moved to Atlanta and worked with a home builder there for about eight years. He transferred me here to Charleston in 2005 to oversee his construction division here. After the down turn, I saw an opportunity to start SHELTER.

It's always been a dream of mine. I wanted to do custom homes because I wanted the challenge of creating new projects where every house is not the same, and to really be able to showcase our talents and what we can do. Our office is located on Daniel Island and the majority of our work is here as well. We've done stuff on Isle of Palms, Mt. Pleasant, and Awendaw. We're looking to expand out to the Johns Island area. We have a small staff – six employees including project managers, design coordinators, and office help. We really focus on the individual homes and each is a unique project for us and our clients.
SHELTER is consistently one of the busiest, most sought after custom builders in the Charleston area. What do you attribute that to?
It's no surprise to anybody that Charleston is a great place to live. We have a lot of people moving into town. Being a custom home builder, centrally located here in the Charleston area, there's no lack of business. People want a new home when they move here, or they want something new from the house they've been living in for several years. It's been a good spot for us.

People always ask me where are clients coming from and what they do for a living. It's interesting because our clientele work all over the country and the world, this just happens to be where they want their family to grow up. The coast is a great place to be.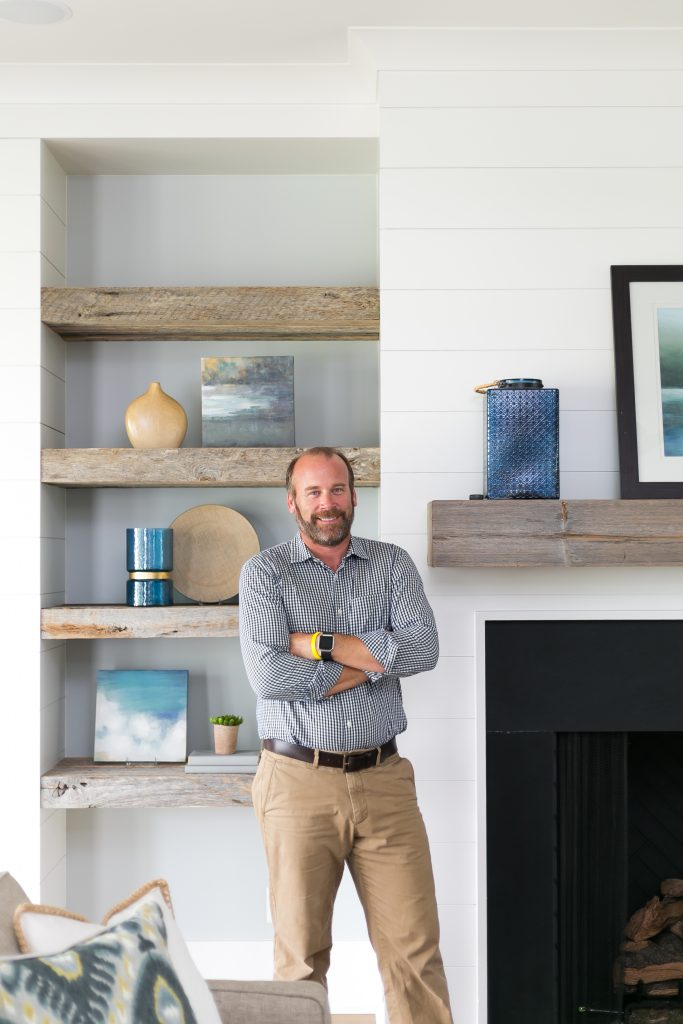 Does SHELTER Custom-Built Living do any renovation work?
We'll do a renovation if the project is right. It has to be a certain size for us to be involved and it has to be a certain client; either somebody we want to work with or someone we've worked with in the past. We do larger remodels from time to time.
Is there a particular philosophy you follow?
Custom home builders obviously want to create a high quality home and they want it showcase well, photograph well, and be very cool looking in magazines and so forth. That's great, we want the same thing. The other part of SHELTER is we're big on the process. You can have a beautiful home and if it wasn't an enjoyable process to get there, it's kind of all for not. You hear a lot of people say, "Oh yeah, this house is great, I love it…but I would never want to do it again." It was stressful, there were too many surprises, budget overruns, and so forth are some of the reasons you might hear. We work really hard to avoid that. It's great when we have clients who, at the completion of a project, say, "We'd love to do it again, this was a great process."

We focus a lot on how we work internally and how we interact with our clients to make sure the process is enjoyable. We want that experience to match the high quality home we deliver.
You know, at the beginning of a custom home build it seems everybody loves each other and then by the end, they want to ring each other's necks out. It can be such a long process. But, I think that speaks to your process that homeowners every year for our luxury home tour, are willing to open up their homes that you built and welcome 400 strangers inside to potentially work with you.
You're absolutely right; it is a long process and there are stressful points. We do our best to mitigate and explain why things are the way they are and what will happen next. I think at the end of the day my philosophy that I pass down to my people is if something is right or wrong, and if it's wrong, then that's not the right answer. I want to be able to see my clients when we're out to dinner, at my kid's basketball games, and so forth and not have to hide behind the bleachers or try to avoid them. Situations arise and you need to talk to your client and work it out. I think all my clients respect that, and they're reasonable and we have an open dialogue, which is very much part of our culture at SHELTER; the communication between the client and our staff.
I'll be you get a lot of referrals from past clients who know people wanting to move to Daniel Island and that speaks a lot to your process.
Absolutely. And it's the old saying "It takes years to build up your reputation, and a few seconds to destroy it." You need to do the right thing.
Talk about SHELTER Custom-Built Living being named one of the Top 50 Builders in the United States by Home Builder Digest.
That was a great honor to receive that and it kind of came out of the blue to me. My wife sent the email when we were selected and it was just great news. I think it's attributed to the idea that if you love what you do, and you do it well, the success and accolades will come. It certainly happened there and it was great recognition and we're very proud of that.
You mentioned your wife. What is her role with the company and which one of you serves as a marriage counselor of sorts to your clients during the build?
Jenny is involved in all aspects of the business in some capacity. Her title is design and marketing. She's really big on procurement. We like to take inspiration photos from our clients and figure out a way to do it economically, and put a spin on it to make it uniquely theirs. A lot of the photos we get from Houzz and Pinterest are from stuff all over the world. Jenny does a great job of researching and finding exactly what we need and reaching out to different vendors and suppliers and pulling it all together.

The reason I'm sitting here today is because of Jenny. She's a huge part of this company. Her design sense is great as well. I do a lot of the day to day stuff, meeting with clients, and being on site when we start construction but Jenny has her hands in a lot of different things.
Talk about how clients pick SHELTER Custom-Built Living and how you pick them. It's so important for it to be a good fit for both parties involved.
That initial meeting is so important and you're right, we're both interviewing each other to understand goals, expectations, and to determine how we can help fulfill those. We listen a lot in those meetings and then I would go into talking to them about our process, and usually by the end of those meetings we have a good rapport. And I'll be honest, the people that come in and start talking about budget and that they're looking for the best deal, we might not be the best fit for them. But, all in all, I can look anybody in the eye and say we provide great value for what we offer; not only are you going to get a great home but you're also going to have an enjoyable experience. You're going to have a staff that you can talk to and there's transparency in the process.

It's an important meeting and oftentimes, if we do have a rapport with each other, we have what is called a design to build contract. A design to build contract is basically a pre construction agreement. I offer my services to help them through the design process of the plans. If they have a lot I'll help them get a survey, soil, interview architects, structural engineers, and landscape architects. I'll introduce them to some of our designers to see who they gel with. I help them with the architectural review process if there's one in that particular area. I do charge a flat fee for that and the client would be responsible for the other invoices from the other professionals that are involved.

Once that process is finished, I can in turn give them a price to build their house. If they choose to go with me, I'll reduce my builder fee. It's kind of a baby step into the process and it's good because they get to see how I work and I get a little more intimate with the plans and understand why the clients are the way they are, and get a feel for some of their hot buttons and expectations. So at the end of the day, when they move into their house, they've got through a much better process versus a bid situation.

When we can, we like to be heavily involved in that pre construction process, giving a builder perspective on the plans. An architect can draw great stuff but if we understand what our goals are with the budget, I would be the one raising my hand saying "That's beautiful but let's stay focused on what we're trying to accomplish here." People seem to like that and I convert those people into clients.
Is that consulting agreement drawn up prior to plans being created or are you able to look at actual plans?
It's prior to plans. Often I get people who come to us and they don't know where to start. Do you start with a builder? Do you start with an architect? And there's no right or wrong answer, but I explain to them the benefits of starting with a builder and creating a team environment from the get go.
Once someone has decided to work with you to build their home, talk about the process from breaking ground to completion.
The first meeting we have after contract is our kick off meeting. We call it a design kick off meeting but it's actually design and construction related. The clients come into our office and we sit down with the design team and project manager and we review the plans and talk about the aesthetics of the house, what the interior design features of the house are going to look like, what the clients like and don't like. We want everybody on the team to be on the same page in that first meeting. We set up an idea book in Pinterest and Houzz and we ask the clients to transfer their photos to ours so our design team can go through and create vision boards for that house.

A few weeks later we'll have a vision meeting and we'll get back with the clients and say "This is what we think your kitchen should look like, this is what we think your master bedroom should look like, outdoor living space, and so forth." We'll tweak those boards a little bit depending on the feedback we get from our clients. That is what we focus on as we go through the design process to make sure all the selections we make are cohesive with each other. Once we have the vision boards done and we have a design sense of what the house is going to look like, we'll start the selection process.

Once thing we like to have our designers do is go to the showrooms and preselect items for the client. We'll go down and preselect plumbing fixtures and tile. We're doing that for those vision boards, but more importantly, we're selecting items within their allowance. So when our clients go there, they aren't spinning their wheels, looking all over the showroom, picking out the most expensive tile and have no idea what's going to happen after they price it. It makes things more efficient and it helps eliminate the problem of someone picking out tile that's way out of their allowance. It all goes back to our process of helping eliminate surprises and making the client more comfortable with what they're selecting.

Along with those design selections, we have bi-weekly meetings on site for each of our houses and the project managers and designers are there. It's a good forum for the client to ask questions and for us to ask questions to them. Every other week we're touching base with that client. And depending on the stage of the house, we might have a particular contractor or vendor there at that meeting to help with some of the selections at that time. These meetings are important and we take them seriously. We send out agendas to the clients so they're prepared and can add something if they want. After that meeting, we send a follow up and we keep track of that so we have it in writing. It's always good to have a paper trail just so that nothing gets lost in translation.

One of the most important things we use is our software system Builder Trend which allows us to track the construction schedule (clients have full visibility to this). We upload weekly photos to document the progression of the house. Builder Trend also allows us to do change orders and the clients will approve these and it gets added to the contract so there are no surprises. The most important thing we do with Builder Trend is keep track of the selection process. I do fixed cost contracts with allowances so we have to see how those selections relate to those allowances. Once they're approved, the selections are uploaded, and the client can click on their approval and keep track of everything. This system helps brings transparency to our process.
How do you handle problems that are bound to arise during the process?
Like you said, with the COVID delays, we've tried to be proactive and order materials and finishes well in advance. You can only do that if you're organized and know what you're ordering. Our design schedule is far ahead of our construction schedule. We often have times where people don't understand why we're having them select tile when we haven't started framing their house yet, but it's all part of it. Once that tile is selected, we can go ahead and place that order and make sure it's here when we need it. Inevitably, we've scrambled on a couple of houses with specialty light fixtures, some appliances, and stuff like that but I don't think we've been hit quite as hard as some of the other builders because we were prepared.

The lumber situation, there were a few houses where I had to take it on the chin because I do fixed cost contracts and it's part of the deal. But what I'm doing now, just with the volatility of the lumber, is making the lumber an allowance amount in my contracts, and it's the only way to be fair because if I try to lock in a number somebody is going to lose.

The biggest challenges we have come with building high end custom homes. When you're building these types of homes, there's a lot of professionals involved. Pulling all of that information together can be a challenge. Our biggest challenge is just being on top of the project itself and making sure cross checking our details from plan to plan and making sure nothing falls through the cracks.
Do you ever work with out of town clients who aren't here during the construction of their home? How does the Builder Trend technology you mentioned help with that process?
Yeah, sure. With Builder Trend, the photo section let's them see the progress of the house from week to week. We'll do Zoom or FaceTime calls if we need to just to keep the communication going.
SHELTER Custom-Built Living has built spec houses to later be sold and custom houses you're hired for to create a homeowner's dream home. Do you have a preference?
Honestly, I don't. They're two different animals. With a spec house, you're constantly second guessing yourself so it's just a different situation. Whereas when you build a custom home all the decision making is on them and you just need to facilitate. So I like doing a mix of both.
The designs of your homes really stand out. How important is it to have an architect and interior designer involved in one of your projects?
It's a must for us. It all starts with a talented architect to create the vision and pull it together. Interior design is so important. We have a great team here with my wife Jenny and Kecia Heyward, my design coordinator. They add life to house and add unique features and make sure items are executed correctly. I don't envy the designers because they're selling their vision every day. They know it's going to turn out right, but not everyone in the room is always on board.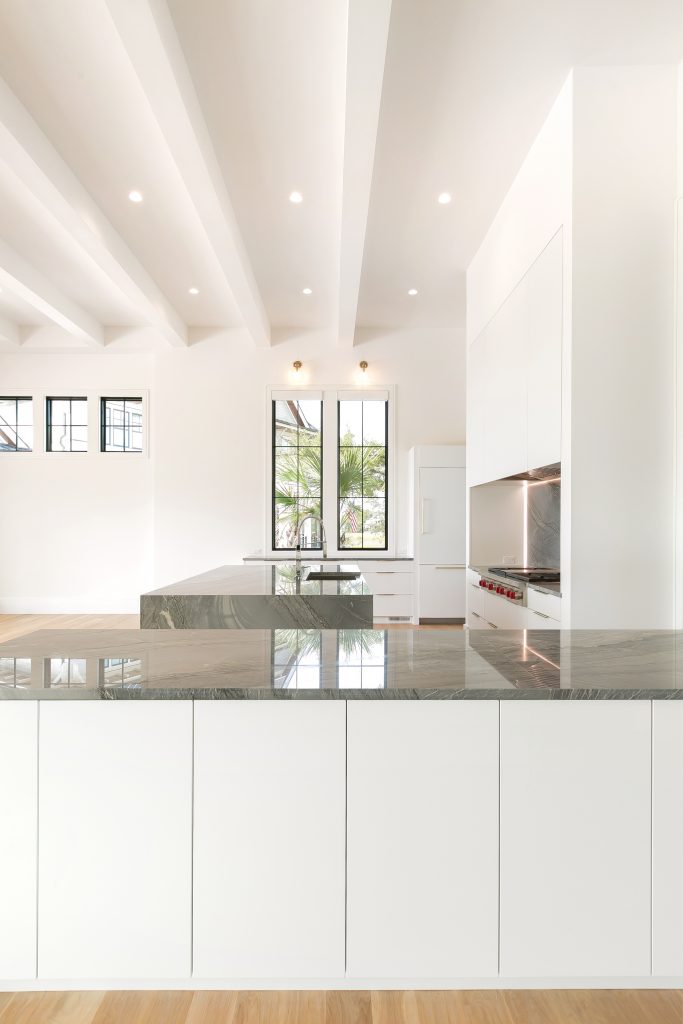 What advice do you have for someone looking to hire a builder? What should they consider and what types of questions should they ask?
When I talk to people I often go around and show them existing homes that we have; which is all par for the course and something you need to do. You need to walk through the house and make sure the quality is what you're expecting as the client. I think the most important thing for clients to think about is what it's like behind the scenes. How are they going to manage pulling this dream home together for me? What's the process like? How do you handle change orders? How do you do selections? What's your draw process? How do you communicate? Is there a software system? Those are the important questions I think. You'll be with your builder for about 16 months so asking the questions about how they operate is important.
Talk about the Mac house that SHELTER Custom-Built Living is involved with.
We were approached about two years ago from a friend about helping a family who had fallen on hard times. She's a single mother of six and one of her sons, who went to Philip Simmons High School, had a brain aneurism. Hospital and medical bills were piling up to the point where they lost their home. She had to spend a lot of time with him and work was hard to come by. The other kids were kind of spread out throughout the community with some family members and friends.

I went out and lookedat an existing structure they had on a property and I didn't think it was salvageable. We started brainstorming and thought maybe it would be better to build a new house. We were able to break ground a few months ago and are hoping to finish up in a couple of months. My vendors and trade partners are contributing what they can and there are several people (some of whom are our past and current clients) making donations and doing the work for free.
What are some of the energy efficient features you recommend to clients?
The things we've been doing for a while are tankless water heaters and foam insulation. We do a lot of foam under the floors and on the sub roof, as well as LED lighting and low VOC paints. We like to do hot water recirculating systems throughout the house because it eliminates the wait for hot water so it saves water. We've prepped a few homes for solar and let the clients decide if that's something they want to do.