Story by Art Department / January 2, 2021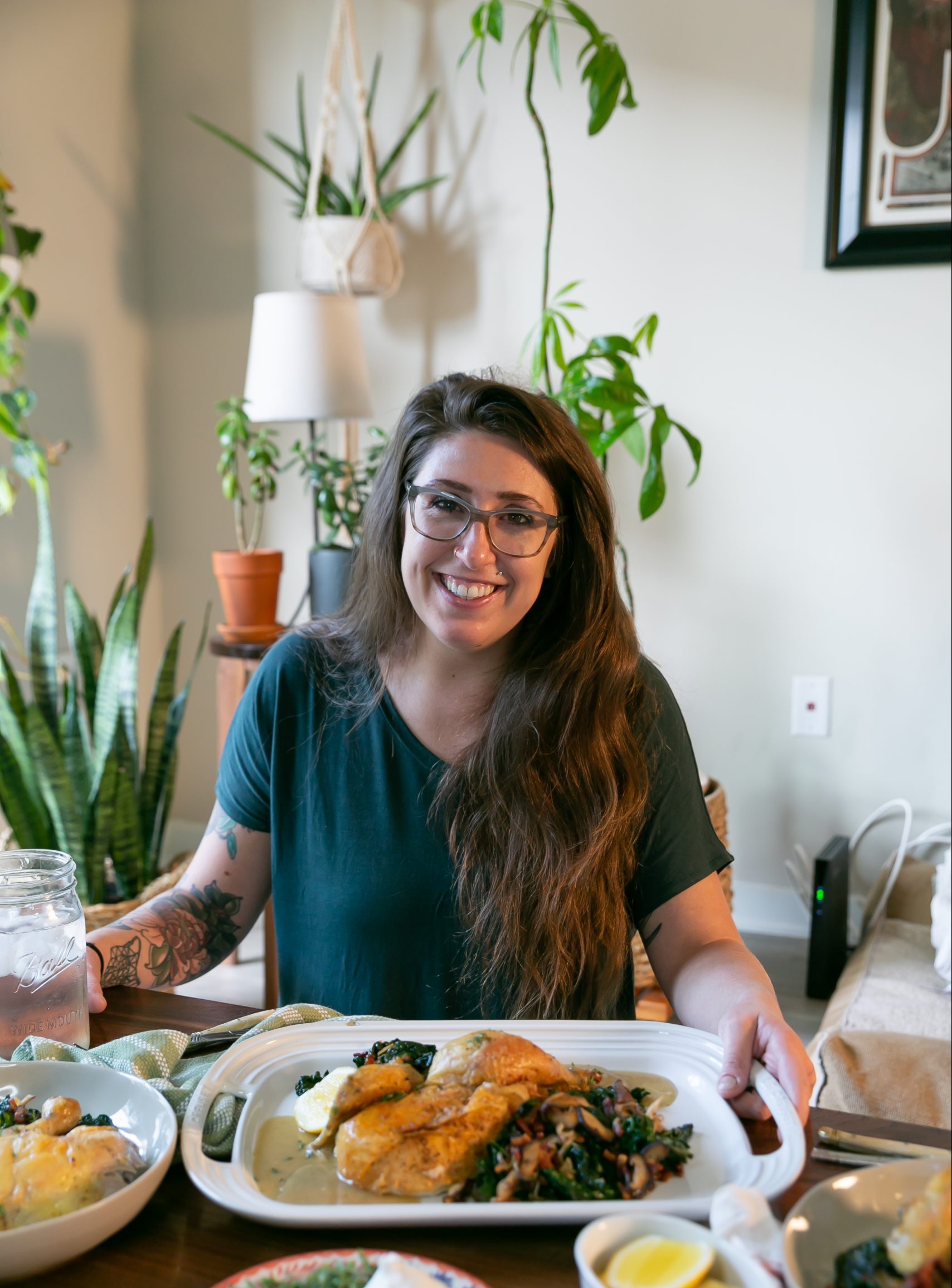 An enjoyment of cooking and making people happy through food led Ashley Kegu, Chef de Cuisine at Melfi's, to becoming a chef. A three-year career at the Ski Tip in Colorado allowed Ashely to play around with new recipes to cook fun, creative dishes. A tight knit group of people was important to Ashley when she joined the team at Melfi's. It's also important to Ashley to incorporate dishes that work for people with dietary restrictions without sacrificing flavor.

As the only female chef in the Melfi's/Leon's restaurant group, she loves bringing what she calls the "woman's touch" to the industry. Everything on every plate that Ashely makes has a purpose and that's the same for Ashley's cooking at home. She and her fiancé keep it simple since they're both chefs. When they come home from a long day at work and don't want to fuss too much over dinner, a chicken dish with vegetables is a staple. 

Ashley's roasted chicken was introduced to you in our winter issue. Here's how she makes it happen so you can bring this dish to your own family dinners.
Ashley's Roasted Chicken with Pan Gravy, Kale, & Mushrooms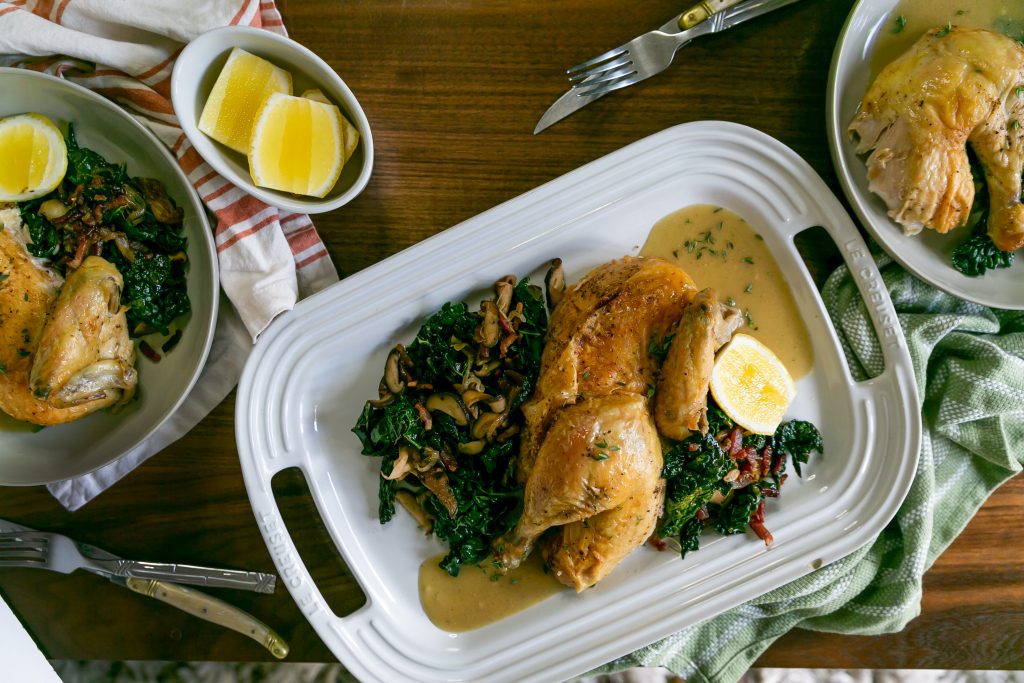 Serves 4 people
Cook time: 1 hour 20 minutes
Prep time: 30 minutes
Ingredients:
1 whole chicken
3.5 ounces of shiitake mushrooms (sliced)
10 ounces of bacon (cut into lardons)
3.5 ounces of oyster mushrooms
2 bunches of lacianato kale (remove stem and tear into large pieces)
6 garlic cloves (thinly sliced)
2 small shallots (cut into thin rings)
1 tsp of dijon mustard
2 tbsp of all purpose flower
1 small bunch of thyme
2 lemons
salt and pepper to taste
2 1/4 cups of chicken stock (separated)
Steps:
Set the oven to 425 degrees. Pat the chicken dry and let it temper for about 1 hour. This will ensure crispy skin and even cooking.
Season the chicken liberally with salt and pepper. Fill the cavity with some of the shiitake stems, a couple of pieces of lemon zest, garlic ends, and shallot ends. It doesn't have to be a lot, just some aromatics to give your chicken drippings some extra flavor. Utilize any scrap you may have after prepping your veggies.
Roast the chicken for an hour to an hour and 25 minutes depending on the size, or until it reaches 165 degrees. Allow it to rest before cutting into it.
For the kale: Render the bacon lardons. Remove from the plan, keeping the fat separate. Use some of the reserved bacon fat to sauté the shiitake and oyster mushrooms. Season with a touch of alt and allow them to sear until golden brown and tender. Remove from the pan and add more of the reserved bacon fat. Sweat the shallots and garlic until they're translucent and tender. Add the bacon and mushrooms back in and toss together. Add the kale and about 1/4 cup of the chicken stock. Toss until the kale is slightly tender but still has a bite. Adjust seasoning with salt and pepper. Add a squeeze of 1/2 a lemon.
For the gravy: Remove chicken from the pan. Reserve all drippings (about 1/4 cup). Add about 2 tablespoons of flour to create a roux. Add 2 cups of chicken stock and 1 teaspoon of dijon mustard. Cook until thickened. Adjust seasoning with salt, pepper, and a splash of lemon juice.
Garnish place with fresh thyme leaves and lemon squeezes.