Story by Alli Steinke / December 30, 2020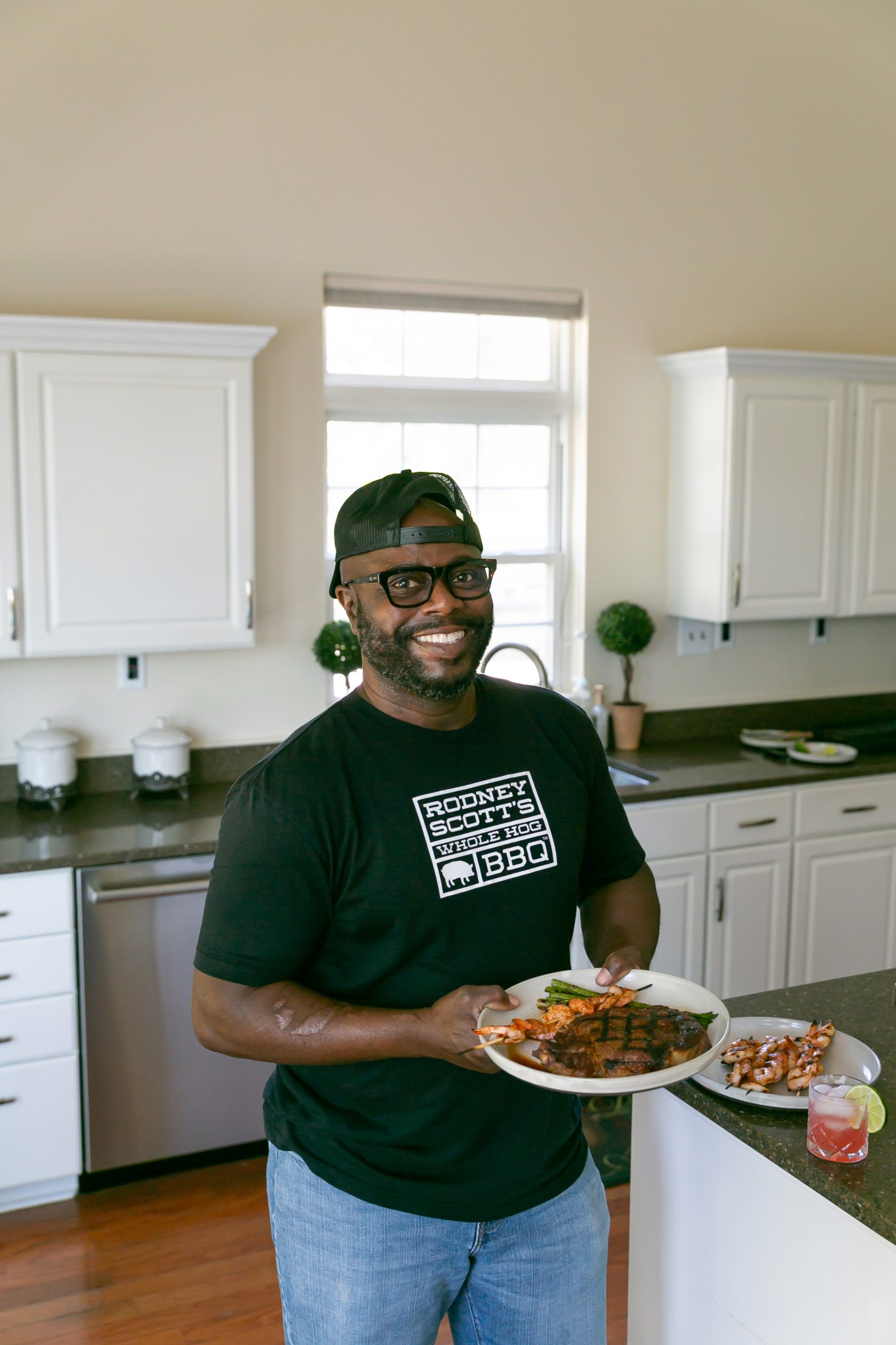 Rodney Scott is a pitmaster at his core. He learned from his father, his sons learned from him. And every day, he continues to learn from other chefs. The Southern tradition story is one that Rodney wants to tell. The whole hog, the collard greens, the chicken – it's important to keep telling people of those processes and the importance of these foods to Southern families, to share what we've learned from the people before us. Rodney's whole hog process he is known for takes 12 hours. The man is super patient and super focused. And though it's hard work, Rodney enjoys it. It's his happy place.

Rodney has expanded Rodney Scott's BBQ to Birmingham, and plans to open three more locations in the coming year following the success of his Chef's Table episode on Netflix. The James Beard award winning chef works every day to bring his customers a great experience, just as he does when he cooks dinner for his family at home. 

You saw Rodney's Surf & Turf in the winter issue. Now you can try it in your own kitchen. Bon appetit!
Rodney's Surf & Turf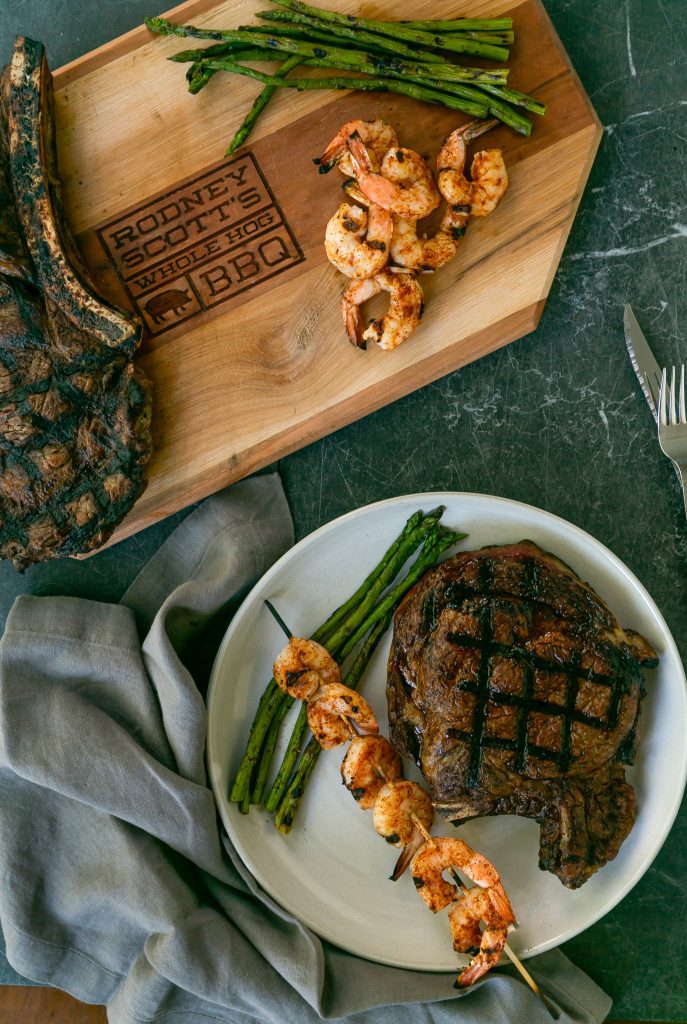 Serves: 2
Cook Time: 25 minutes
Prep Time: 5 minutes
Ingredients:
16 oz. bone-in ribeye
bundle of asparagus
1 lb. peeled shrimp
1 tsp. olive oil
Rodney's Rib Rub
Steps:
Light the grill to 350-375 degrees.
Use 1/2 tsp. Rodney's Rib Rub to season steaks on each side (recipe below).
Season shrimp with 1 tsp. of Rodney's Rib Rub on each side and pierce 10-12 shrimp on a skewer.
Drizzle olive oil and 1 tsp. of rib rub for every 6 pieces of asparagus for seasoning.
Add steaks to the grill, uncovered, and cook for about 2-3 minutes on each side for a medium rare steak. Once cooked, set aside to rest.
Lay skewered shrimp on the grill, uncovered, to cook for 1 minute on each side until they have a "C" shape.
Add asparagus last as they require the least amount of heat and cooking time. Cook on the open grill for 30 seconds on each side.
Serve how you choose. Rodney enjoys his steak, shrimp, and asparagus next to each other, but it can also look great to drape the shrimp and asparagus on top of the steak.
Rodney's Rib Rub Recipe:
Rodney's Disclaimer – "I unapologetically use MSG in my seasoning, its is a 'flavor maker.' This recipe can be made and stored in an airtight container for 6 months."

Make 2 cups
1/4 cup sweet paprika
1/2 cup kosher salt
1/4 cupe MSG
2 tbsp. garlic powder
1/4 cup ground black pepper
2 tbsp. onion powder
1/4 cup chili powder
1 tsp. cayenne pepper
1/4 cup light brow sugar, packed
Mix all of the ingredients and place them in airtight container. Cover and store in a cool dry place until ready to use.