Story by Alli Steinke / May 28, 2020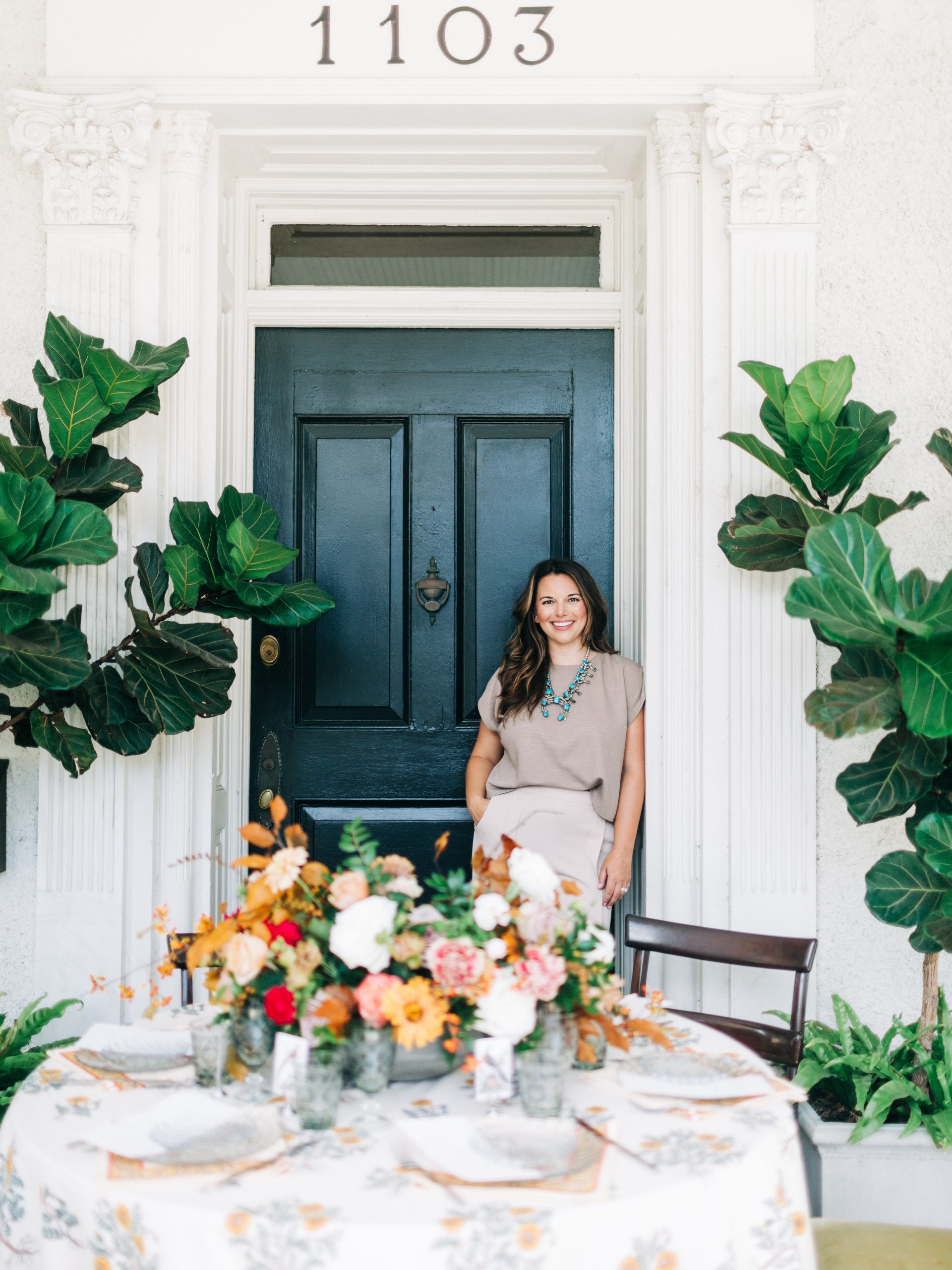 As the world adjusts to a new normal and large gatherings are being adjusted, many couples are opting to get married at home in order to keep everyone safe. We sit down with the owner of Host and Haven, Lindsey Boyce to chat about planning for a wedding at home, how to incorporate home decor into wedding decor, and what advice she has for brides who still want to get married on their original date and celebrate with friends and family later on.
Tell us a little bit about Host and Haven. What do you do? Why did you start the company?
Host & Haven is a full-service firm focused on sophisticated yet approachable event and home design. Our typical projects include high end weddings and events and residential interiors. I started the company in 2019 after 12 years in the event design business. After multiple clients came to me requesting help in their home, I saw an opportunity to speak to both markets. For me, the design process is the same. You are getting to know clients and their tastes and helping to create a space that reflects that in the best way possible. Our goal is to create beautiful moments and tailored spaces with equal emphasis on client distinctiveness and design dexterity.
During these uncertain times, many brides are having to cancel or postpone their weddings. How has your business changed as more and more brides are doing backyard ceremonies and then planning the party for later?
With the current climate, brides really have three options; Move the entire wedding to the following year, get married on the original date with just family and then a more relaxed reception at a later date, or choose to redirect the mindset to a more intimate gathering. I think the most important step for current brides is to evaluate what's best for them. If the stress of waiting to see what will happen takes joy out of the process, then move the date. If the current situation has changed the mindset on what you are really looking for on the day of, then reduce the guest count.
Most of my business has stayed the same with a few exceptions. I have, however, had a few new clients come on board with more intimate guest counts and design heavy goals.
While the initial thought might have been a fete for your closest 200 family and friends, a tasteful gathering of 25 could be just as beautiful. If we have learned anything from this time, it's that family and close friends are what really matters. Having a few less guests will not affect you saying "I do", cutting the cake, or having your first dance. It might just positively change the feeling from large and stressful to manageable and intimate. It could also allow for more spending power on the close-up details with a more refined guest count.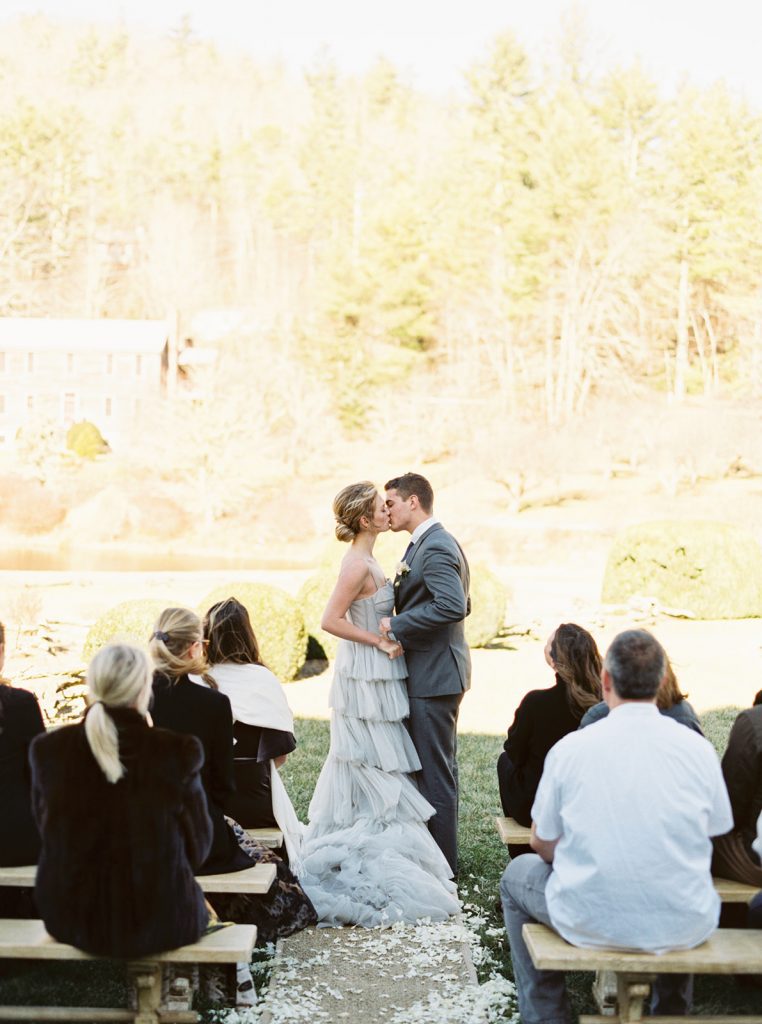 How can brides incorporate their home design into their backyard wedding design?
If you elect to redirect to a smaller wedding, you can splurge on more custom details. Be intentional on what these new details will look like for you now that you can explore more manageable numbers. For example, these Schumacher Lotus Garden horizontal runners. They can be repurposed in your home for holidays or have them cut down and reworked as place mats or napkins Think about connecting the vision for your wedding with the vision of your home. I firmly believe in designing all of your spaces (event & home) with a signature style and your personal brand. If you don't have that established yet, take this time to explore.
You have most likely already received most of your china registry, so complete the setting and utilize at the future reception/at home wedding for all guest or a head table. This Juliska Country Estate plate in flint pairs perfectly with so many color palettes.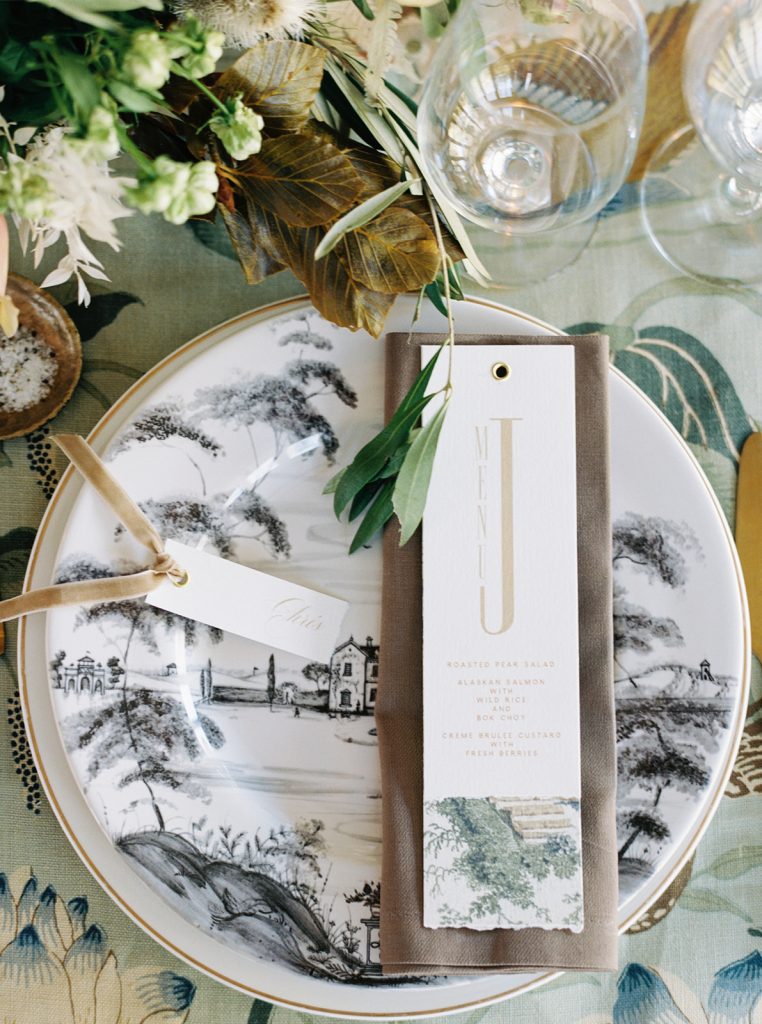 Take the extra time to create a curated welcome gift boxes for each individual guest. You can fill the gift with a specific theme like this breakfast box filled with tea, honey, and scones. The individual moment also presents an opportunity for a handwritten thank you from you and your betrothed. Have these hand delivered on the week of the event or created by our friends at A Signature Welcome.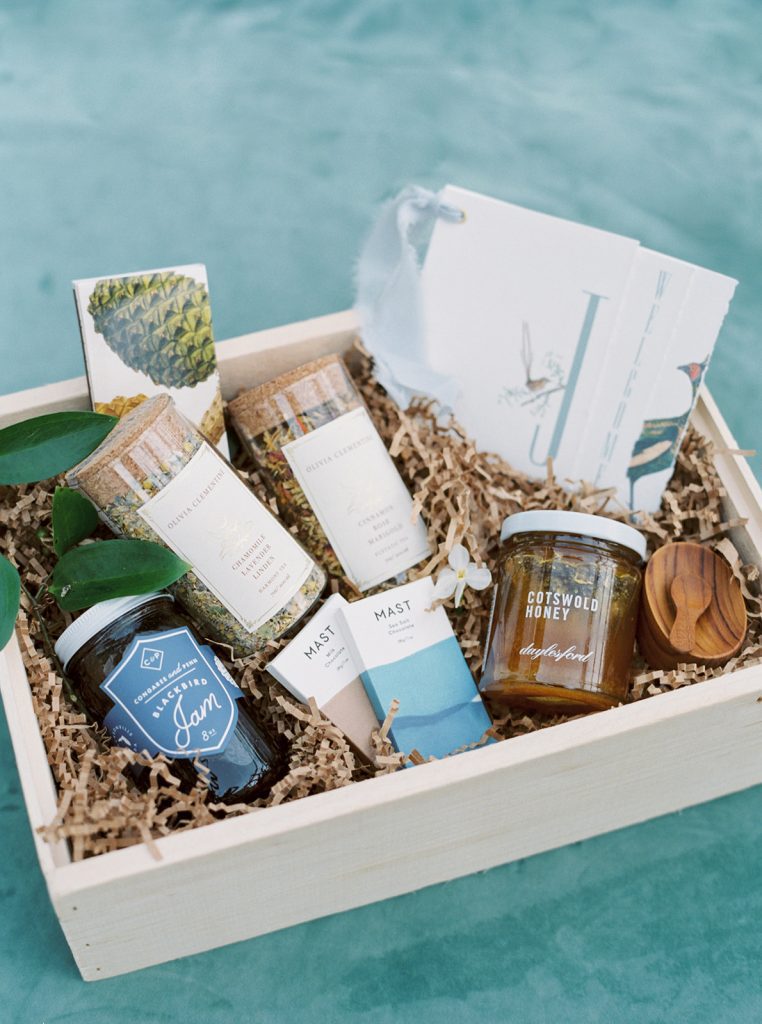 What are some of the things that brides can be planning from home during this time?
In your spare time, go ahead and create your custom stationery and cross that off the list. You have most likely already engaged a designer with your paper needs, so transition that design time into a monogram, custom crest, or emblem. In this example it could be the wallpaper inspired graphic or simplistic bird motif.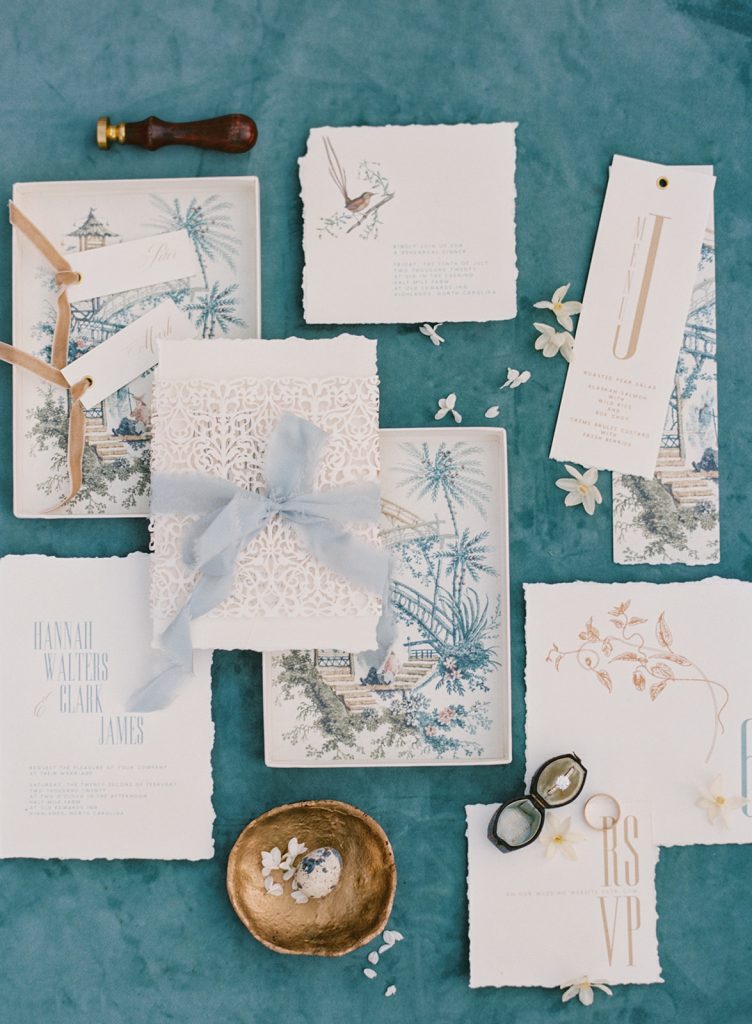 Explain your home services. How do you work to combine home design, wedding design, and styling?
Host & Haven begins all projects by interpreting a client's personal story and helping to reveal beautiful, intentional design. My job is to give a client a space (home or event) that reflects the very best version of themselves. The home design process starts with an initial meeting and we discuss the overall project. We do a deep dive into the goals of the space and its function as well as what can become beautiful finishing touches. We almost always showcase a full home design at the beginning even if we go one room at a time, so we have the right upfront goals in mind. Sometimes this exercise can also open up what we really need versus what we thought they wanted.
Regardless of the service a client comes to me for, we all know it has to have meaning. The meaning behind the design is just as important as aesthetic.
What are your favorite trends in home design and home weddings?
I am really loving a return to classic. I think tasteful long-lasting details are the way to go. It can be tempting to lean towards what's available in the mass market, but try to get pieces and elements that will stand up for the next 10 years in your home or your wedding album. It's a bigger investment on the front end, but less likely to need a refresh 10 years from now.
What advice do you have for brides who have changed their plans and are now holding a wedding at home?
At the core, the purpose of the wedding is ultimately to become husband and wife. Remind yourself that the underlying goal will be accomplished with two people, twenty, or two hundred. Keep a positive perspective and explore the potential of this reimagined day.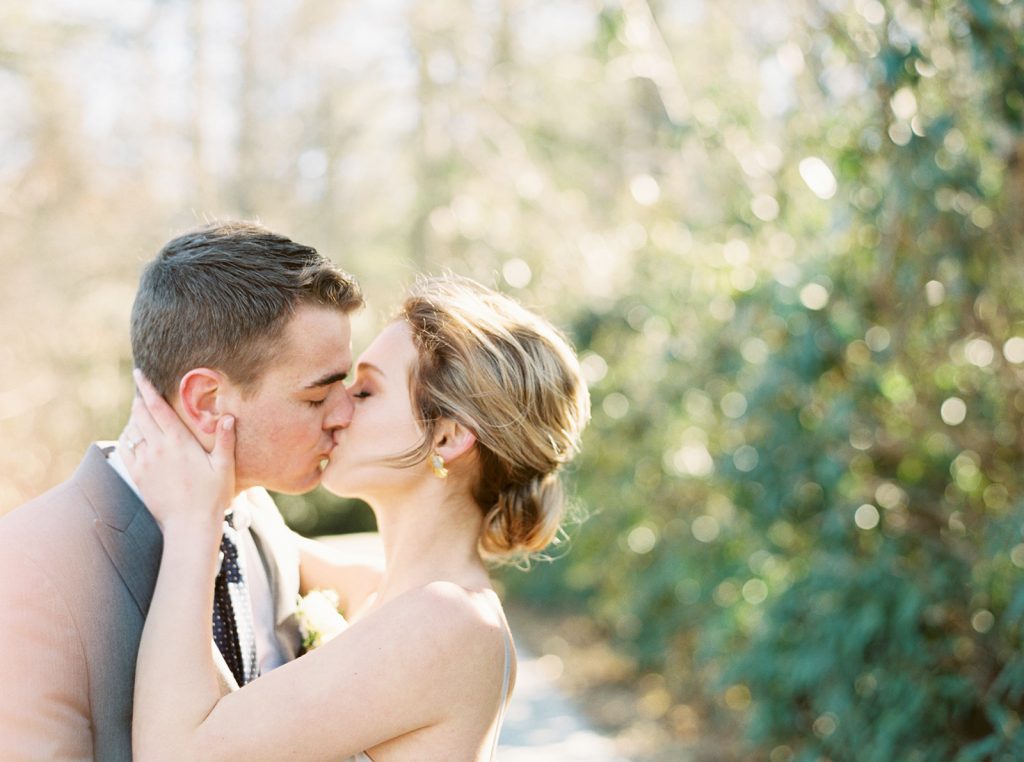 For more information, call Host & Haven at (214) 458-3012 or visit hostandhaven.com.