Story by Art Department / June 16, 2020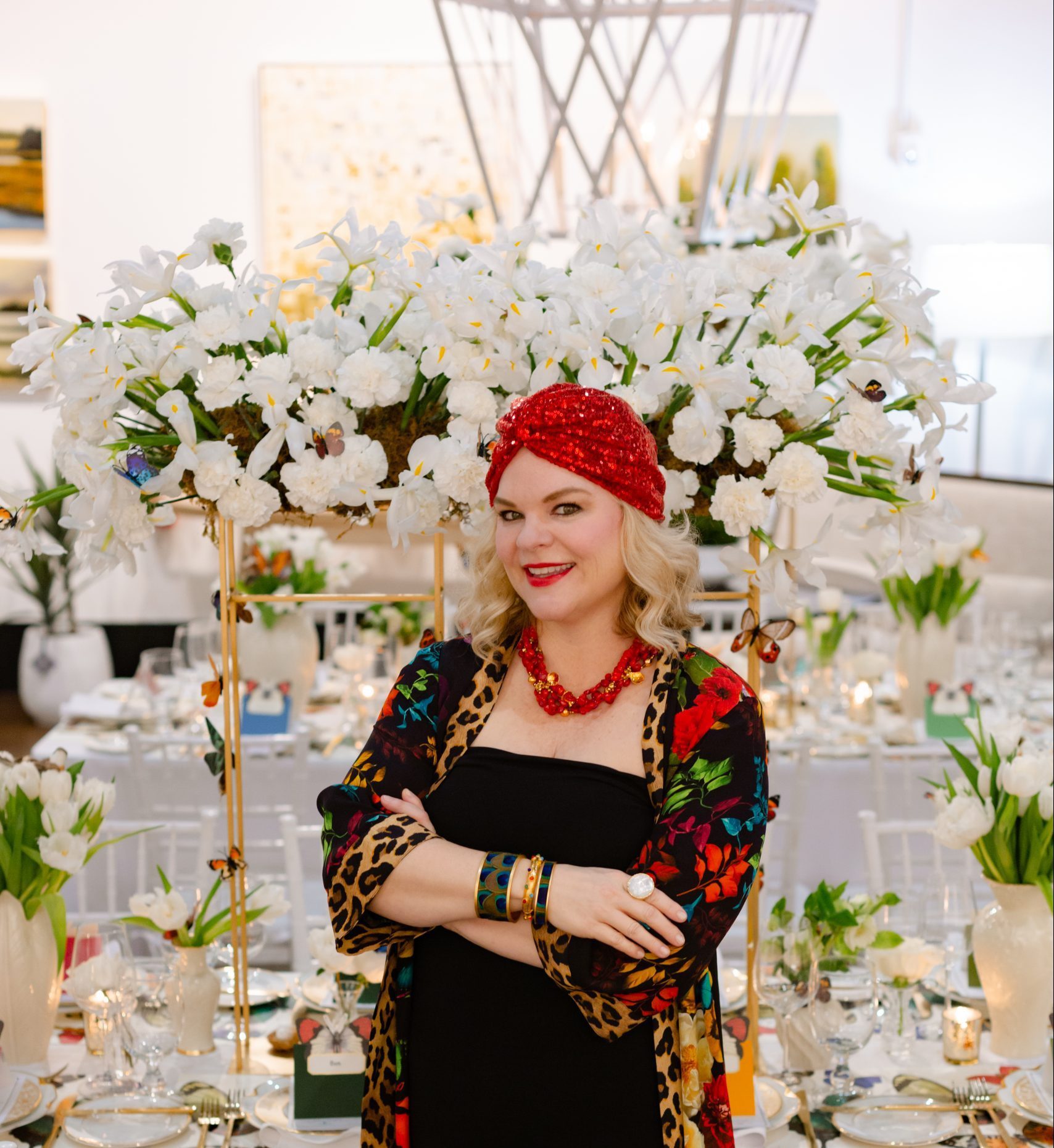 Julianne Taylor has always had a passion for design. She earned her B.F.A in Interior Design from the University of Georgia and is the founder of Taylor Burke Home. After years of living abroad, Julianne and her family settled in the Lowcountry and she designed a home that is full of bright colors and bold patterns. I chatted with Julianne about how she worked to create a cohesive space with unique touches, and without fear of being adventurous in her design. 
1. It's clear in your home that you are not afraid of bold colors and pops of fun patterns. Was that always the case? How did you get to that point if not?
I've always been pretty brave with color, and it really comes from a place of personal preference. I truly believe that we have to surround ourselves with what makes us happy.
Your personal space is where you start and end the day– and think of it sort of like a sandwich. It's like the buns, and it really sets the tone for all of daily life that happens in the middle.
2. What was your design process like for this home? Did you have ideas for each room beforehand or did you get in the space and let it guide you?
We built our house as part of a Pulte planned community, and we moved in December 2014. The first thing I did before anything else was to put up our tree. The neighbors thought I was crazy! But– I wanted something in the house to be bright and cheery for the kids amidst all of the moving boxes. Most people don't know that we lived overseas for ten years prior to moving to the States, and I had loads of artwork and accessories from our travels and life in Melbourne, Barcelona, Shanghai, and Seoul. I really had to live in our home for a good 1-2 years before tackling it room by room. I'm the kind of person that approaches design in an unexpected way. Each room in the house is different, but yet cohesive in the creativity of the individual spaces. 
Along with me– many of my colleagues have "cobblers shoes" syndrome in that we can design all day for our clients, but we always have unfinished projects at home. It really took me about 2-3 years to finish our home, and during this time I launched several licensed collections of wallpaper with Mitchell Black (mitchellblack.com/collections/julianne-taylor-style ). Several of my wallpaper designs determined the overall design for some of the spaces in the house. I'm a huge fan of putting wallpaper on the ceiling, and it was certainly the jumping off point for the design of our morning room and dining room.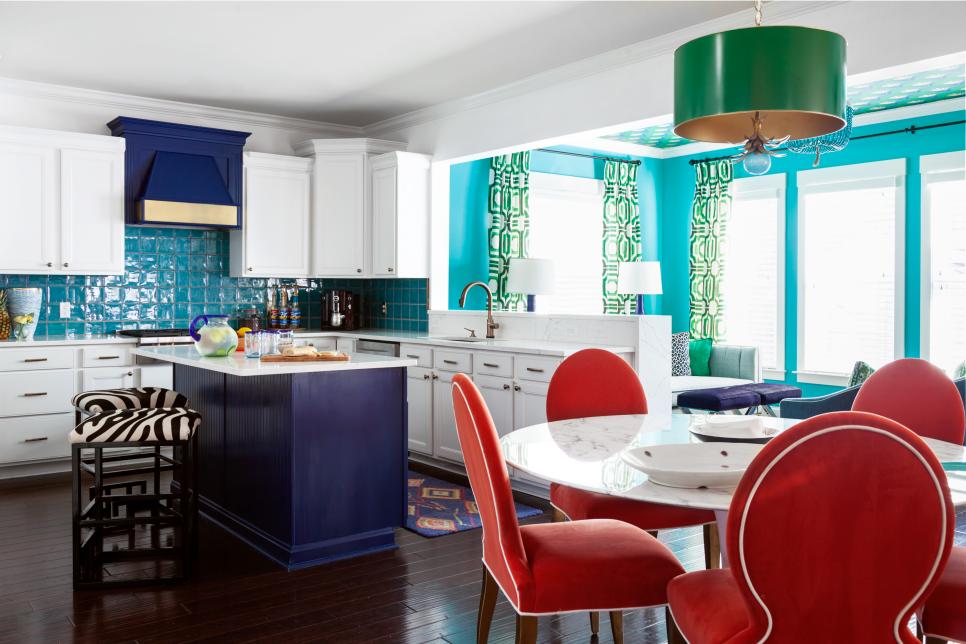 3. How did you use your love of bright colors and patterns to create a home that was not only your style, but also functional for your family?
I tease my husband that when we got married his favorite colors were brown and dark brown. And– it was his idea to paint our family room a bright coral color! Design can be so subliminal– over the years my design choices in every country we've lived in involved color and it's influenced him. It makes him happy– and I think you can evolve in your taste and feeling about your surroundings by the way it makes you feel. It can be a very subconscious thing. In our current home it was really important to live in our space to see how we were going to use it before determining the design. For one thing our morning room was actually built to be the breakfast area in the home, but we really wanted to use it as a space that could be an open TV/lounge area to enjoy while we cook. By breaking the rules it's now become our favorite place in the house!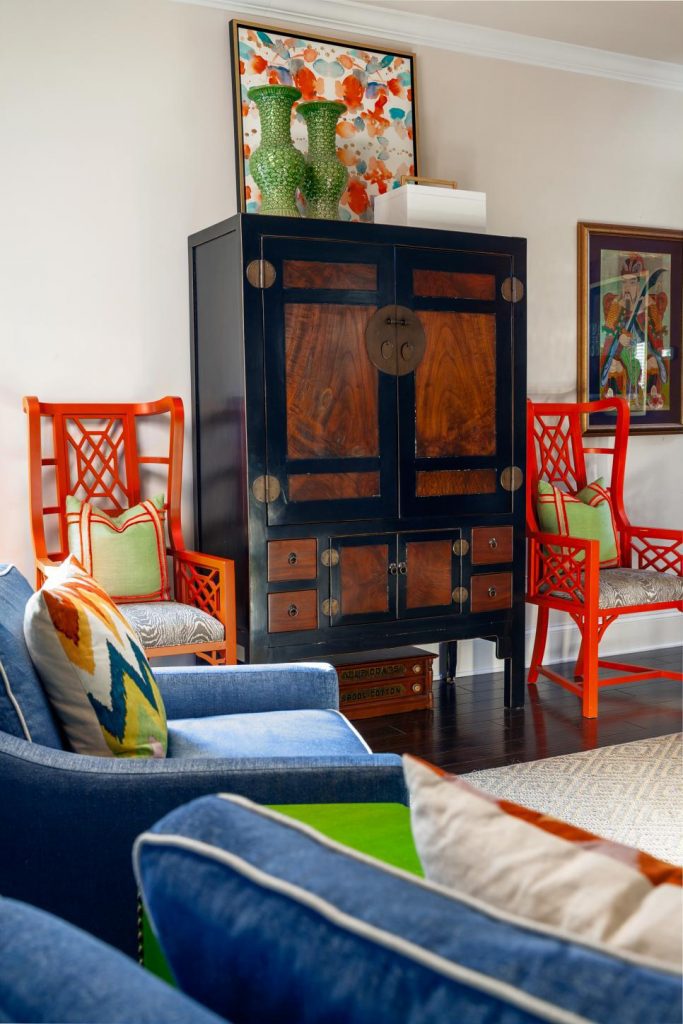 4. Why was it so important to you to use bold patterns and colors in your design? Did it scare you at first?
Bold color and a fun pattern mix match my personality. I like a space to look unexpected, but purposeful and people know as soon as they walk in that JuJu lives here. My husband and I have a saying, "Don't let life hold you hostage".  And– we feel that way about design choices as well. The first green we selected for our dining room looked great in the day, but then turned into a horrible neon green at night. It had to go! We marched right back to Sherwin-Williams the next day and repainted the dining room in the now Kilkenny color that we absolutely love. Wallpaper is a different story, but I always tell my clients "Don't let painting a room hold you hostage. If you hate it– 40 bucks will change it right back or to something else you love more. Really. Isn't a beautiful space worth 40 bucks?"
As far as pattern mixing– there is an art to that. But anyone can make this work. The most successful designs to me are when you can use a variation in pattern type and scale.For example, I typically wouldn't use small stripes of different colorways in the same room. But– I might select a small stripe with a large check pattern in the same space.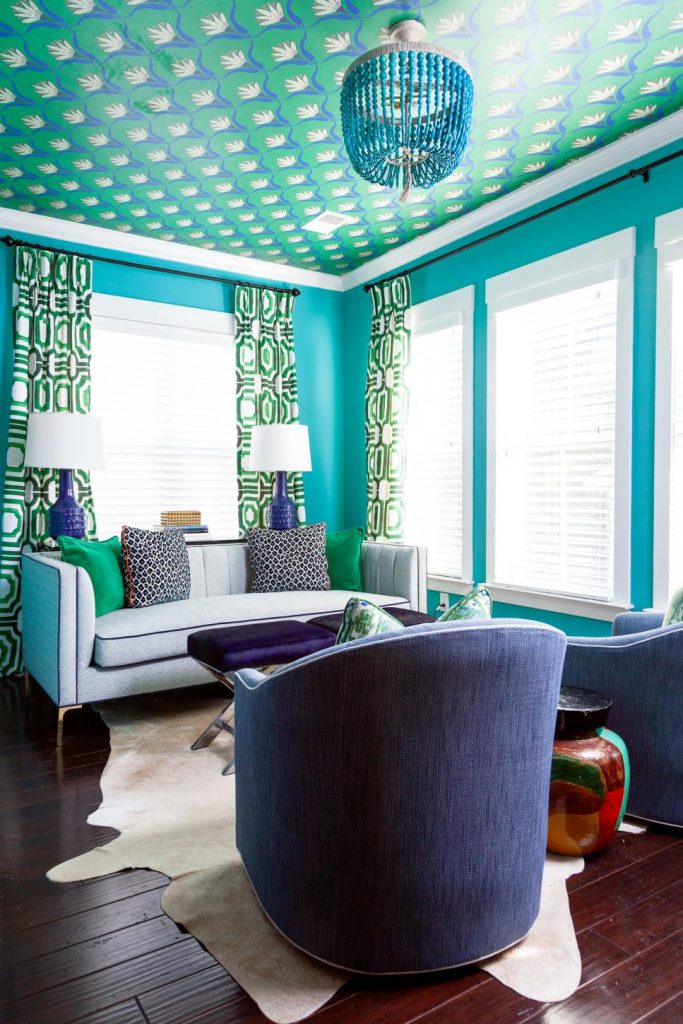 5. What advice do you have for decorating with a bold style?
I always advise to take a risk. Sometimes the greatest beauty comes from trying something new, and I highly recommend spending some time dreaming about your perfect space. I always say, "It costs nothing to dream and everything not to."