Story by Alli Steinke / January 26, 2021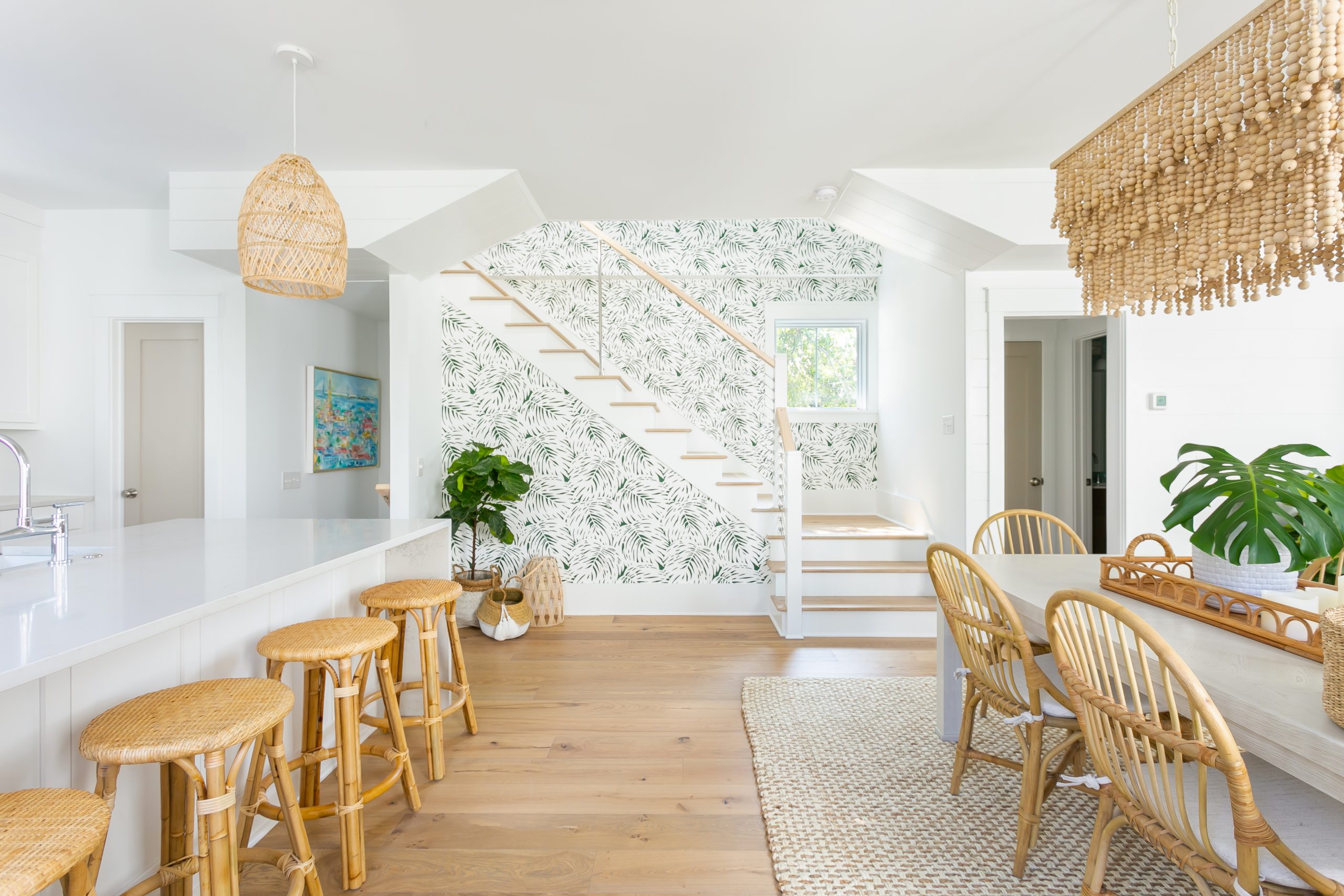 Do you have a space in your home that needs some elevating? Try putting up some wallpaper. Wallpaper used to be something homeowners immediately wanted to take down when they bought a new house, but now it's a trend that's taking the design world by storm. From peel and stick wallpaper to traditional paste, there are not only multiple ways to install the wallpaper, but multiple styles as well.

I personally love the power wallpaper has to completely transform a space. I've seen some incredible wallpaper throughout the homes that we photograph for Charleston Home + Design magazine. Here are just a few of my personal favorites.
Surfer Chic
Chelsea Meissner's boho, surfer chic home was full of pops of color and fun patterns. While she had some more neutral spaces, it was clear she wasn't afraid to be bold. Chelsea and her designer, friend Kim Spradlin Wolfe, selected this statement palm wallpaper and rather than just using it as an accent wall, used it throughout the space. The bold pattern paired perfectly with the rest of the beachy, surfer elements used in the decor.
Dainty Pastels
Emily M. Wood Interiors designed this sweet staircase for the 2020 Charleston Symphony Orchestra League's Designer Showhouse. The baby blue and white palette is carried throughout the stairwell, not only in the wallpaper but also on the baseboards, railing, and in the window treatments. This wallpaper is the perfect touch for a Southern home.
Cityscapes
Kate Fagan and Kathryn Budig's home is a mecca of pop-artsy, modern elements. It is eye-catching and vibrant, and totally unique. Some of the unique touches they added throughout the bathrooms in the home was toile-inspired wallpaper that showed scenes from New Orleans and Brooklyn. These cities were special to Kate and Kathryn so they wanted them included in the design of their home.
Playful Patterns
For the queen of color it was no surprise that Liz Martin's dwelling featured bright colors, bold textures, and playful patterns. Her office space was complete with a fun tassel accent wall that coordinated with gold seen in couch pillows. The living room featured an accent wall in an adorable bird wallpaper next to a swinging chair – this spoke to Liz's camp counselor days.