Story by Micaela Arnett / June 9, 2022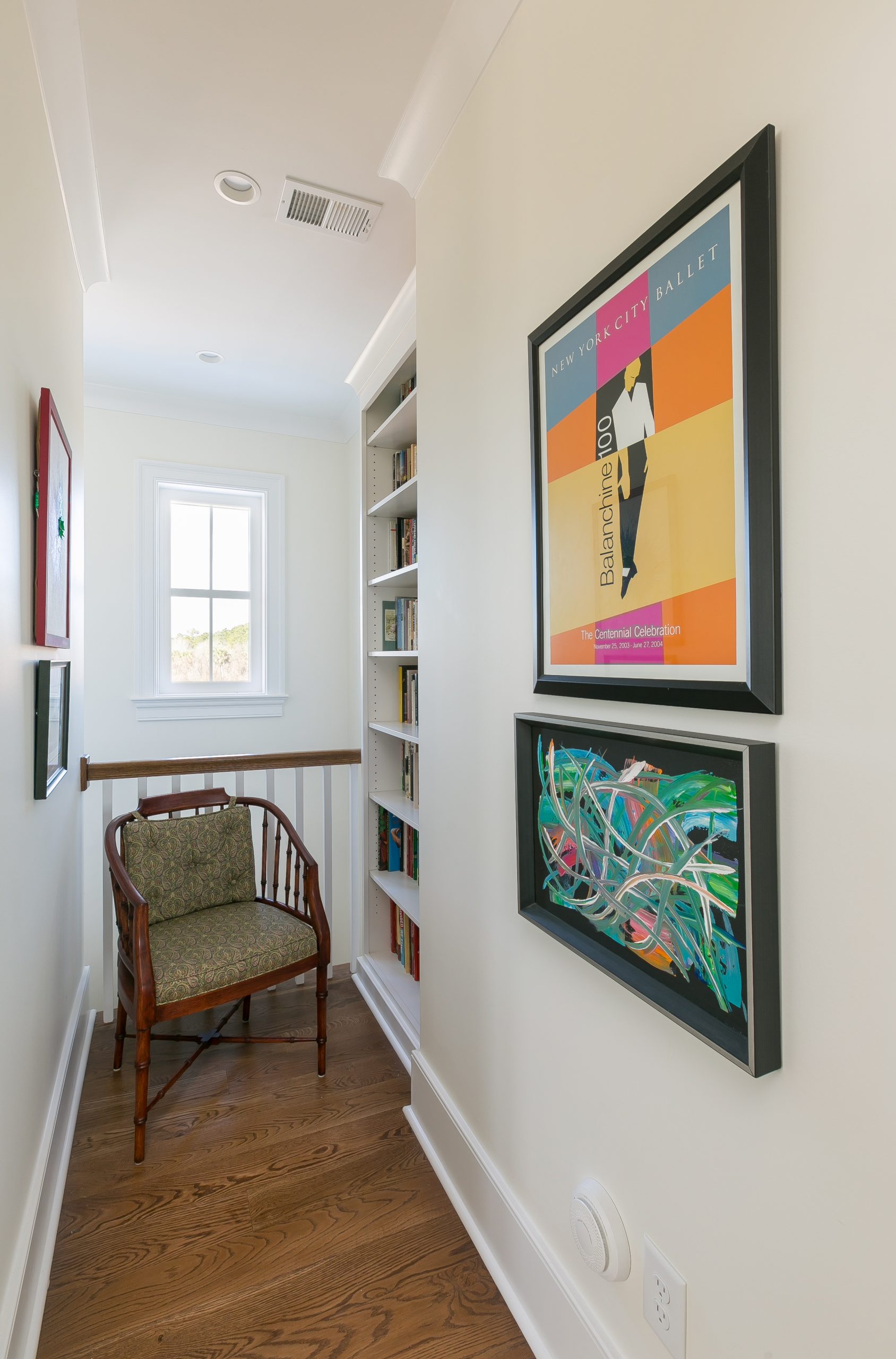 Often, certain places in a home can get overlooked when it comes to styling and decorating. Here are some frequently forgotten spaces in your home and ideas on how to jazz them up:
Hallways
Hallways aren't where we spend the most time and it's understandable to focus on other spaces in the home when you're out and about shopping for furniture and accessories. 
It is beneficial, however, to consider the ways you could enhance the experience of your home for not only guests but you and your family as well. You can do a little or a lot to these spaces in your home, depending on how strong your creativity flows.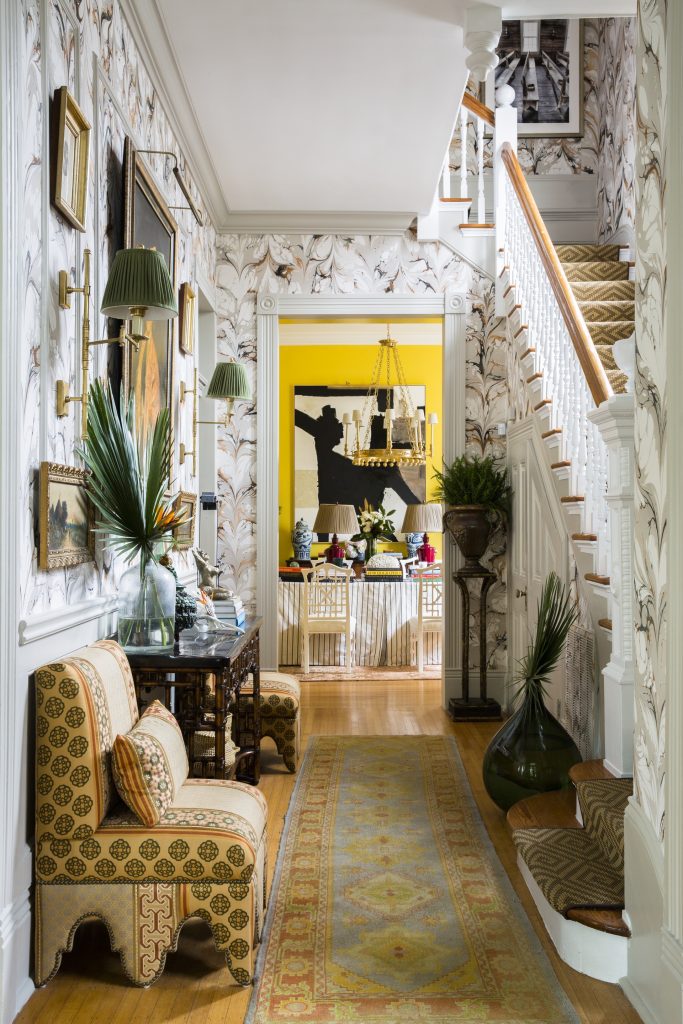 This home has decorated every hallway in sight with wallpaper, color, light fixtures, and artwork. No doubt inspiration sparks here! 
Photography by Patrick Brickman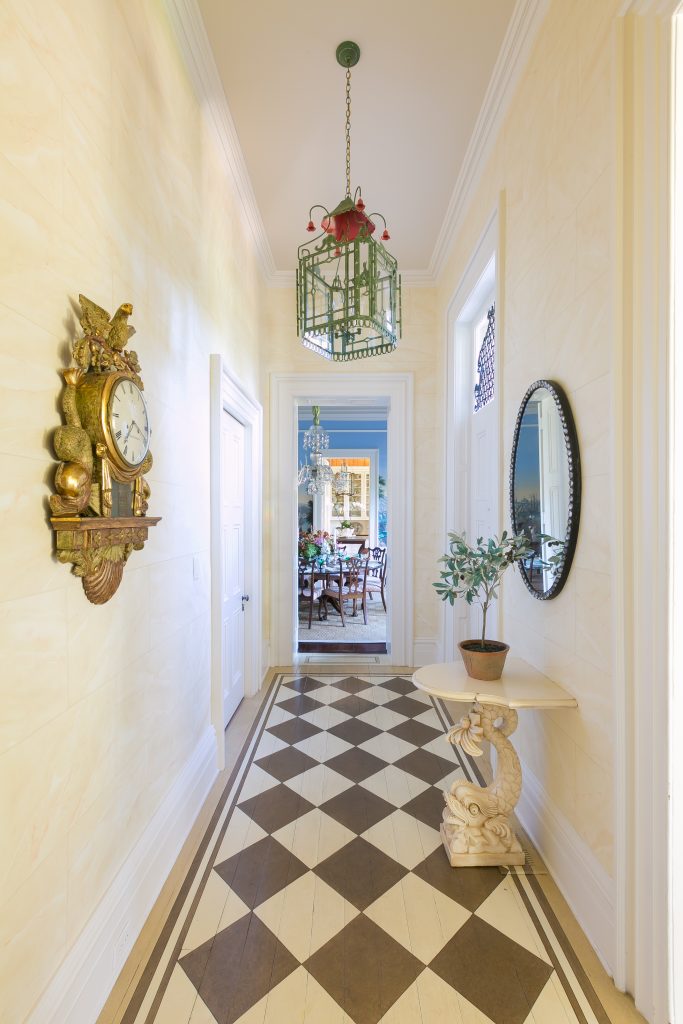 Photography by Patrick Brickman
This homemade their hallway an accent space by painting white on the hardwood with a checkered pattern that incorporated the natural wood finish. 
The sculpture side table makes for a perfect place to hang a mirror and reflect a house plant while also incorporating art into the space.
Staircases
Similar to hallways or arguably hallways themselves, staircases are another place to take advantage of the design.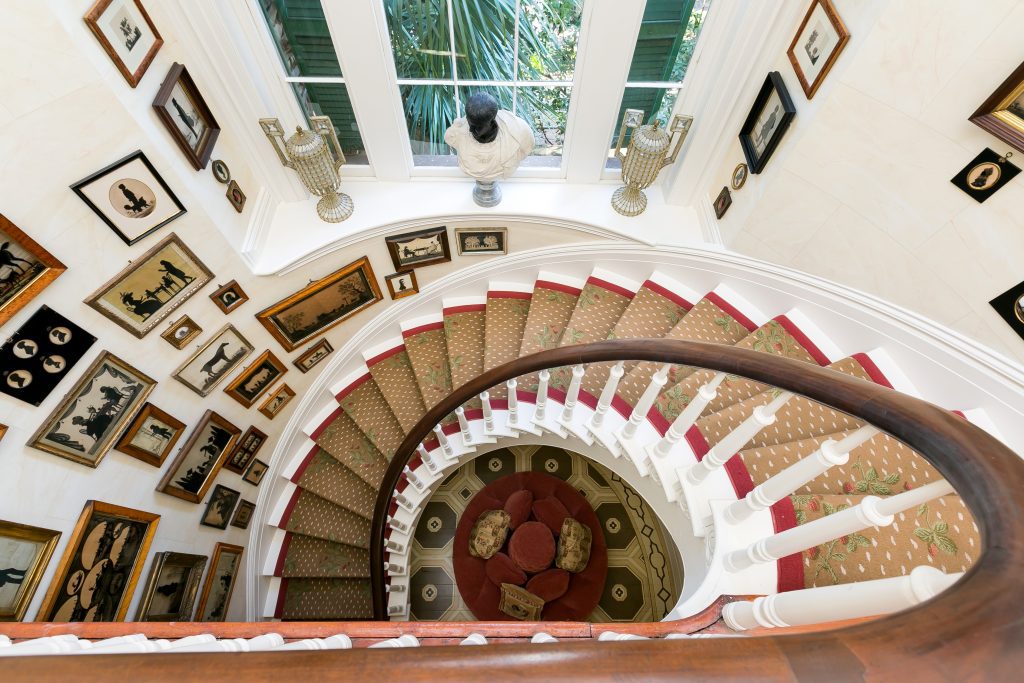 A classic spin on a typical stairway of family photos, this designer positioned frames in a way that creates a cascading gallery wall all the way up and down the stairs for a moveable experience. 
Photography by Patrick Brickman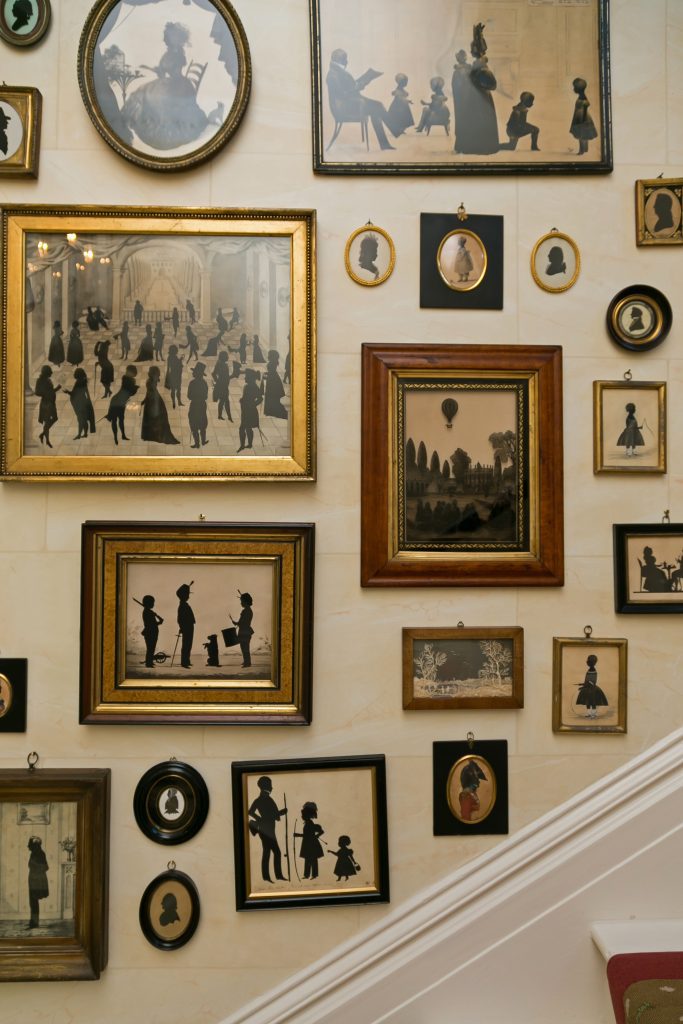 Photography by Patrick Brickman
For a more minimal look, hang a few prints on the biggest wall on your stairway. The cable rail mixed with bold primary color is the perfect style stairway for a decorative table. 
This home incorporated their family's love of music with a centrally located record player that can sing to them throughout the whole house.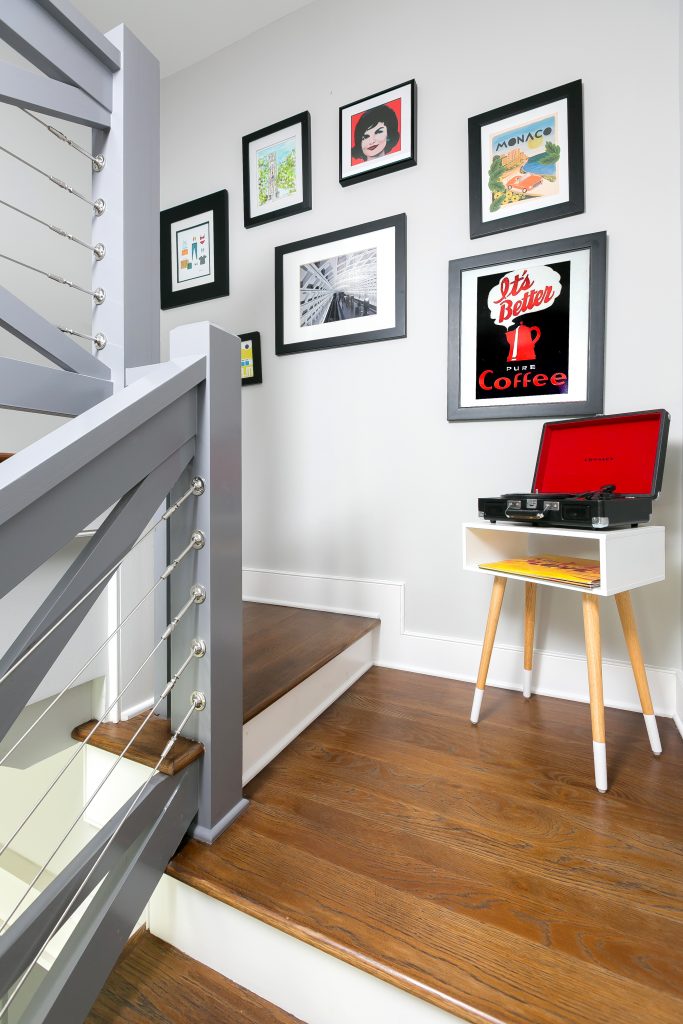 Photography by Patrick Brickman
Laundry Rooms
This mudroom features a teal-painted ceiling and coordinating ceramic tiles to bring some life to a space that is easy to ignore for all of us.
Not only does this increase the value of the home, but it gives you a pretty place to accomplish the less glamorous house tasks.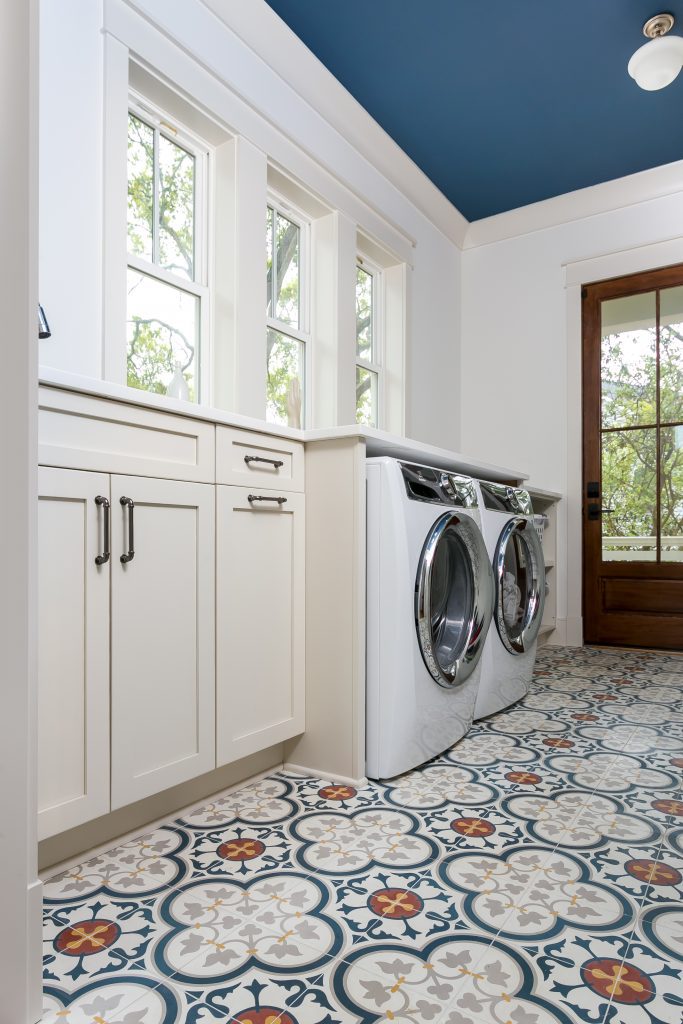 Photography by Patrick Brickman
Ceramic tiles are perfect for a place like the laundry room for their durability and unlimited pattern and color variety.
Changing the floor tile is a complete transformation in itself, but this home added a backsplash, natural wood bar, and a clothing rack to make this space even more functional.
When decorating and designing these kinds of spaces in your home, you can really go as minimalist or maximalist as you feel. Keep in mind, there is no right or wrong way to decorate your own home. 
Bathrooms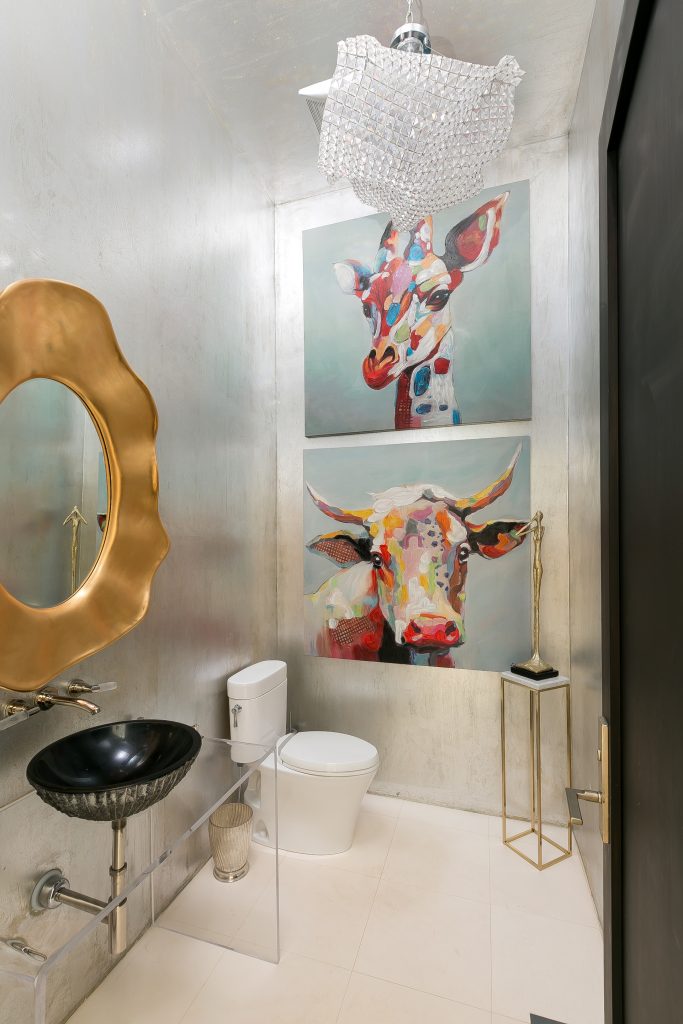 Photography by Patrick Brickman
Although bathrooms are probably the last place you think of decorating, a well-designed washroom in your guest bedroom or powder room can go a long way. 
This half bath was completely transformed with just a few touches like an acrylic vanity with a raised bowl sink and colorful animal prints.
Gold accents and sculpture tie all of the different elements together without overwhelming the small space and offer a charming touch for your guests to enjoy.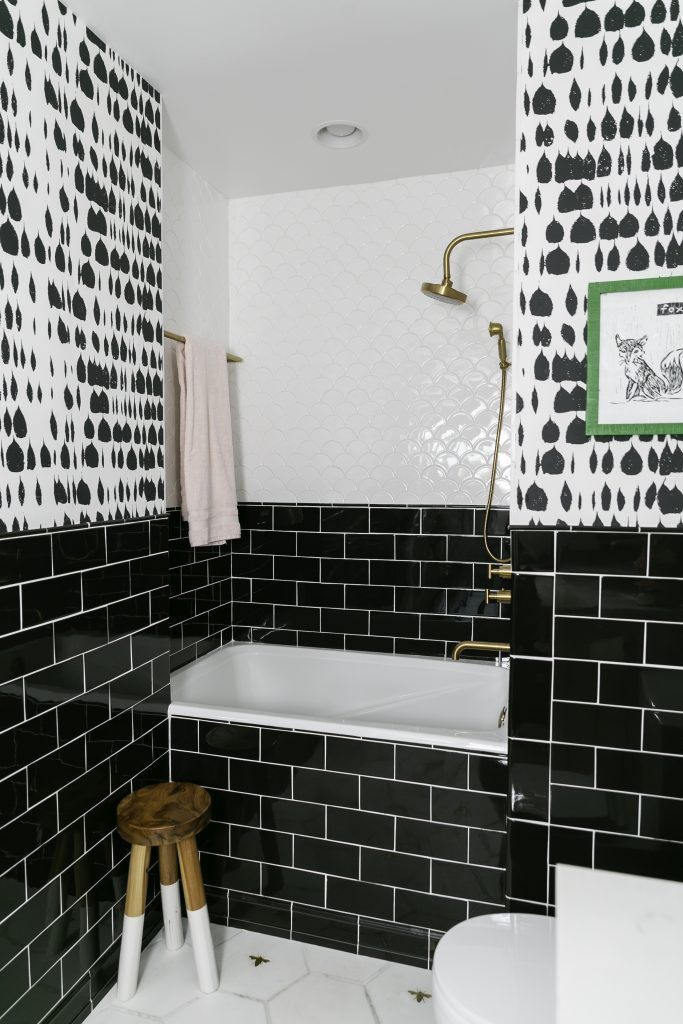 Photography by Callie Cranford
Wallpaper is all the rage right now but is rightfully a little intimidating. A bathroom is a great place to start incorporating bold and funky patterns into your home. 
This home went all in for a black subway tile and a hexagon floor tile with a bee print. The golden hardware touches stand out along with the black and white abstract pattern on the walls.
Finishing touches like a stool and bold color photo frame makes this bathroom feel like a five-star boutique hotel.