Story by Alli Steinke / August 29, 2017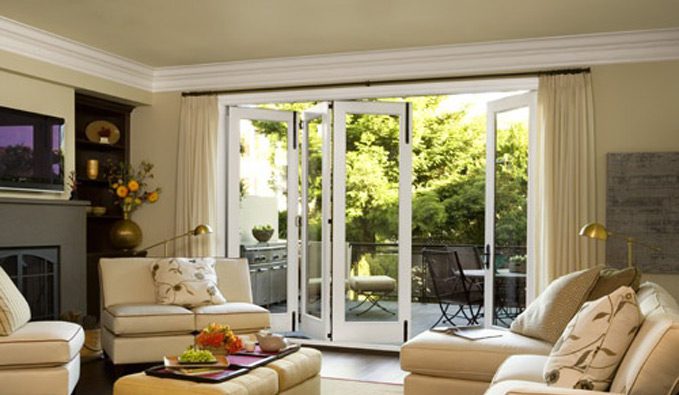 Since the Lowcountry is home to some of the most incredible waterfront views, it's no wonder that glass doors are a popular choice for homeowners in the area. Glass doors bring in more natural light and scenery, and they can also make the transition between indoor and outdoor living spaces seamless and natural. When it comes to choosing a glass door, there are various styles and systems to pick from. Muhler, one of the Lowcountry's leading distributors of windows, doors, and shutter systems, offers two unique glass door systems through different product lines.
Panda's Lift & Slide Glass Wall System is a multi-door system that can easily open up spaces by shifting each glass panel, which are engineered to operate smoothly with only a small amount of applied pressure. These panels use their own weight to create seals across the system, making it weather-tight. Through different material options and features available to homeowners, Lift & Glass Wall System can also be thermally broken for harsher climates, keeping homes insulated and protected from extreme temperatures, as well as impact and hurricane resistant. One of the best parts about this system is that it's barefoot friendly! There's no obstructing lip or step to stub any toes.
The folding door systems from Euro-Wall offer similar features but a different operating style from the Lift & Slide system. Through hinges, handles, and slight pressure, the glass door panels easily fold and stack out of the way, opening up views and outdoor spaces with ease. As with Panda's Lift & Slide Glass Wall System, Euro-Wall's glass door systems are also available in thermally broken and impact options. Since Euro-Wall was founded in Florida, its folding door designs are structured to meet Florida's strict building codes for high winds and hurricane grade weather.
Both the Lift & Slide and the folding door systems can also be screened, making them perfect for enjoying Lowcountry weather without suffering from Lowcountry pests, like gnats and mosquitos. To learn more about these glass doors and the other great options available to Lowcountry homeowners, visit Muhler's website or call (843) 572-9727.