Story by Art Department / September 29, 2022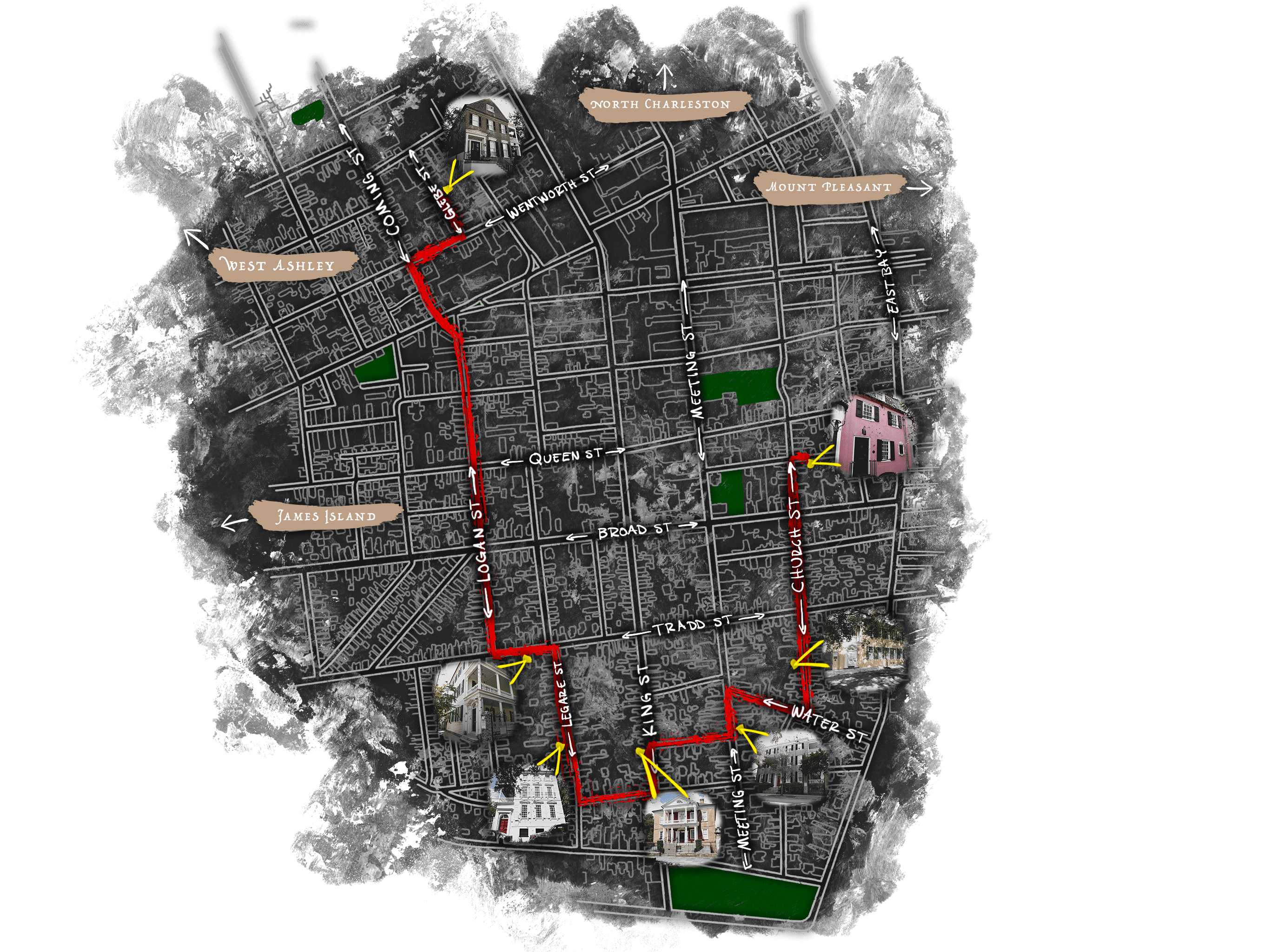 With spooky season here, what better way to celebrate than to explore some of downtown Charleston's most haunted haunts? We speak with walking tour guide, Tommy Dew, Ed Macy, author of the bestselling book, Haunted Charleston, and Karen White, author of the ghostly Tradd Street series to help break down the city's long history of ghost stories.
Illustration and Photography by Kenny Reed
Charleston, South Carolina is not only known as being a beautiful city filled with rich architecture but also has a haunted history. According to the tour guide, Tommy Dew, there are many reasons why Charleston is filled with so many spooky ghost stories: war (revolution and civil), the epidemics of Yellow Fever, Malaria, Smallpox, Typhoid and Cholera, tragedy, time, and being the number one city for slave trading in the United States. "One of the main ingredients to any 'ghost story' is a tragedy, which Charleston has had its fair share of," Tommy continues, "In our 340-year existence, we have experienced around twenty-one deadly hurricanes, five great fires, and the largest earthquake on the East coast. With many original homesteads still standing, there have been several eerie and supernatural recorded events that have taken place. Charleston has been "cursed by the hand of God and cursed by the hand of man. More natural and man-made disasters than any city in the United States."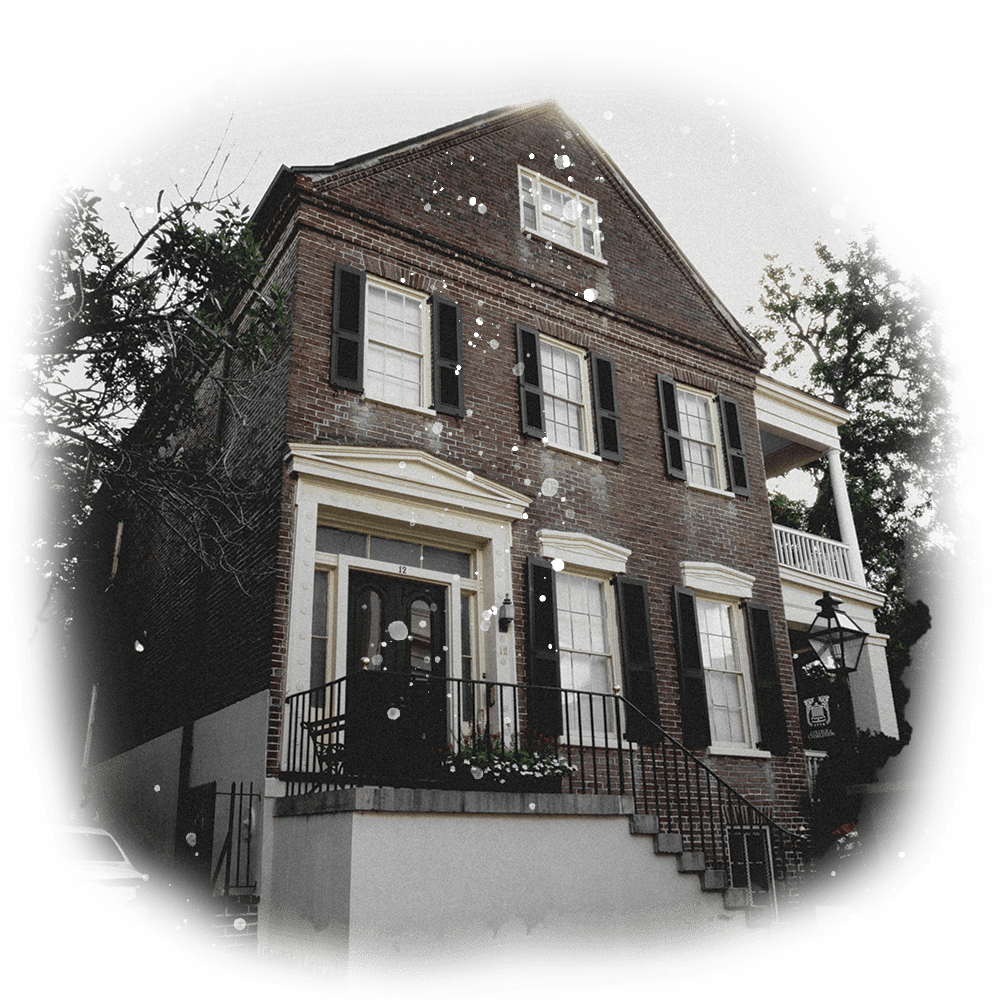 12 Glebe Street – The Silent Movie Ghost
The College of Charleston purchased and renovated this home in 1966. A young couple who worked for the university moved in. "One night the couple was lying in bed, reading a book with the lights on when a man entered their room and stood before their bed. He attempted to speak to them, but no words came out of his mouth. After a few moments, the frustrated man left the room through a solid plaster wall," Ed Macy describes in his book, Haunted Charleston.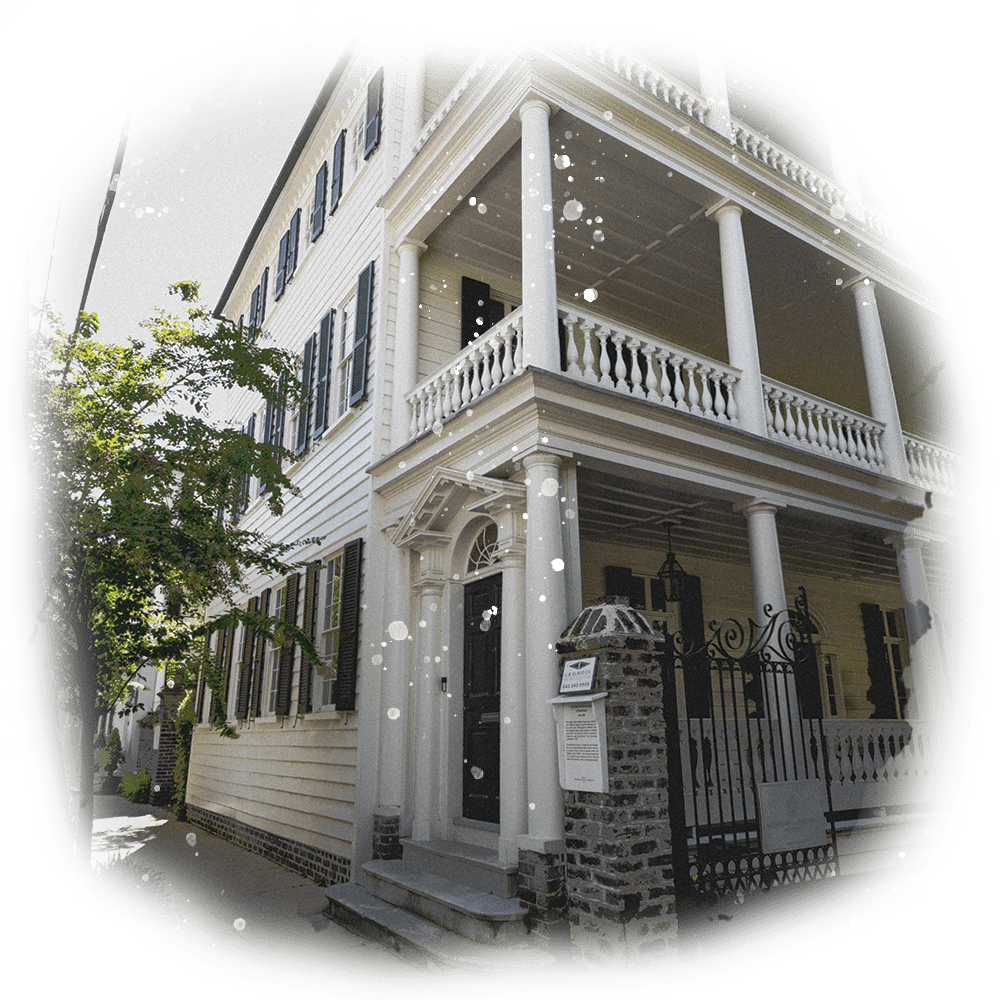 125 Tradd Street – The House on Tradd Street
Karen White, the New York Times Bestselling Author, based her widely successful Tradd Street series in Charleston, with the first installment taking place at a home resembling that of 125 Tradd Street. "I needed a southern city steeped in history, filled with beautiful architecture, and of course, a good supply of ghosts," Karen tells us. The series follows a medium named Melanie and the many spirits she encounters in and around Charleston.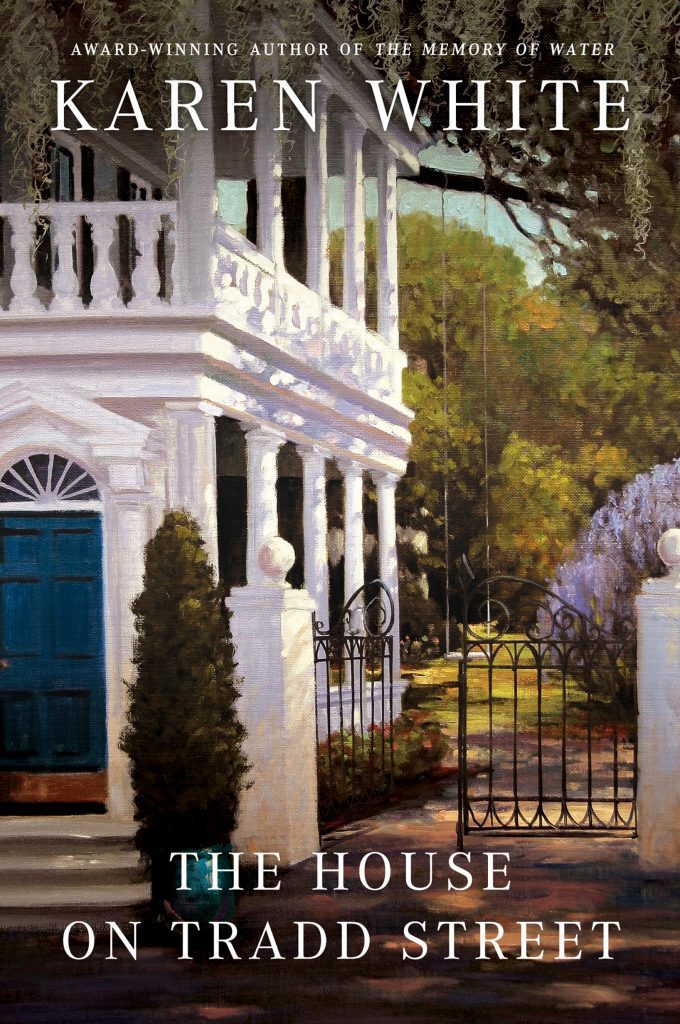 Cover Art Provided By Penguin Random House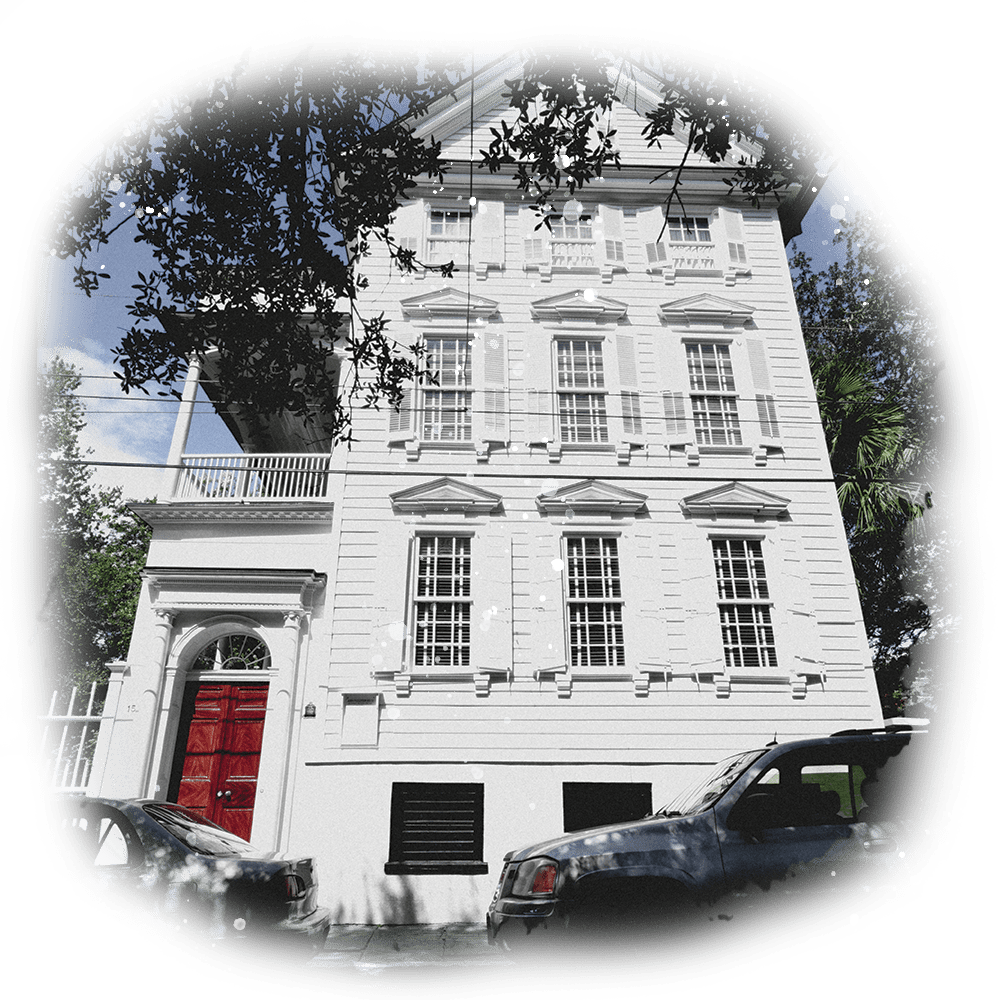 15 Legare Street – John Fullerton Mansion
In 1772, John Fullerton designed, built, and owned this downtown home. Legend has it that whenever John played the spinet for his children in the living room, a vision of an indigenous man would be seen peeking through the first-story window. "The spirit would have to be around six feet, eight inches to reach that first story window," Ed points out.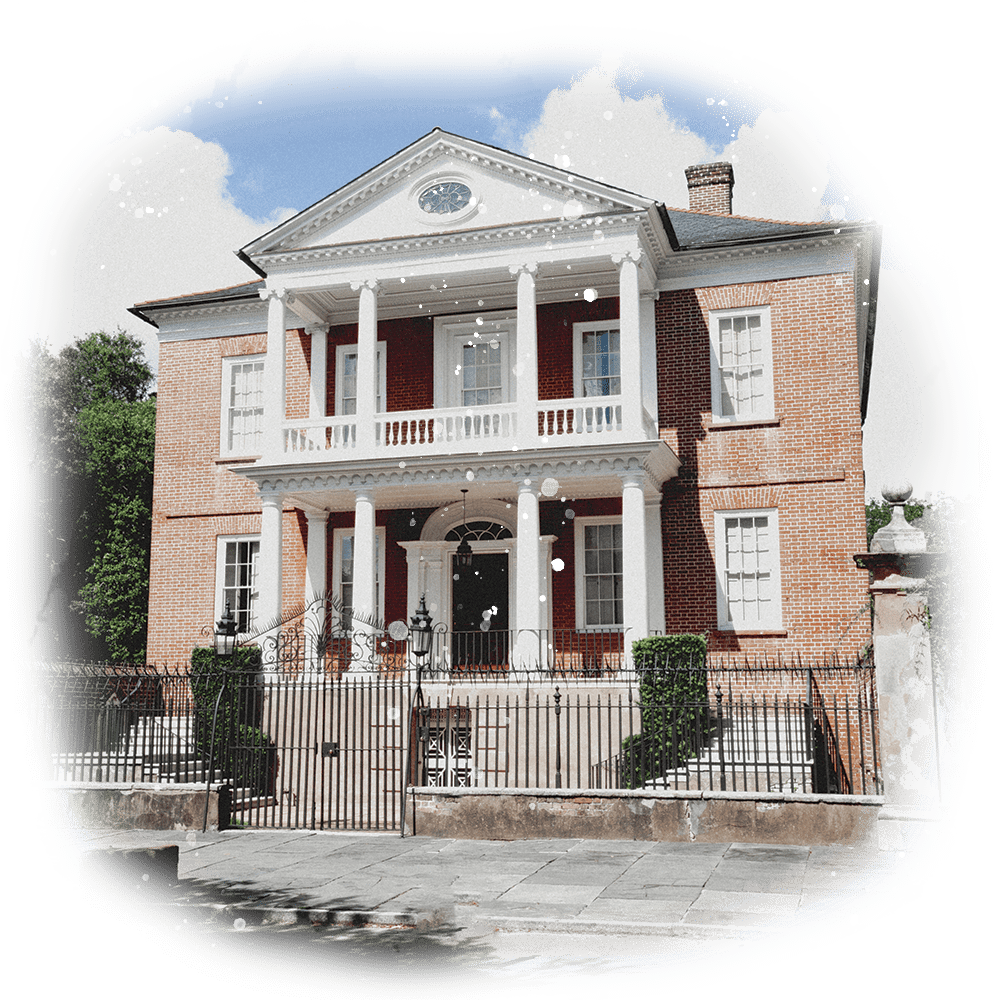 27 King Street –

The Miles Brewton House / The Girl on Legare Street
The second installment of Karen White's Tradd Street series is The Girl on Legare Street. The home on the cover of the novel was inspired by the Miles Brewton House. In this novel, Karen's protagonist Melanie along with her estranged mother, who also has psychic abilities, renovate their old family home but end up stirring up a maleficent spirit who is ready for carnage.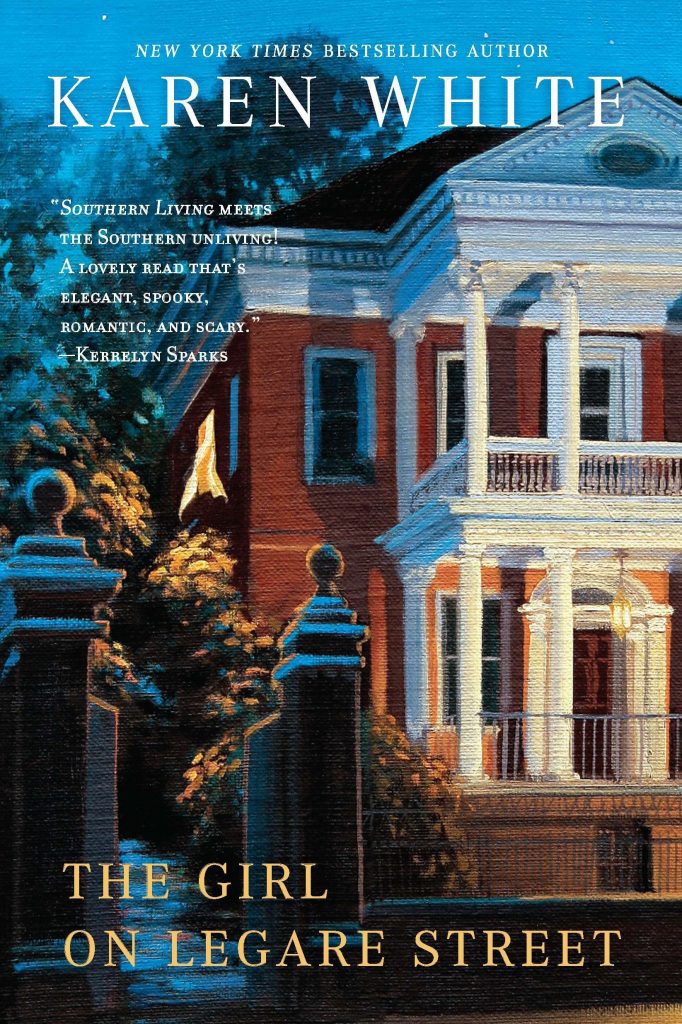 Cover Art Provided By Penguin Random House 

34 Meeting Street – Mother Nature Strikes Again
On August 31, 1886, a strong hurricane hit Charleston causing devasting damages. "When the hurricane hit Charleston, a young English boy who had arrived only eight hours before, ran outside but was crushed by a piece of masonry that had broken off the side of the house. His ghost can be heard knocking on the front door trying to come back inside," Ed Macy describes in his second book, Haunted Harbor.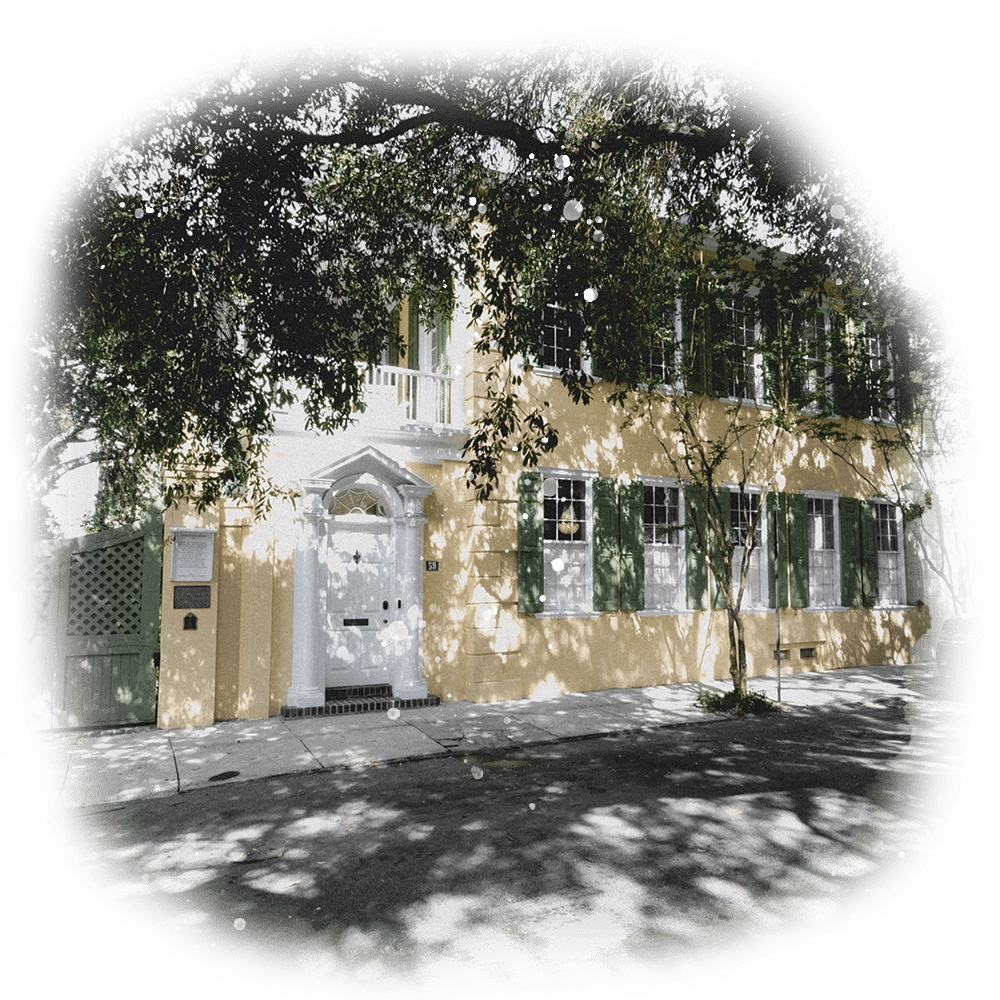 59 Church Street – Joseph Ladd Brown "The Whistlin' Doctor"
Built in the 1730s, this house served as the residence of a young whistling doctor named Joseph Ladd Brown. One day, Joseph naively participated in a duel with an ex-friend to save his reputation in Philadelphia Alley. During the dual, he was injured and spent his last dying days at home. "It's been said that whenever a tragedy occurs in or around the house, whistling can be heard on the staircase," says Ed Macy.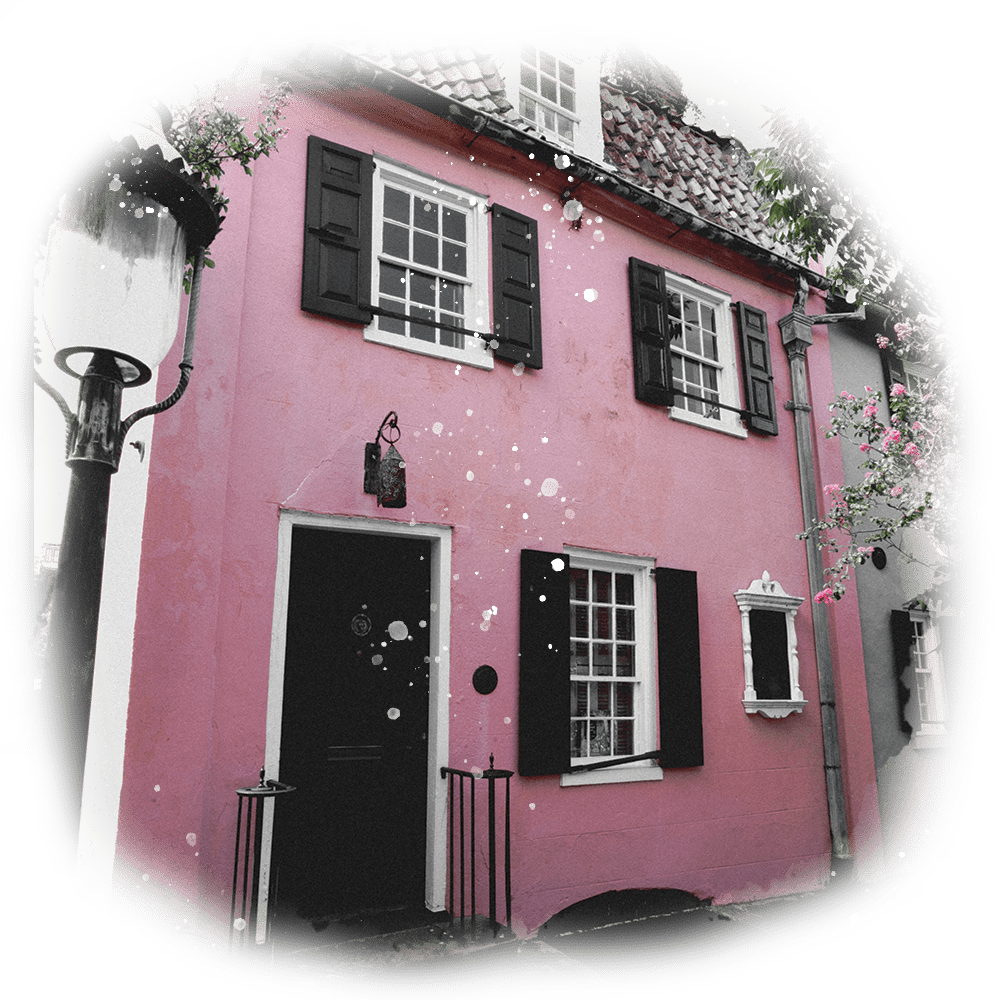 17 Chambers Street – The Pink House
The Pink House is one of the oldest residential houses in Charleston dating back to 1712. Originally serving as a tavern for some ghastly characters, it is rumored to have been previously owned by the first female pirate, Anne Bonny. Ed Macy says, "Throughout the years, the Pink House has been used as an art gallery and now serves as a home, but every now and again the sight of a ghostly woman appears on the stairwell."
Honorable Mentions: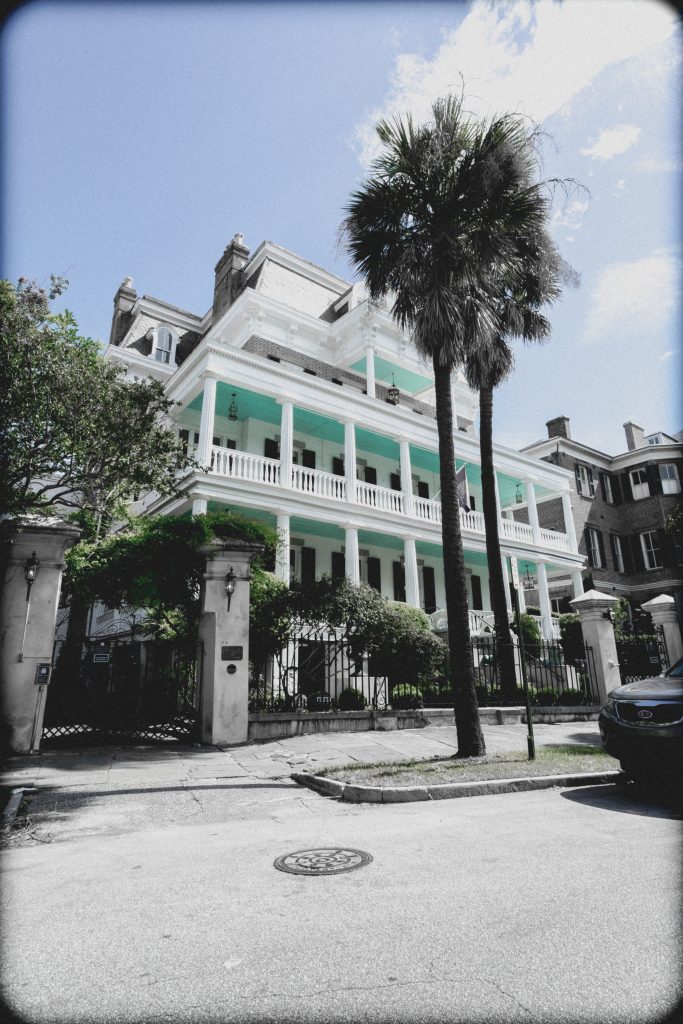 20 S Battery – The Ghosts of the Battery Carriage Inn
The Battery Carriage Inn, built in 1843, is one of Charleston's most infamous establishments for paranormal activity, hosting several ghosts. According to Ed, many guests in room eight have witnessed "a dark and ominous spirit appearing at night as a headless torso. It is believed to be the ghost of a fallen soldier from the Civil War," Ed continues, "room ten is haunted by the "Gentlemen Ghost" who startles guests in the middle of the night by appearing in their bed."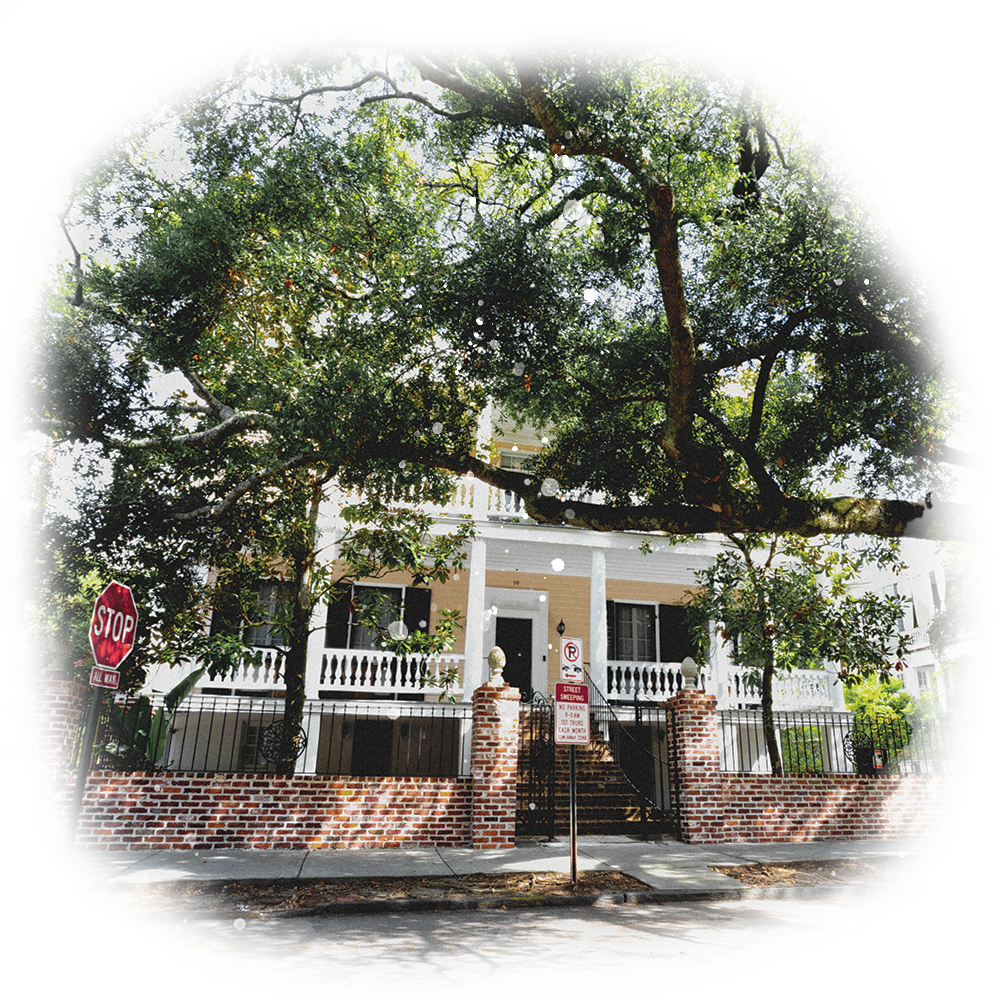 18 Montagu Street – Savior Mary vs. Mother Nature
Built in the late eighteenth century, this home suffered through a terrible hurricane that took the life of a young house slave named Mary. During the storm, Mary shielded the owner's young children but was struck by bricks from the fireplace and killed. "Years later, this home was purchased by the College of Charleston to house students. Many have come forward rumored to have encountered Mary's spirit still roaming the hallways," describes Ed.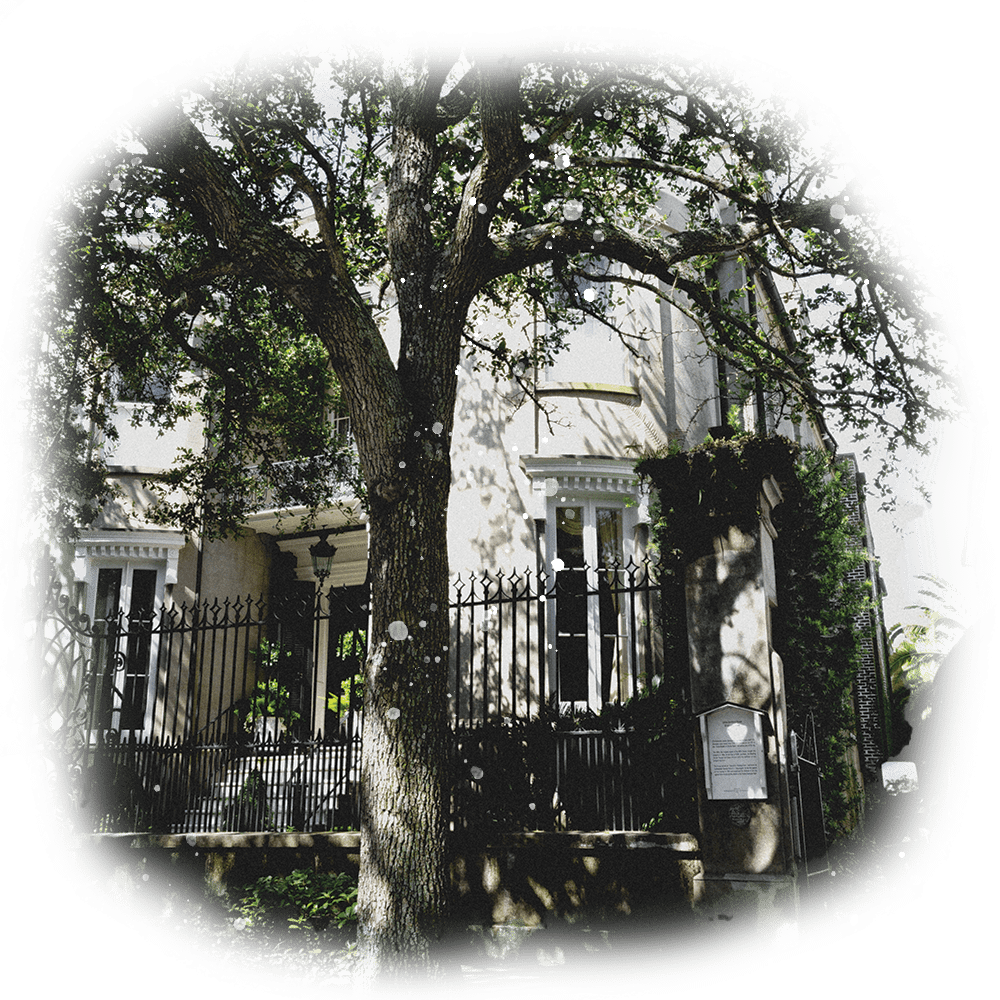 37 Meeting Street – The James Simmons House and the Moaning Pirate Ghost
Before this Georgian-style home was built in 1760, the land used to be a mudflat making it a prime location for pirates to hide out or bury their treasure, if they had any. Throughout the centuries, the apparition of a pirate with a shaved head has been seen on the staircase or in the backyard moaning for water.
See the links below for more information: 
Ed Macy | edmacytours.com
Karen White |  karen-white.com
Tommy Dew | tommydewswalkingtour.com