Story by Art Department / April 15, 2021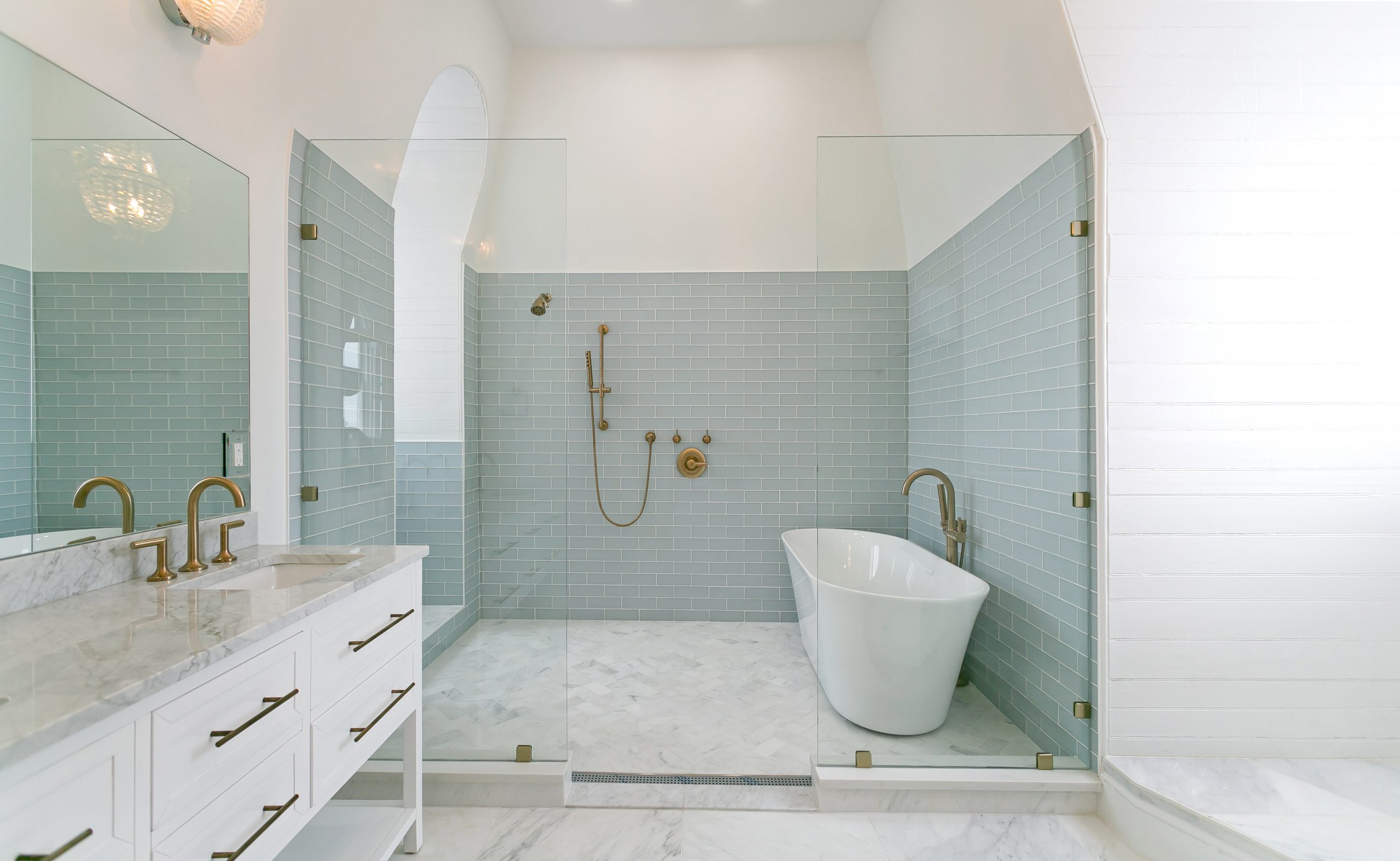 It happens frequently; you stay at a beautiful hotel and dream of having that same relaxing, luxurious ambiance in your own home. In the spring issue of Charleston Home + Design magazine we highlighted seven local hotels with stunning bathrooms. We worked with advertisers you'll see in the magazine to find products to help you recreate these bathrooms at home. You can see those products in the print version. We'll give you a bit more insight into the design of these beautiful bathrooms. We encourage you to support our local hotels and book a fun staycation. Some have locals only deals so be sure to ask!
Hotel Bennett
Walk in to elegance at Hotel Bennet. The 179 guest rooms feature locally-inspired artwork and the bathrooms showcase walk-in showers, soaking tubs, and elegant finishes. Lush linens are also offered to inspire prime relaxation during your stay.
404 King Street
(866) 302-7870
hotelbennett.com
The Restoration Hotel
There are a variety of room styles available at the Restoration Hotel making this a great spot for a solo getaway or a weekend with friends. Enter the guest suites and find spacious bathrooms with a separate shower and tub, along with dual vanities with plenty of storage for your weekend necessities.
75 Wenthworth Street
(843) 518-5100
therestorationhotel.com
The Grand Bohemian Hotel
At the Grand Bohemian Hotel you'll find modern elegance in the heart of downtown. The marble bathrooms offer plenty of space to get ready for a night on the town or relax after a long day of exploring. Makeup mirrors, walk-in showers, and a happy color palette make this space pop.
55 Wentworth Street
(843) 722-5711
kesslercollection.com
Zero George
The charming, historic hotel at Zero George is made up of 16 guest rooms throughout three residences and two carriage houses. The quaint space is surrounded by a gorgeous courtyard guests can enjoy during their stay. The bathrooms maintain the history of the buildings with original heart pine floors and add more modern touches such as large walk-in showers.
0 George Street
(843) 817-7900
zerogeorge.com
Emeline
Emeline is the Holy City's newest hotel. In addition to wonderful amenities, you'll be welcomed into a space that exudes modernity. Matouk linens, a Crosley turntable with custom vinyl, field guides to Charleston, and other unique touches will make you want to stay forever. In the bathroom, the attention to detail continues and create a space that inspires self care.
181 Church Street
(843) 577-2644
hotelemeline.com
The Spectator Hotel
The art-deco Spectator Hotel spares no cost in making guests feel at home. Bathrooms complete with oversized double vanities, heated towel racks, soaking tubs, and more give guests plenty of opportunities to stay in and take a moment for themselves to reset and feel rejuvenated.
67 State Street
(843) 405-9969
thespectatorhotel.com
20 South Battery
20 South Battery features a combination of historic features with modern updates. The 11 suites honor the history of the 1843 private mansion turned luxury boutique hotel, while each of the bathrooms offer a more modern ambiance. The Penthouse Mansion Suite on the top floor of the hotel features this stunning bathroom with a wet room and views of the Holy City. Natural light pours in from the original windows adding to the luxurious feel of the space.
20 South Battery
(843) 727-3100
20southbattery.com