Story by Art Department / January 5, 2016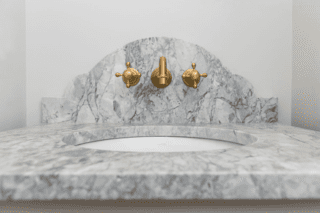 Known to many across the Lowcountry as "The Countertop Lady," Julie Alfred of East Coast Granite & Design has helped innumerable clients choose the best countertops to fit their homes and their budgets.
Perfect pairings, whether it's a shirt and tie, wine and cheese, or even peanut butter and jelly (it's all about the ratio), are sometimes difficult to pull together. Not so with Julie Alfred of East Coast Granite & Design, who teamed up with Nathan Sullivan of Sullivan Custom Cabinets and designer Dani Silver of Dani Silver Designs to create a kitchen of elegant proportions. Dani's clients came to her with a plan in mind, and the rest is history, as the old adage goes. The homeowners already had their colors and cabinets picked out when they met with Julie. "They sought my advice about which stone would be the best fit for their kitchen," she says. "But

there's more to choosing countertops than picking granite or marble in a color you like."
Naturally, the mineral makeup of granite versus marble is a huge factor in the decision-making process, but there are also finishes and edges to determine. Shoppers must additionally consider the size of the slab, a treatment to prolong the stone's life, and the striations of the stone. "The most popular colors in countertops are grays and whites, which are most often a type of marble, but a lot of people are scared of marble," Julie expounds. When it comes to scratch resistance, granite is generally considered to be stronger, but what most people don't know is that marble can withstand high temperatures better than any other stone on the market. Julie also highly recommends that marble countertops should be treated with a high-end sealer. "The sealer will gradually become part of the composition of the stone and make it exponentially stronger."
These particular homeowners took Julie's advice and chose a marble called "Super White," which they installed in the kitchen, master bath, and the first-floor powder room. In this particular kitchen, the team at Sullian Custom Cabinets had to build the island to custom measurements to accommodate the whole slab of "Super White." Because the homeowners opted to have no seams in the island countertop, the team at East Coast Granite honed an entire slab and then lifted it in with a crane. "It was quite a production," she concludes with a laugh, "The results speak for themselves."
For more information, call Julie Alfred at East Coast Granite at (843) 343-6536 or visit eastcoast-granite.com. For information about the cabinetry, call Sullivan Custom Cabinets at (843) 554-5880 or visit sullivancustomcabinets.com.