Story by Micaela Arnett / January 26, 2022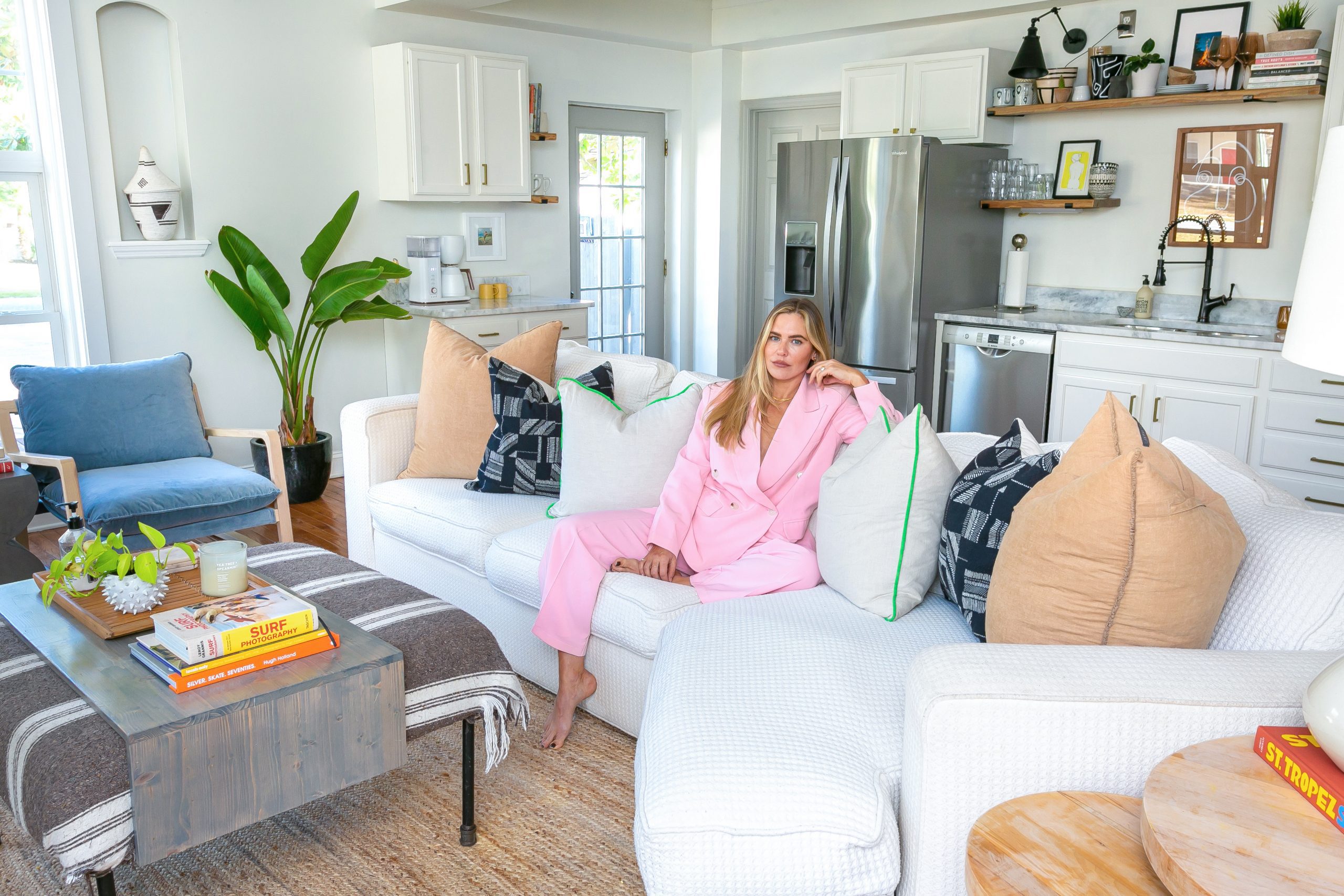 Local artist Chelsea Goer invites us into her quirky Mt. Pleasant home she shares with her husband and two young children. Chelsea collaborated with local home store Celadon for various pieces throughout her home and highlights artists who are also part of the Charleston Artist Collective. She shares about the home's renovation, her art career, and more. 
How did you find this home? How did you decide what area in Charleston you wanted to live in? 
My husband and I bought the home about ten years ago. He grew up in Mt. Pleasant, when there was not much between downtown and Sullivans Island other than Shem Creek, at that time an old shrimping village. I grew up in Pawleys Island, where time felt slow and we lived a very island lifestyle. The Old Village seemed like the perfect combination of the things we loved about our childhoods and it felt like the perfect place to settle into. 
Walk us through the renovation process. You mentioned you wanted to keep some of the quirkiness of the home; why and how did you do that? 
The house is a 1960's ranch with a lot of quirks when we bought it. I am drawn to homes with character but there was a lot going on. We focused on stripping things back slowly. Just to give you an idea, in the main room alone, there was a decorative red Baroque style mantle, turquoise french doors that had no function, and even Native American Totem poles. The style was all over the place. But after taking all that out, there were also things that I really liked. For example the funky black and white tiled bath with a giant floating double vanity, the arched shelves built into the walls, and the decorative ceiling in the dining room all contributed to the charm.
How did your career as an artist impact the design of the home? Talk about the art showcased in your home; local artists? Friends? Special meanings? 
My creative side moves so quickly so I stick to things in my home that I truly love and I will not get tired of in a few months' time. Over the past few years I have begun to build my photography collection, like 1980's west coast surf culture and rock and roll.  I have a lot of work by famed surf photographer Jeff Devine and nostalgic images of Freddie Mercury and skateboarder Tony Alva. One of my favorite pieces is by local photography duo Elizabeth Goulding and Sean Money. It's a 40 x 50 photograph of a woman's legs coming out of a 90's television that looks like it could be the cover of a Talking Heads album. I have recently added a piece from local artist, Olivia Bonilla who makes these sexy, luscious cupcake sculptures that seem to defy gravity and make you want to indulge. I love anything that's off the cusp and a little rebellious. 
You also mentioned building a good amount of the furniture in your home. So cool! Can you elaborate on that process and why you did that versus buying pieces? 
When I went more minimal with my home, I read a lot into the Scandinavian design principles. The basic rules are being natural, sustainable, and functional. Because the home is not a traditional layout, mass manufactured furniture just felt odd in the space. My training in art and sculpture lead me to construct custom pieces that provide function and fit perfectly in each space. For example, I built a long, lean dining table that allows for lots of extra seating but does not take up the entire room so we could also fit a wet bar in the room. 
What are some of your favorite elements of the home and why? 
The craftsman elements and bungalow look make it feel like a home found on the West Coast, which totally speaks to me. It's open and airy but feels cozy at the same time. 
How would you describe the style of your home? 
I do not limit myself to one style because I think my aesthetic lies in a wide range. But if I had to summarize, I would say "Minimalist Bungalow with Edge."
You mentioned being more conscious of the pieces you are buying for your home now versus 10 years ago. Can you elaborate on that and talk about why that's changed over the years? 
When we first moved in, I felt the need to make it perfect right away. I quickly realized that my decisions were not thought out. I decided to pull everything back by adopting a minimalist approach. Less is more in terms of a quirky home. I painted everything white, sold furniture that did not bring me joy or function, and donated most decor to charity. We updated the exterior to clean white lines, installed 7ft windows for light, added open shelving to the kitchen, and gave the entire interior a monochromatic look. I now focus on pieces beautifully crafted and have function. I don't feel a need to rush to fill a space anymore. 

What are some of your favorite local shops to find pieces for your home? 
Celadon is my go to for furniture and accessories. My Scandinavian style armchairs are my new favorite addition. I also get a lot of modern decorative pieces from Megan Molten's new shoppable warehouse and local designer Emily Dawes, who has the best funky throw pillows. I always find fun vintage treasures from the Station in Park Circle and The Hive.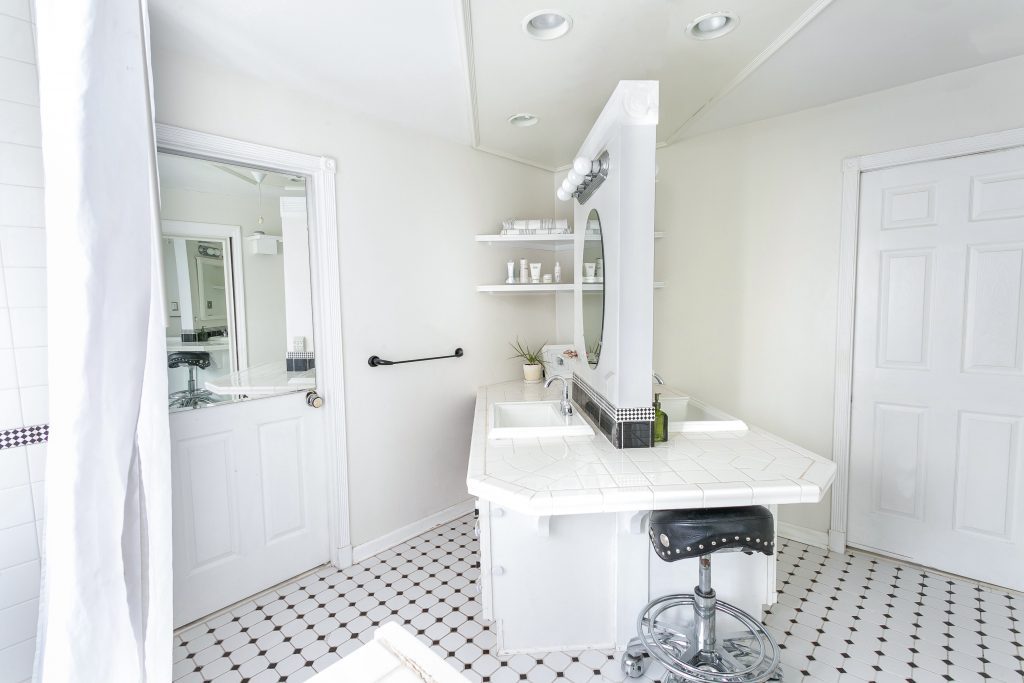 What is one thing you'd like to change about the home? 
Small living has been great for us and taught us a lot on how to live minimally and be resourceful. Eventually, my kids will get older and want some space from us. I would love to add a private master suite and extend the house out to allow for a larger kitchen.
How have you designed the home to be functional for your young family now and in years to come? 
The key is to always think before you buy or make a decision. What will serve me? Will I keep it for a long time? And how can I work with what is already here?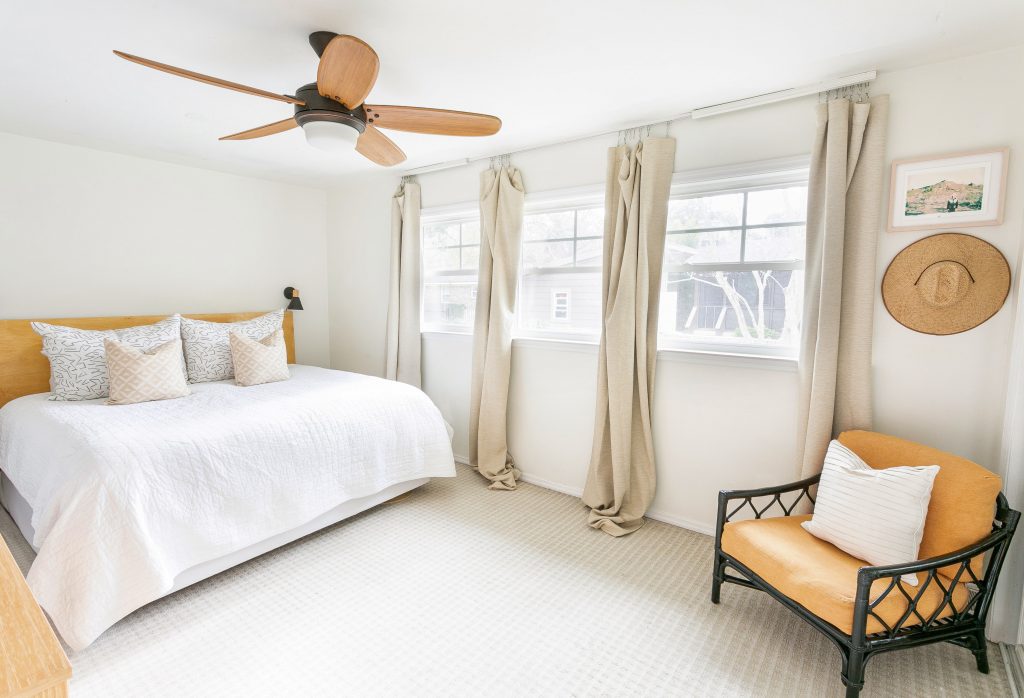 How did you get involved with Charleston artist collective? What's your process when creating your work? Do you ever venture out and try different mediums? What's your favorite medium to work with? 
Charleston Artist Collective found me on instagram when I was nine months pregnant. I had posted some work and the owner Allison Williamson asked to meet with me. I told her I wanted to get through the newborn stage with my baby before I committed to being part of their gallery. About three months later I was speaking to local artist and friend, Leslie Pratt-Thomas, and told her they had reached out. She took one look at me and said "Call her back right now!" I have been a full time artist ever since. 
I think most people know me for my paintings, but I love and play with all kinds of art forms. Everything from design to performance art. Cindy Sherman became a huge inspiration for me in art school and I love working with Elizabeth Goulding on performance combined with photography. Maybe one day I'll have the confidence to share that with more people in a gallery space but for now I'm just trying new things and growing. 
Is there anything else you'd like to add? 
I would just advise new home owners to take their time and not worry about what's trending. Focus on what you love. The best homes are ones that are uniquely YOU!