Story by Art Department / June 9, 2016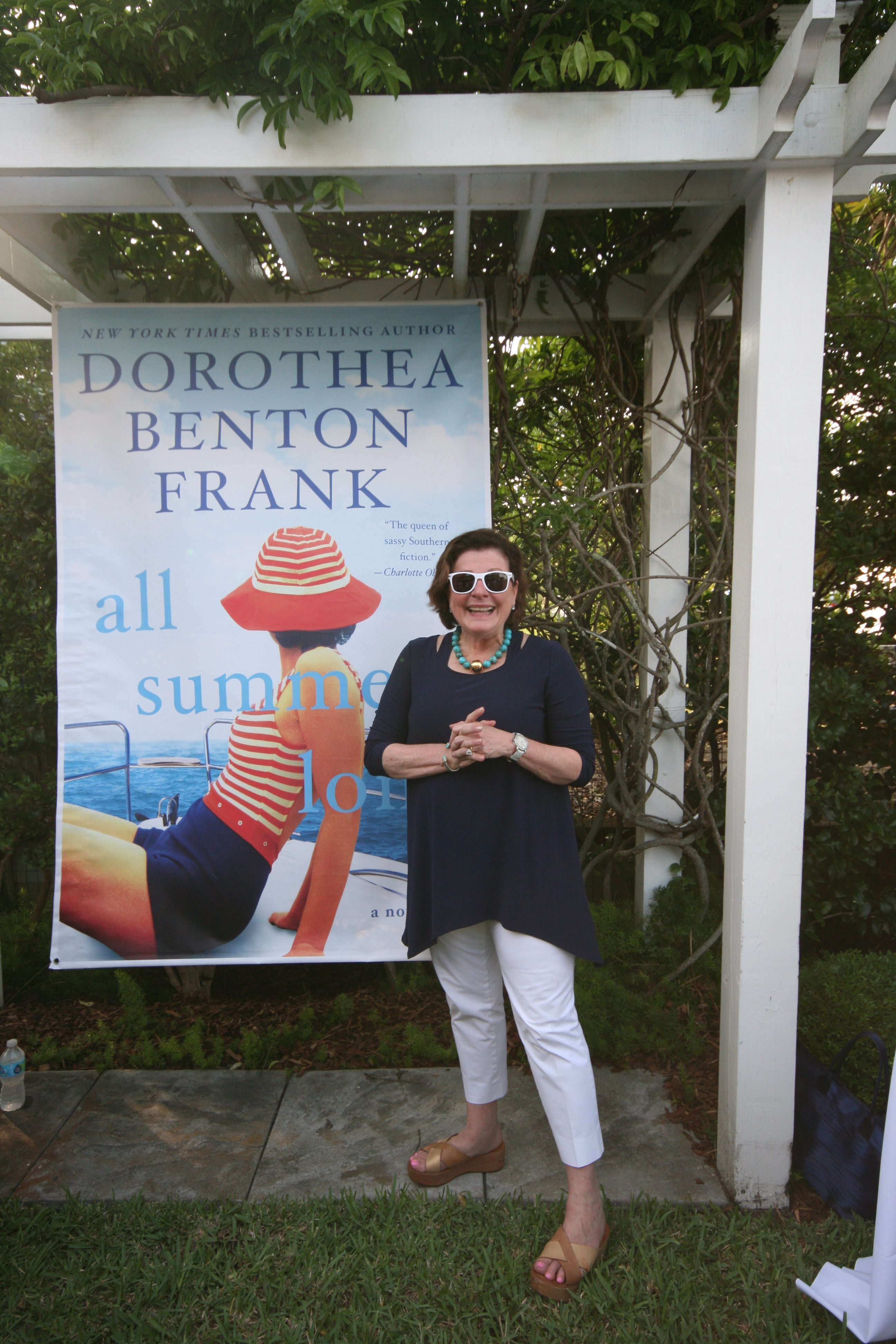 Dorothea Benton Frank is no stranger to the Lowcountry and is a best-selling author, public speaker, nonprofit fundraiser from Sullivan's Island, South Carolina. She attended Bishop England High School in Charleston and graduated from General William Moultrie High School. Her interest in retail apparel took her to Atlanta GA where she graduated from The Fashion Institute of America. Dorothea returned to Charleston, SC in 1973 and became a buyer for Kerrison's Department Store and later retired from the apparel industry in 1985.
Her first novel, SULLIVANS ISLAND (Berkley Publishing 2000) debuted on the NY Times list at number nine and went back to press over twenty five times, has well over one million copies in print and can be found in ten foreign languages. Her subsequent novels PLANTATION (Berkley 2002), ISLE OF PALMS (Berkley 2003), SHEM CREEK (Berkley 2004), PAWLEYS ISLAND (Berkley 2005), FULL OF GRACE (Wm. Morrow 2006), BULLS ISLAND (Wm. Morrow 2007), THE CHRISTMAS PEARL and LAND OF MANGO SUNSETS (Wm. Morrow 2008), LOWCOUNTRY SUMMER (Wm. Morrow 2009), RETURN TO SULLIVANS ISLAND (Wm. Morrow 2010), FOLLY BEACH (Wm. Morrow 2011), PORCH LIGHTS (Wm. Morrow 2012), THE LAST ORIGINAL WIFE (Wm. Morrow 2013) were all NY Times bestsellers and may also be found in various foreign languages.
We enjoyed a sneak peak of her new southern novel, All Summer Long, at a book signing hosted by coastal fashionista and owner of Escapade Living, Natalia Castillo on Sullivan's Island. All Summer Long follows one charming New York couple—glamorous interior designer Olivia Ritchie and her husband Nicholas, a true southern gentleman from Charleston—as they are swept up into the world of the ultra-rich and travel the globe with a cast of zany eccentrics over one tumultuous, hot summer, and find themselves pondering the next step of their lives.
This is a story of how plans evolve and lives change in unexpected ways, how even those who have everything are looking for something more to fulfill them and even the most successful can often struggle to get things together. It asks the ultimate question: can money buy happiness?
From Sullivans Island to Necker Island to the beaches of Southern Spain, we'll come to recognize the face of true love, the kind that deepens and endures but only because one woman makes a tremendous leap of faith. And that leap changes them all.