Story by Art Department / August 30, 2016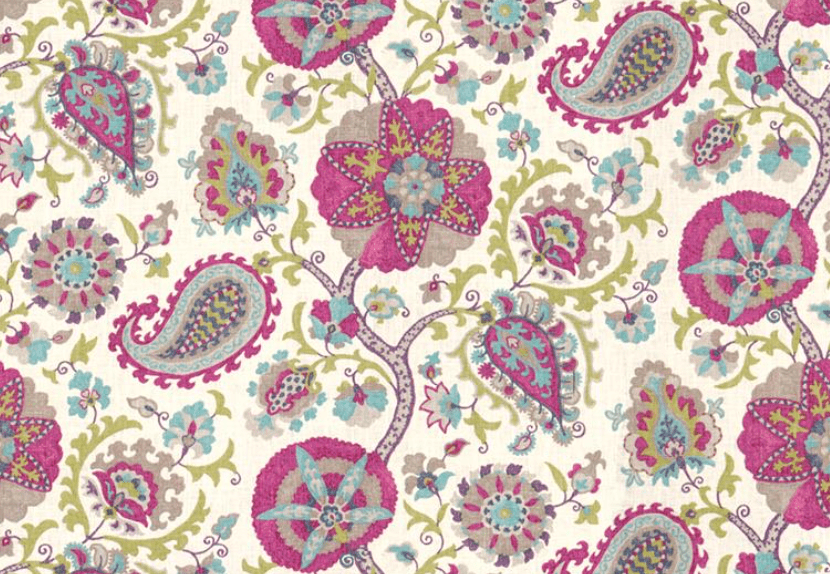 There are few ways to update your home that are as satisfying as reupholstering pieces that feel tired or outdated in a bold new fabric. It's a way to make your spaces feel fresh, a way to make you enjoy spending time in your own home again. A splash of color can lift the spirit of an otherwise dreary room, and a daring pattern can take a space from basic to inspiring. Updating fabrics is one of the most versatile ways to renew your décor. Here are several ideas to help get the inspiration flowing.
An animal print in a muted color can serve almost as a luxurious neutral, like the Iconic Leopard fabric in grey from Schumacher. Try it on pillows accent pillows in an otherwise tame room to add a touch of whimsy, or, for the truly courageous, recover the entire sofa. Keep the rest of the room fairly calm and you have an eye-catching centerpiece.
For a feminine yet playful look, perfect for a girl's room, Kravet's colorful flower and paisley Kanker 310 would be wonderful on that "catch-all" chair in the corner. Add some window treatments as well to tie the look together, or use it as a bed skirt for a surprise peek of color.
Looking to convert your patio space into an oasis? An umbrella covered in Sunbrella's soothing teal Canvas Glacier fabric would block rays and elevate your backyard style factor. And, because of the durability of the outdoor fabric, you could be confident that it would survive the elements.
Locally-owned Aiden Fabrics in Mt. Pleasant is a one-stop shop for these an any other fabric needs. They provide a vast selection of 1,500 indoor and 500 outdoor fabrics from 72 different beloved vendors and designers. Aiden Fabrics also offers custom fabrications and free designer consultations, making revamping your décor with new fabrics as simple as stopping by the store.