Story by Alli Steinke / August 24, 2017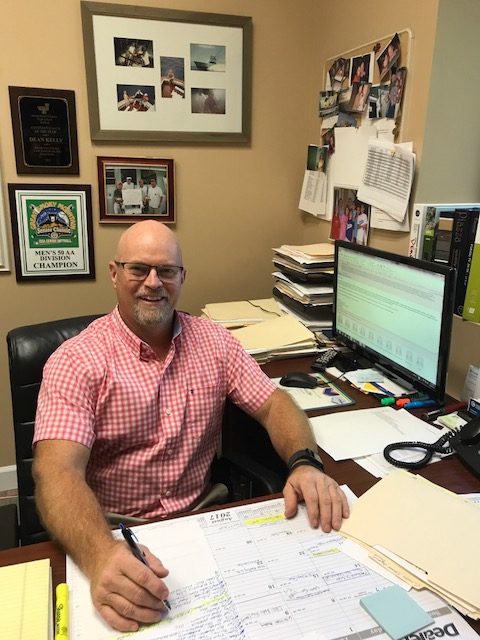 When and how did Carpet Baggers, Carpet One get its start?
We started in August 1992.
What does Carpet Baggers, Carpet One specialize in?
We specialize in any and all floor coverings – LIVT, Carpet, Hardwood, Ceramic Tile, anything commercial, residential, and custom home related.
What's a typical day working at Carpet Baggers, Carpet One look like?
A typical day in the life starts off with some scripture reading for wisdom and a cup of coffee as giddy up, then it's off to the races at the office. I try to go by each department and say good morning to the guys in the warehouse including my 73 old father who still comes in to help the crews load up. Then I am on to speaking with our support staff and sales team. I will then meet with vendor reps, our sales reps and occasionally work with an old client or referral. I meet with my business partner Stevie Leasure and also our general manager Sean Forbes to go over long term and short term plans for the business and review what we are doing well and what we need to do better. I will assist sales team members and help out with day to day operations.
What's your favorite part of working and living in Charleston?
My favorite part of living and working in Charleston is that we get to live and work where everyone else comes to vacation, and apparently wants to live! Going over one of the bridges across the water and marsh still puts a smile on my face! I moved here from Greenville in 1986 and it still feels like such a privilege to be here.
What is the best advice you could give to people in the market for flooring?
The best advice I could give someone in the market for floor coverings is to come into our Showroom! We have the best selection around. Share with our people what it's like to live a day in your life. Do you have kids? How many? what ages? Pets? Do you entertain? Do you clean your own home?? Let us know about how you operate so we can recommend the right floor for your home!
Lastly, is there anything else you would like people to know about Carpet Baggers, Carpet One?
We have 10 sales reps with an average of 15 years experience in the flooring industry. We don't sell appliances or lighting or anything else but floors. Let us help you find the right flooring for your home. We are a part of The National buying group Carpet One with 1,000 locations nation wide. We have as good of financing and pricing options as any National box store but the opportunity to work with local owners and an experienced team. Come get the Carpet Baggers Carpet One experience, you'll be glad you did!