Story by Art Department / October 7, 2021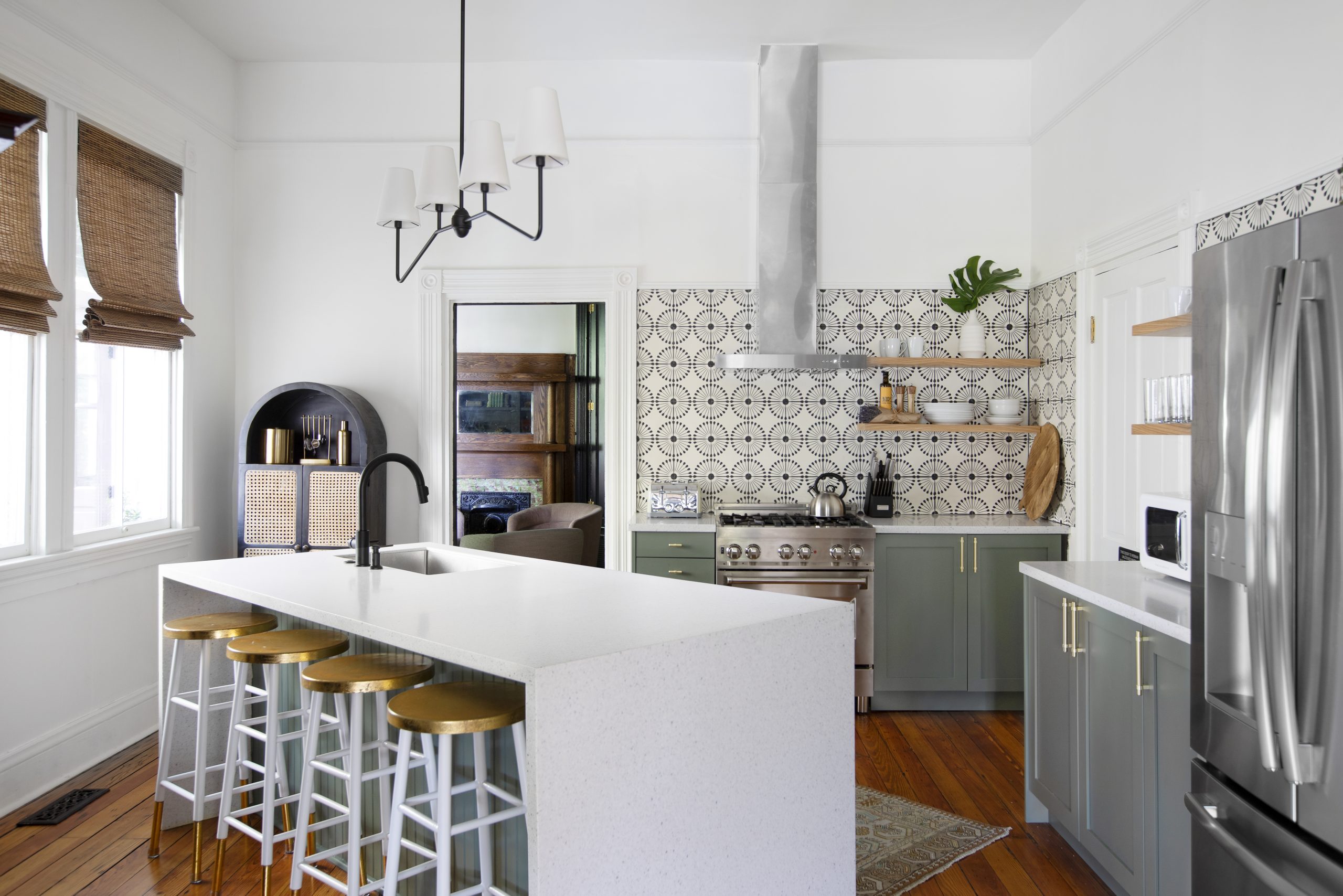 There's a reason Charleston has been voted the #1 city to visit for so many years. The food, the architecture, and the people all play a role in that. The historic charm of downtown buildings welcomes visitors to the Holy City. Many of these homes have been remodeled into rental properties or office buildings since their original construction. The Monroe on Spring is one such rental. Designed by Alyssa Demilio of Demilio Design, The Monroe on Spring is a 5 bedroom and 5 bathroom property available for short-term rentals throughout the year.
It was important to the YourPad Charleston team, the owners of this property and about 50 other rentals downtown, that they honor the history of this beautiful home while also giving it an updated look. That's where Alyssa came in. She incorporated whimsical finishes, fun wallpaper, and playful details to each luxurious and high-end space.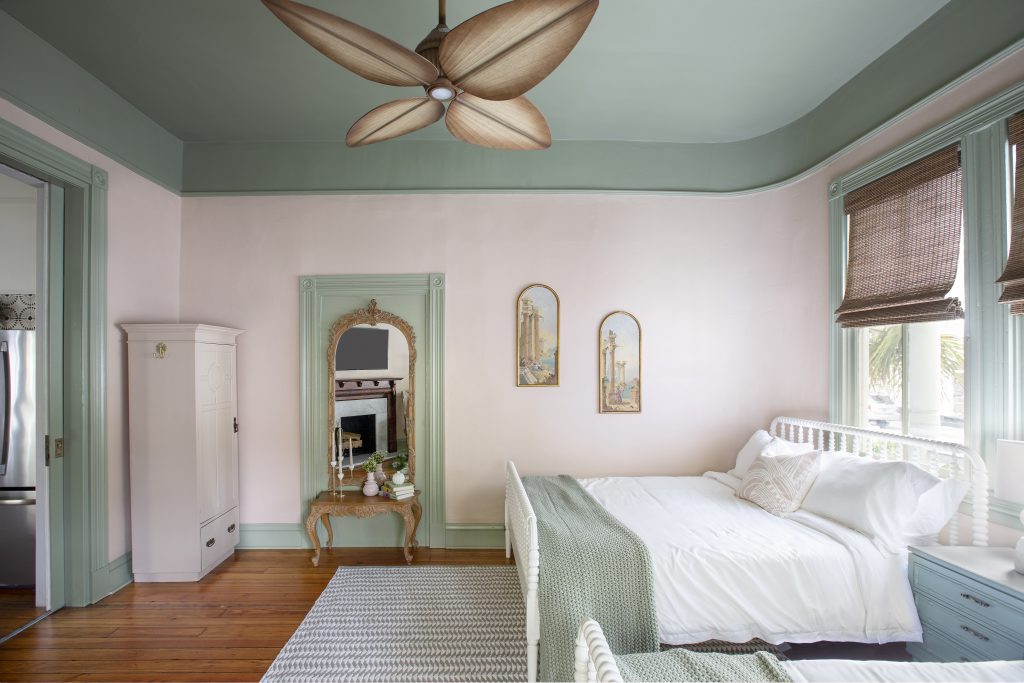 The whimsical touches mentioned above can be seen in this guest room with two full size beds. The ceiling fan, artwork, and vintage mirror add to that playful ambiance the team was going for. The space also showcases some of that original charm in the molding.
This living room is so dreamy. A cozy couch and swivel chairs beckon to be curled up in to listen to a record or watch a movie during a night in. Again, the goal was to highlight the original elements of the home so the wainscoting, doors, built-ins, and ceiling were painted a deep blue to add some drama and make those elements pop.
The walls in this suite are painted the same pretty shade of baby blue. To give the bathroom an extra something, a bright yellow tile floor and shower wall was used. The bathroom also showcases an adorable triangular window that only adds to the charm of the space.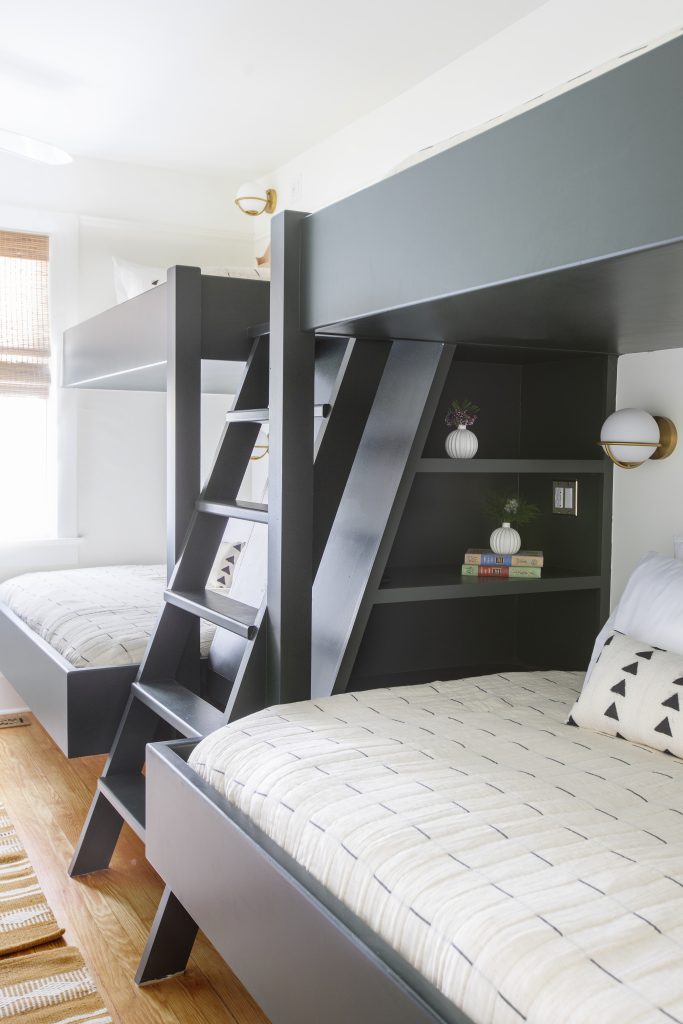 If your rental property doesn't have a bunk room, you're missing out. This bunk room is both stylish and functional; you could sleep up to six people in this space if needed which is always great for family vacations or bachelorette parties. Not only does the space offer lots of room for sleeping, it also has built-ins to store whatever you might need easy access to during your trip.
This bathroom is so stunning; it coordinates with the bedroom without being too matchy. A similar blue/green shade highlights the wall while a pop of pink tile brightens the floor and shower wall. A marble sink an antique gold mirror give the bathroom a more glamorous touch.